Eureka AirSpeed All Floors Upright Vacuum Review
Spring is here. And we've moved again. With two kids, two cats and a husband, cleaning is definitely a task. Dirt, cat hair, and food crumbs are constantly hitting the floors, and so are we! We love playing on the floors, so keeping them clean is SO important! Eureka makes that a huge step easier with the AirSpeed All Floors Upright Vacuum!
Eureka AirSpeed All Floors Upright Vacuum: Top Three Perks
The Eureka AirSpeed All Floors vacuum is great because it works on ALL floors! We have a variety of floors throughout our house, from laminate to thick carpet with a few levels in between! So, when cleaning means sweeping, shaking out rugs, and vacuuming carpets it doesn't happen. But, when cleaning means doing all the floors with just the twist of a dial between surfaces, it's way easier! The dial adjusts the height for various flooring, and a foot-button turns the spin brush on/off for different surfaces (think thin rugs that get twisted up in the spin brush).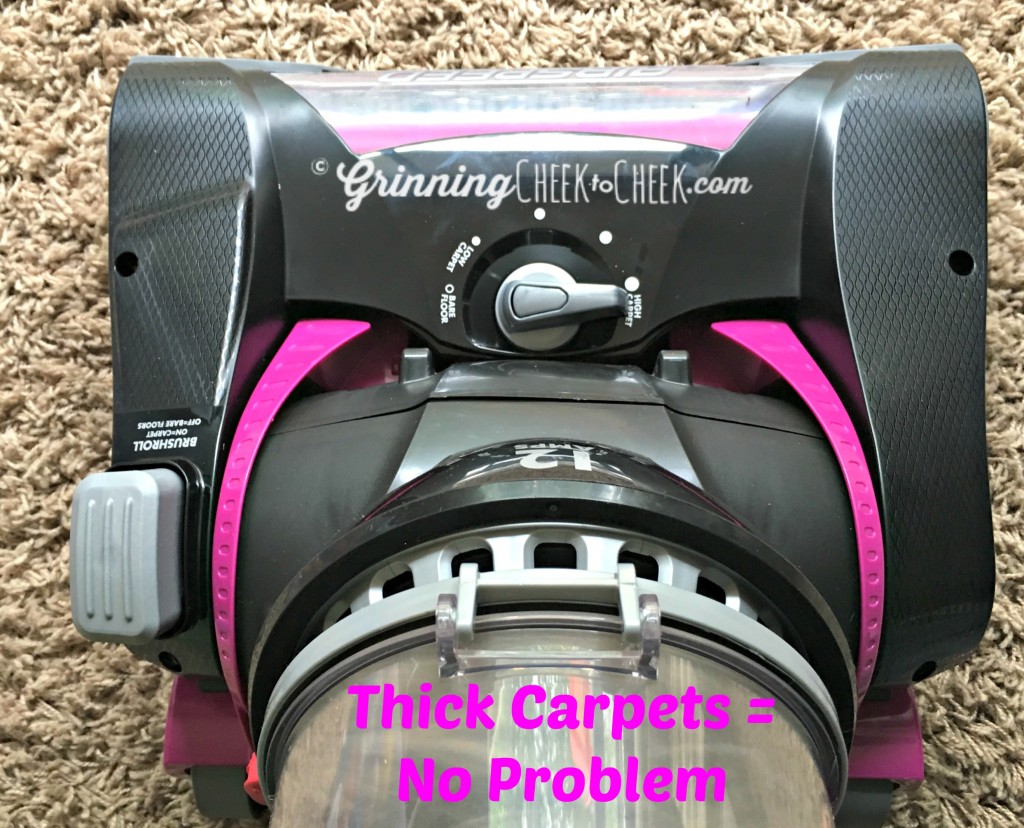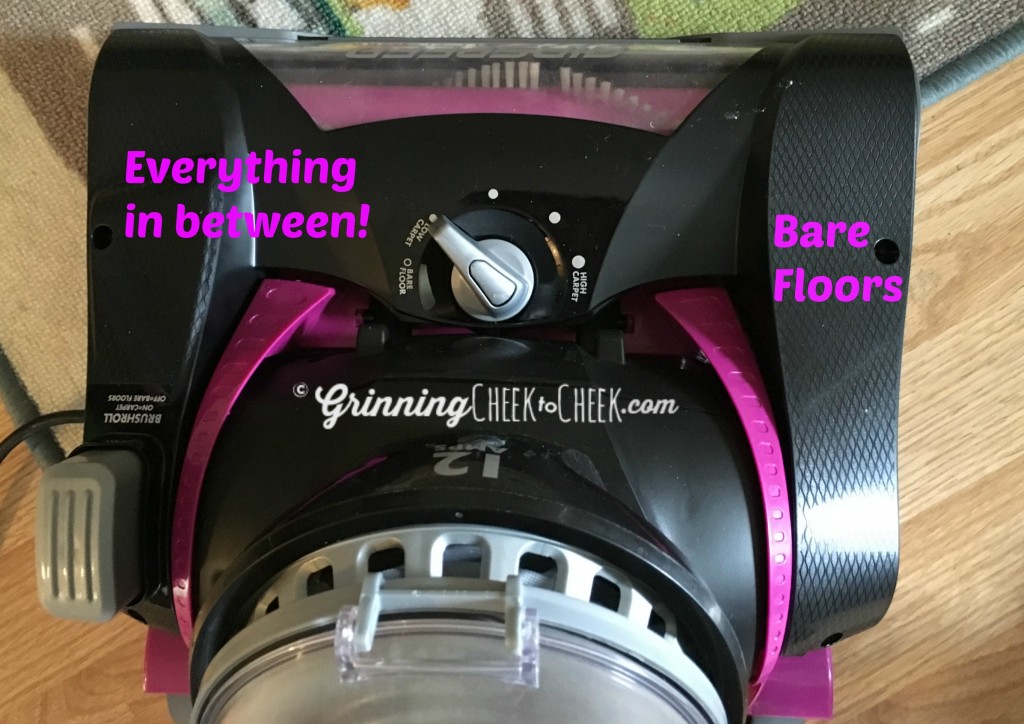 Plus, the AirSpeed has all the attachments I could possibly need and is long reach to get into corners and up to the ceiling. Did I mention the Eureka AirSpeed is lightweight? It's about 15 pounds, which is lighter than either of my children and totally manageable for my stairs.
The third fun, and unusual, perk of the Eureka AirSpeed is the way the suction works: instead of going through all the extension hose, there is a corner piece that can be turned to direct the suction to either the attachments or the floor. This means less distance for the dirt to travel and a better suction, which is the trick to making it work well on hard surfaces. This way, the suction sucks up the dirt on the hard surfaces instead of the spinning brush spitting it out at my feet. I'm actually quite impressed at the Eureka AirSpeed's ability to pick up dirt, cat hair, and food crumbs from my hard surfaces and slightly grossed out at the amount it took out of my I-thought-they-were-clean carpets!
Eureka AirSpeed All Floors Upright Vacuum – Assembly
There is some assembly required. Fortunately, this assembly is super simple! No screws or tools needed, simply unpack and snap everything together. Then wrap the cord and you are ready to roll and roll. The dust bin is easy to remove, empty and clean. The dust bin filter is washable and the air filter is easy to change. Each hand tool has it's own place and they snap/set in firmly enough that I'm not worried about them popping off easily.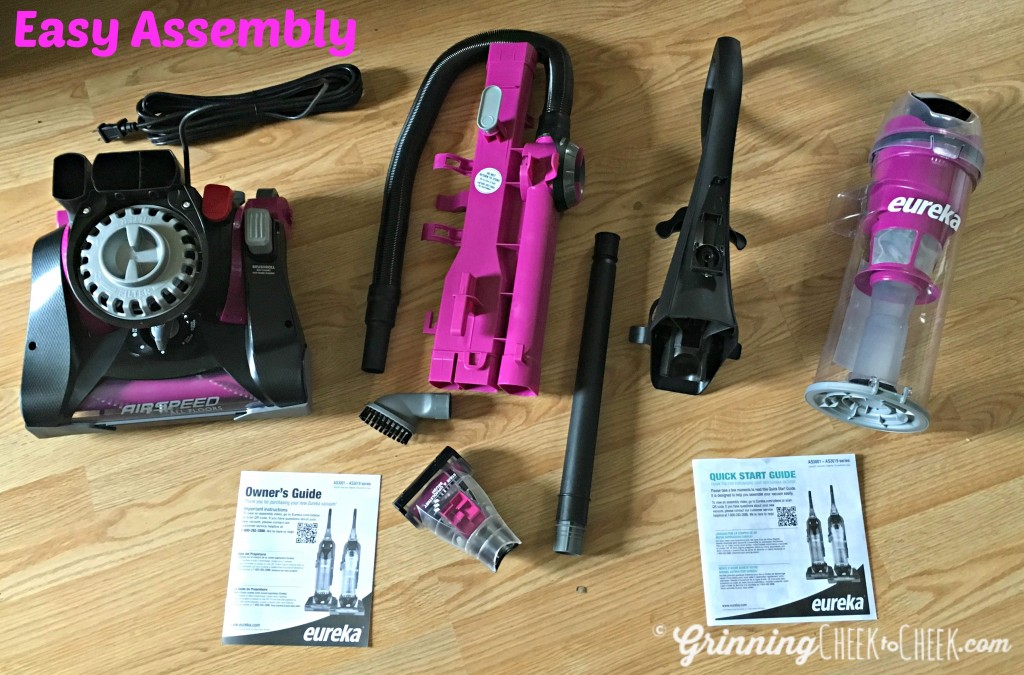 Eureka AirSpeed All Floors Upright Vacuum: Other Perks
Other than what I've already mentioned, the AirSpeed has a few other perks!
-The purple color is pretty obvious, it's bold and fun!
-The wheels are rubber and roll super smoothly on both my hard floors and my carpets.
-The cord is 27 feet long and the extension hose is 12 feet long. I have a small house, so this means I can cover the entire level without unplugging!
-The filter removes dust and allergens so they aren't floating around in the air after vacuuming
-The suction. I've mentioned it earlier, but I'm actually so impressed I'm mentioning it again. It sucks up cat hair before I even roll over it. It gets dirt and crumbs from deep in carpet fibers. And it pulls up little pebbles brought in by little feet instead of letting the spin brush just kick them back out at my toes.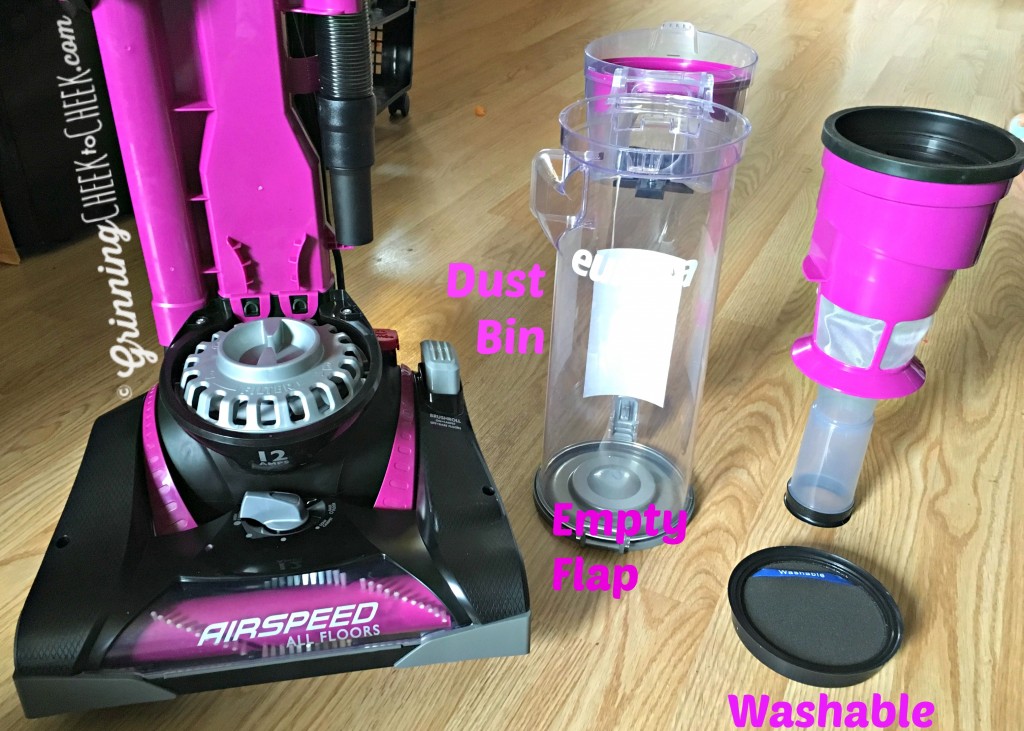 Spring Cleaning Tips from Eureka: Great Tips Sheets!
Eureka Spring Cleaning Tips for Families
Eureka Spring Cleaning Planner
Check out the Eureka AirSpeed All Floors Upright Vacuum online at Walmart and check out Eureka online as well as on Facebook and Twitter! OR…
Win a Eureka AirSpeed All Floors Upright Vacuum!
To Enter: Leave a comment about spring cleaning! Then fill out the Rafflecopter form and complete more options for more chances to win!
a Rafflecopter giveaway
Rules: You do not have to be a blogger to enter/win. An email address is required to enter. Thoughtful comments required for comment entries. Entering this contest allows us the permission to use your email address for our Newsletter which may be unsubscribed to at any time and subscribing is not a requirement for winning. The winner will be chosen randomly through Rafflecopter and contacted via the email registered in Rafflecopter. All of the winners' entries will be verified. A reply to the winning email is required within 48 hours before a new winner is chosen. One person/email per household. US only.
This giveaway ends at 11:59 PM CST on June 5th, 2016. Good luck!
I received a vacuum to review for this post. Opinions are 100% my own as always.