I get the question a lot… especially from friends and family.
'Why are you switching to Cloth?!!'
I think people think I'm crazy. Heck. I've called myself crazy a few times through this process… I've regretted the decision more than once – and constantly question myself on whether or not I can really keep this process going.
But I am sticking with it.
Just to be up front. I've never really been into the whole 'Green' movement. It's not that I hate the planet – it's more that convenience and cost seems to outweigh 'Green' in most circumstances.
Yeah – I recycle… when the bag isn't full. But if I have to wash something out before it hits the recycling bin, Its most likely going to go into the garbage.
I'm actually not all that convinced that cloth is 'greener' than disposables anyway. I mean, given our laundry habits so far with these diapers – which is totally needing a post in itself – I'm almost certain we're leaving a bigger 'footprint' with cloth.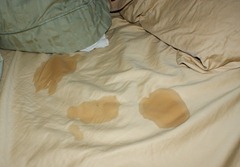 Honestly my first thought when I was pregnant with Andrew was to do Cloth Diapering – because I knew the cost savings it would include. However, at the time we lived in a condo and had a shared laundry room that was a pay-per-use… so it wasn't going to happen.
But now that we've moved into a house and have our own washer and dryer – and reading about how everyone's baby has a cute fluffy butt – I started to think about it.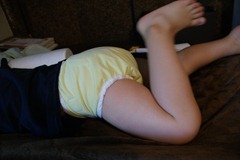 Not to mention the fact that we continually ran out of diapers and money… Seemingly all at the same time.
SO. Why am I doing this?? To be totally honest: The cost savings.
Even though every time my husband has to change a poopy diaper I get 'The Look', and even though I growl and make a HUGE sigh when the kid's beds and clothes are soaking wet in the morning and I have to do yet another load of laundry and re-make their beds – I am sticking to it.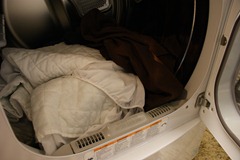 You know why??
We have the diapers. We have the washer/dryer. From here on out, the only costs incurred to us are time, and our water/gas/energy bill – which is yet to be seen…