Ok Guys – It's official.
We might be crazy. But we're doing it

We've got enough diapers to last us with both kids between washes – and we're expecting a few more shipments coming through the doors any day now.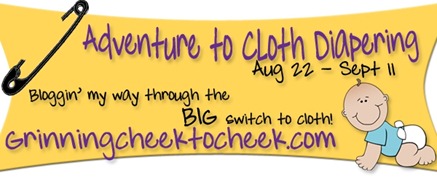 I am going to be blogging my way through the switch to cloth diapering… and let me tell you what.
It's not going to be pretty easy.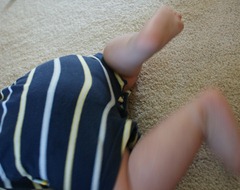 Actually – the fabrics are going to be pretty, and their heiny's are going to be pretty cute. But the stories? Not so much.
Why the Fuss?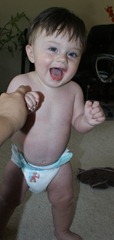 This is HARD. I mean. *Really* hard so far. I have been using disposables for 2 1/2 years. I Love disposables. I just am having a hard time justifying their purchase… and cloth just seems so much more cute

We have officially ran out of disposable diapers for Andrew, and while he is working on potty training, he is not trained enough to be out and about – or go to sleep without a diaper.
What's the event about??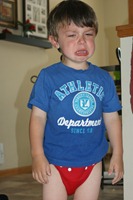 So. From washing icky diapers (which Is really, the least of my worries now…) to my children's acceptance of the change, to clothes fitting or not, to figuring out how to tell when they're wet, and HOW MANY CHANGES PER DAY?!!
That's what this story is going to be about.
So. Come One. Come all – Cloth Mama's AND Disposable Mama's – (or daddies!) I'll be telling some fun stories, and doing several product and store reviews and giveaways – The event of ALL events!
Who am I working with?
I am currently working with 12-13 major cloth diapering companies, and 5-6 amazing cloth diapering stores (the variance because a few companies and stores have not finalized their confirmations yet with exactly what they are sending/giving away.) I am still also getting emails trickling in from companies wanting to join with me as well, and Yes, I am still accepting more offers!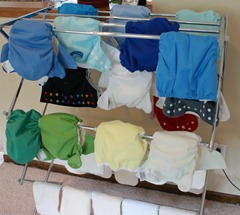 This will be a 3 week long event, where I will be posting on MOST days about the cloth diapering and switch. Several Great Diaper giveaways also coming up! Be sure to add me to your bookmarks and check back regularly!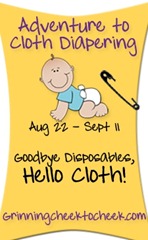 Place the the button on your sidebar for the Adventures To Cloth Diapering Event and get an extra entry into all Cloth Diapering Event Giveaways! –OR- If you blog about it (with button and link in post) You also get an extra entry! Note: You can do Both for two extra entries to each giveaway!
You will have until August 21st at midnight to leave a comment here telling me you did these extra entries. Must leave a comment to be valid, with URL where I can verify entries. Event starts August 21st!