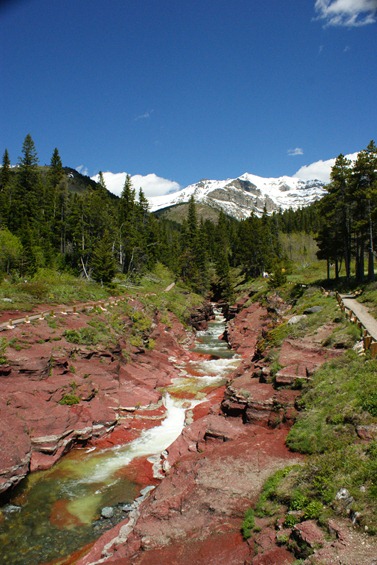 Such amazing beauty. We had amazing weather this day and decided to drive down this road that had signs to a red rock waterfall on our way back to the East side of Glacier.
To start at the beginning of the story (I've been doing several posts of a trip we took to Banff, Glacier, Waterton, and Yellowstone) please click to the original post and follow through!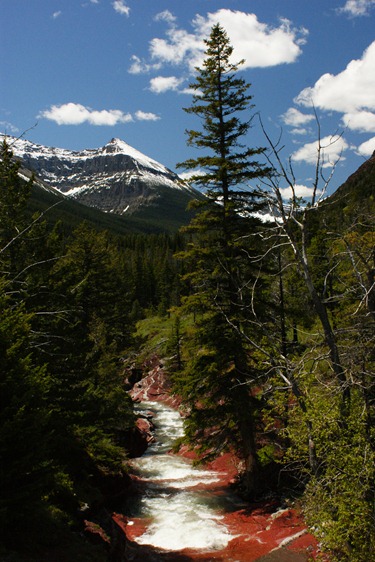 Turned out it was so wonderfully beautiful, and had great paths all the way around.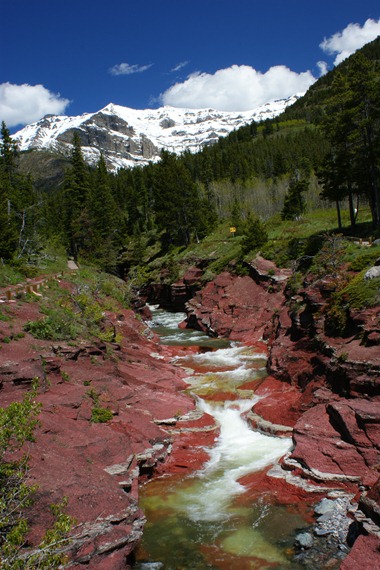 There were not many flowers anywhere this time of the year (that we found anyway…) so as we're driving back through the red rock area – I see this small patch of field up on the side of some rock – with a few yellow flowers….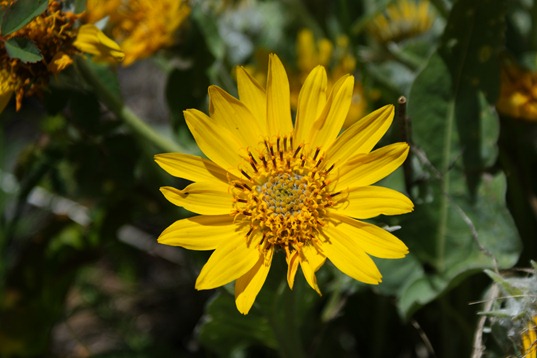 With a BRIGHT red flower in the middle.  I had them stop the van and I got out and climbed up and took some photos.  Beautiful.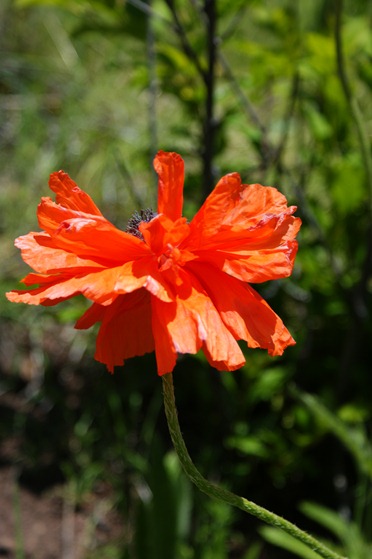 Funny (but gross) Story.  Shortly after leaving here – We traveled back towards East Glacier for our next few nights of camping and enjoying the East end of Glacier.  We stopped along the way at a cute little diner.  With BIG glass windows out front.  We had lunch there a little early (I think it was 11am or so).  Being that I was pregnant and my MIL was ill also from her cancer treatments (if you read in the first post) we had to eat at any given moment or we'd get sick.
So we stopped at this cute diner and ate some brunch.  As we were leaving – several more cars were stopping as it was becoming lunch time.
We were getting situated in the Van still parked right in front of the big windows and my MIL started getting sick (like puking sick).  so she was in the front seat heaving into a bucket.  That got My stomach going, and I started getting sick – but I needed to get out of the car quick otherwise I was going to lose it too… So I got out of the back seat of the van, bucket in hand – and started throwing up….  Right. In Front. Of the windows.
Yeah.. how's that for appetizing 

Two women puking in their buckets shortly after leaving a restaurant… would you go in???

Ok. sorry if that grossed you out…
Next up is Glacier: East Side!