Spring Home Makeover with Simple Stencil
Just before Andrew was born 3 1/2 years ago, I found for the first time – Vinyl Wall Transfers (or as I call them: Wall Decals).  I was instantly in love, because they added elegance to the wall and filled otherwise void spaces with just the perfect touch – without becoming 'too much' decoration.
I instantly got one for my son's room – It was perfect for over the closet doors.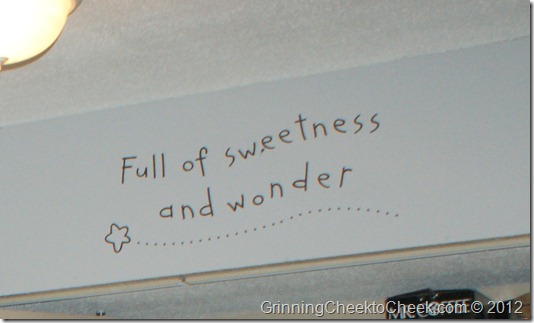 I decided at that point that I really loved these decals. 
When we moved to this house, I decided that there was going to be decals in several places – except… I never got around to ordering what I wanted.
So when Heather and I started working together on this Home Makeover Project: I *knew* we had to work with a company who had a lot of variety on their site, and had easily customizable images/fonts – because I wanted something amazing in every room! So we chose The Simple Stencil.
The first order of business was my bedroom: After all – I had to get my bedroom makeover perfect to show you all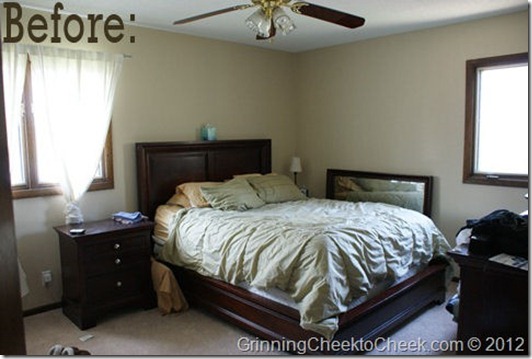 I knew the bible verse I wanted over my bed: Romans 12:12.  But the Romans 12:12 verse that they had was not exactly the way I wanted it: so I did a custom order.  It was really simple to do: 
I wanted Joyful, Patient, and Faithful to be in one larger script font – and the rest of the words to be in normal sized but non cursive fonts – so that it would stand out more.  So I ordered two sets of words:
1) Joyful Patient Faithful
2) Be In Hope, In Affliction, In Prayer – Romans 12:12
Then: when I received them, I cut them and laid them out on the bed just the way I wanted them (and took a picture for reference).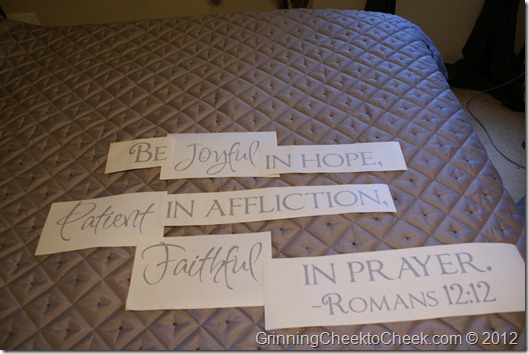 And then Installed them:
I've written a more detailed tutorial about how to install your vinyl transfers when you get them – for your future reference.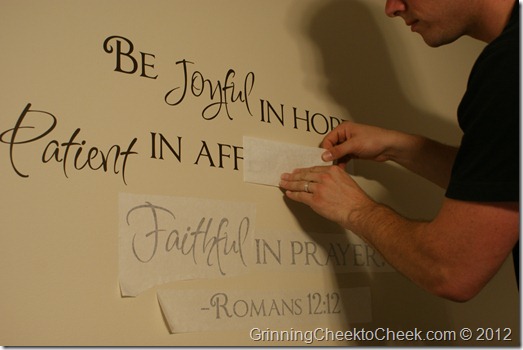 The Simple Stencil had some really awesome transfers to choose from, and I must have spent at least 5 or 6 hours on their site deciding what I wanted, and where.
Some of the ones I chose were:
My husband had the 'opportunity' to put these up on the wall, and he found it to be a lot easier than the transfers we have worked with previously – where he normally would have had to replace the contact paper to be sure that it all comes off onto the wall. 
The vinyl transfers from The Simple Stencil were very easy, and after the first few transfers – he knew he could trust them to come right off the contact paper!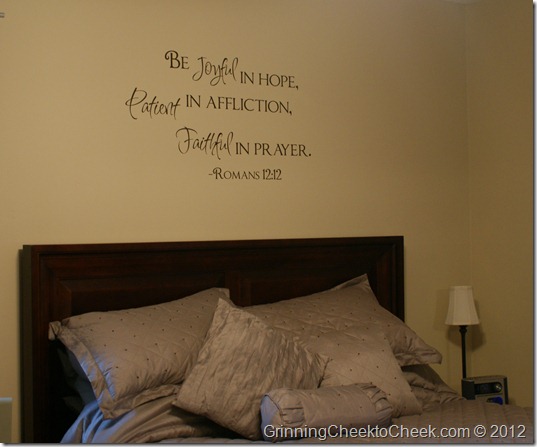 I am still looking for the perfect sconces to put up on either side of the words, but meanwhile I think that these words are perfect for over my bed. 
What do you think?  I know – it's hard to see without seeing the WHOLE room – but, Tomorrow – that will be revealed

Would you like to try out some wall decals from The Simple Stencil?
To order from The Simple Stencil – use the code 'CHEEKY' at checkout for 20% off your order!
Also…
Win It!!!!
One Lucky Reader will WIN a $50 gift code to The Simple Stencil!
How to Enter:
Mandatory Entry:  Leave a relevant comment on this post.
Then: Fill out the Rafflecopter Form.
Be sure to come back each day for extra entries!
Also, check out Heather's Makeover Reviews & Giveaways at OurKidsMom.com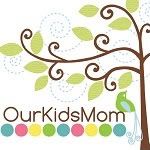 Rules: You do not have to be a blogger to enter/win. An email address is required to enter. The winner will be chosen randomly through Rafflecopter and contacted via email. A reply to the winning email is required within 48 hours before a new winner is chosen. One person entering per household please. US ONLY please. This giveaway ends at 11:59 PM EST on June 22nd, 2012.