My kids love building, imaginary play, and waffles. Typically they eat the waffles, so they were a bit confused when I introduced them to waffle blocks. Now they LOVE their waffle block collection. It comes out of the cupboard on a daily basis. I love watching them use their imagination to build, play, and combine with other toys.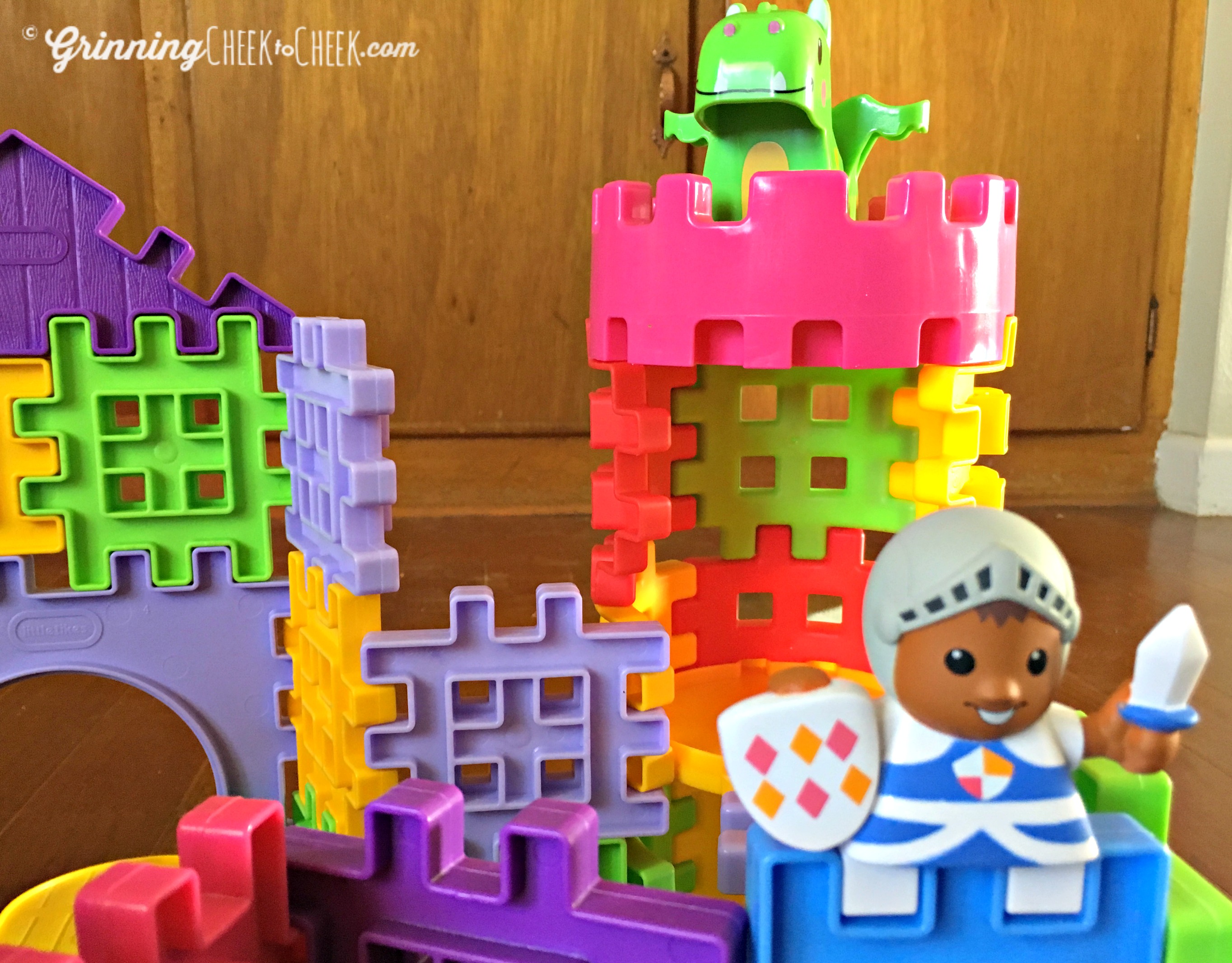 Little Tikes Waffle Blocks
I vaguely remember waffle blocks from my childhood, so was very excited to hear about Little Tikes coming out with them! They have created two sets: a castle and a farm. Both a very fun and full of multiple building options. They each come with characters and animals to add to the play. Plus vibrant colored blocks and extra parts to build specific things (like platforms, steps, and roofs).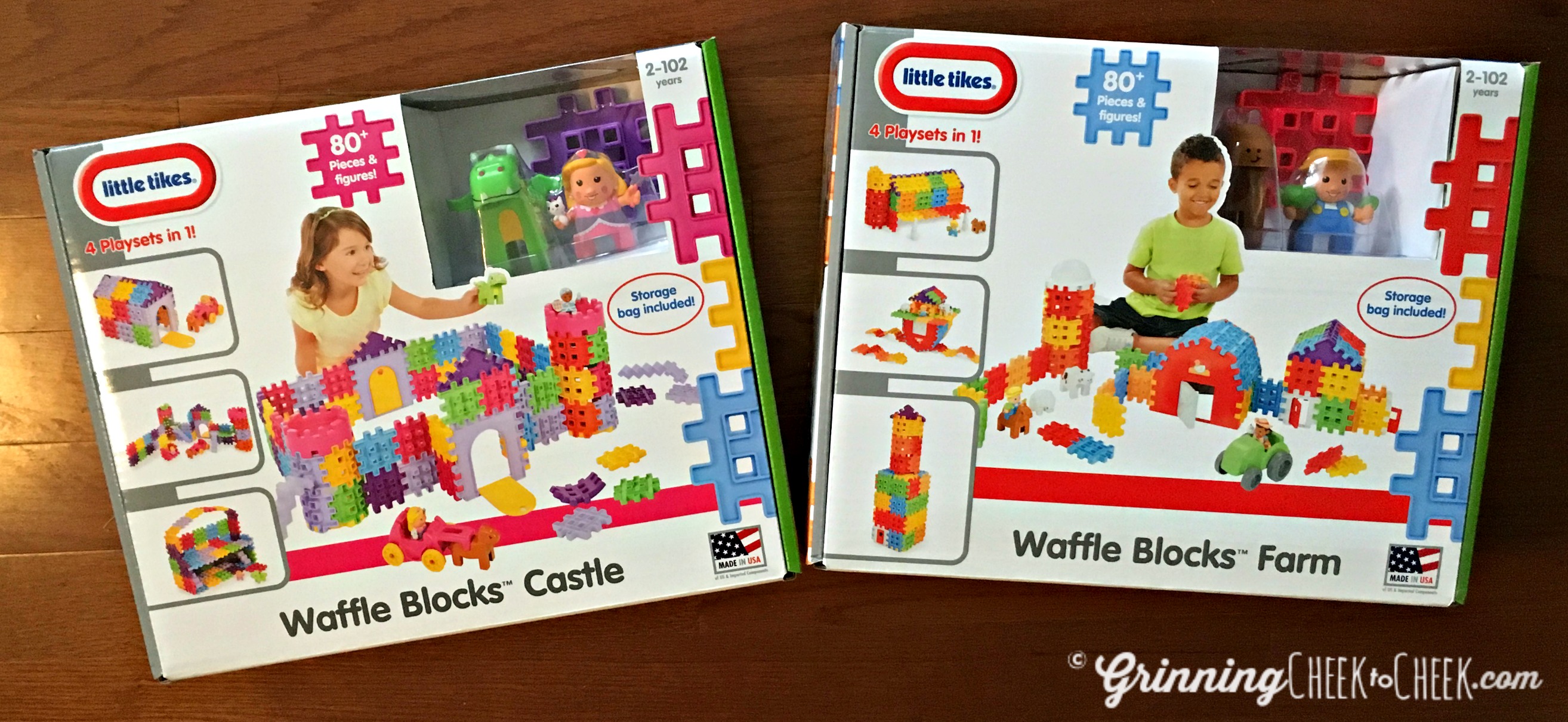 Combine the two sets for even more fun. My kids were quick to mix pieces and colors together. We don't even try to store them separately, it's just one big bag of fun!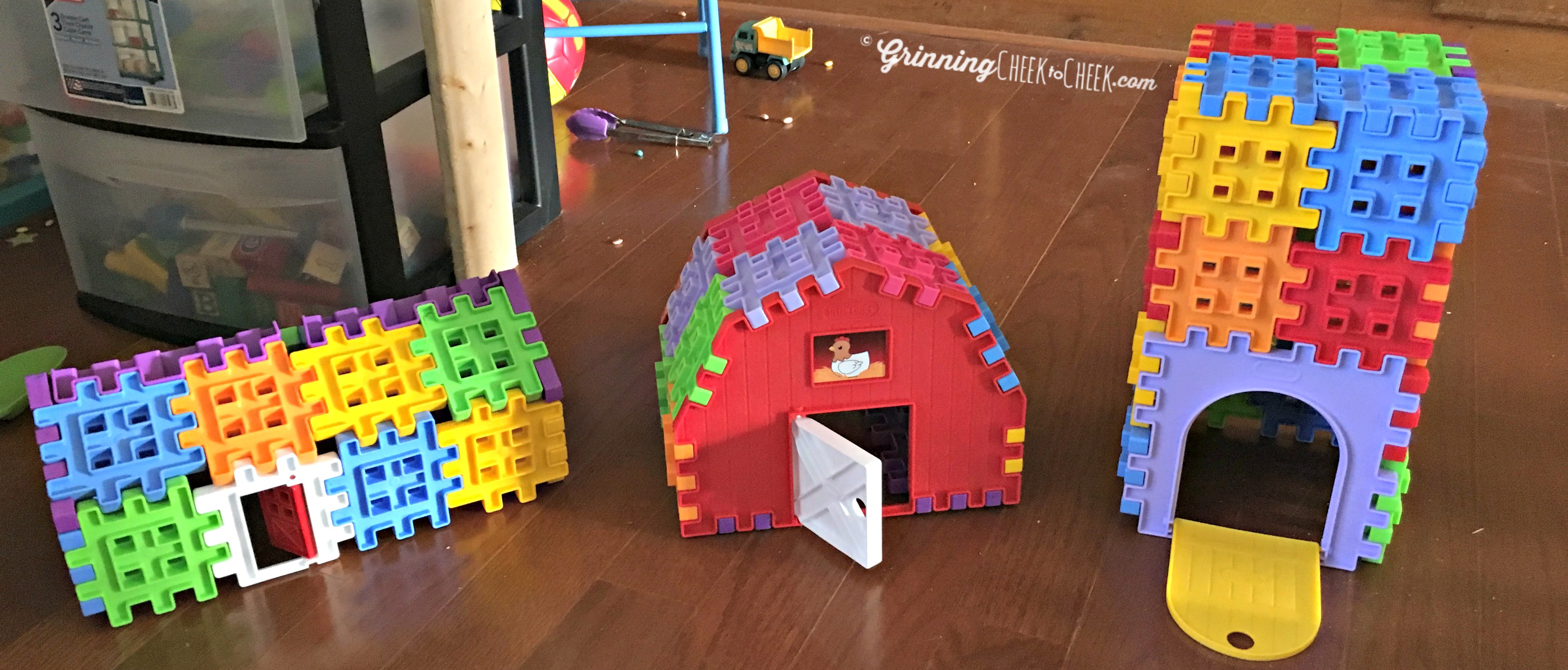 The Little Tikes Waffle Blocks are easy to put together. They fit well together both on the sides and front-back. They also come apart easily, which is great for taking it apart to rebuild but hard when building a large wall. If they just tuck into each other, like on the curved barn roof, they don't hold together at all and must be supported by other things. Once supported, they hold together well. My 4 year old has thrown and attempted to smash completed buildings and they've held. Once buildings are completed, they can easily be taken apart piece by piece but not easily broken.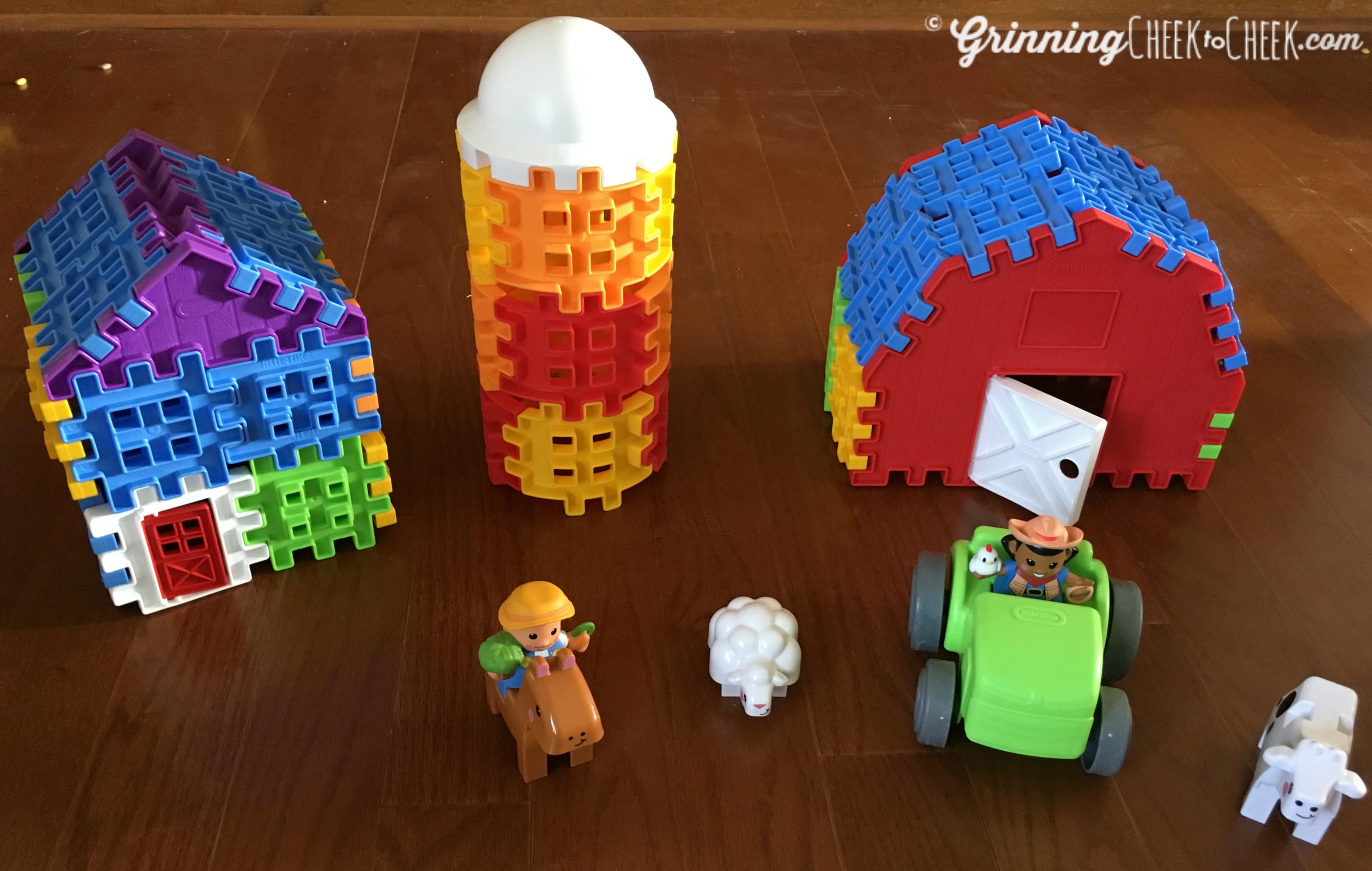 The items included in the directions are rated by difficulty. Believe the difficulty ratings! The castle is difficult to build, a chair or crib is much easier. The directions are pictures only, so there is no language barrier or no reading ability required. At 2 and 4, my kids aren't able to follow the directions themselves, some were even a bit hard for me, but I can imagine kids 6+enjoying the simple instructions without help. I did alter the directions a bit, mainly to include floors even when not called for. The floors offer greater stabilization to the whole object.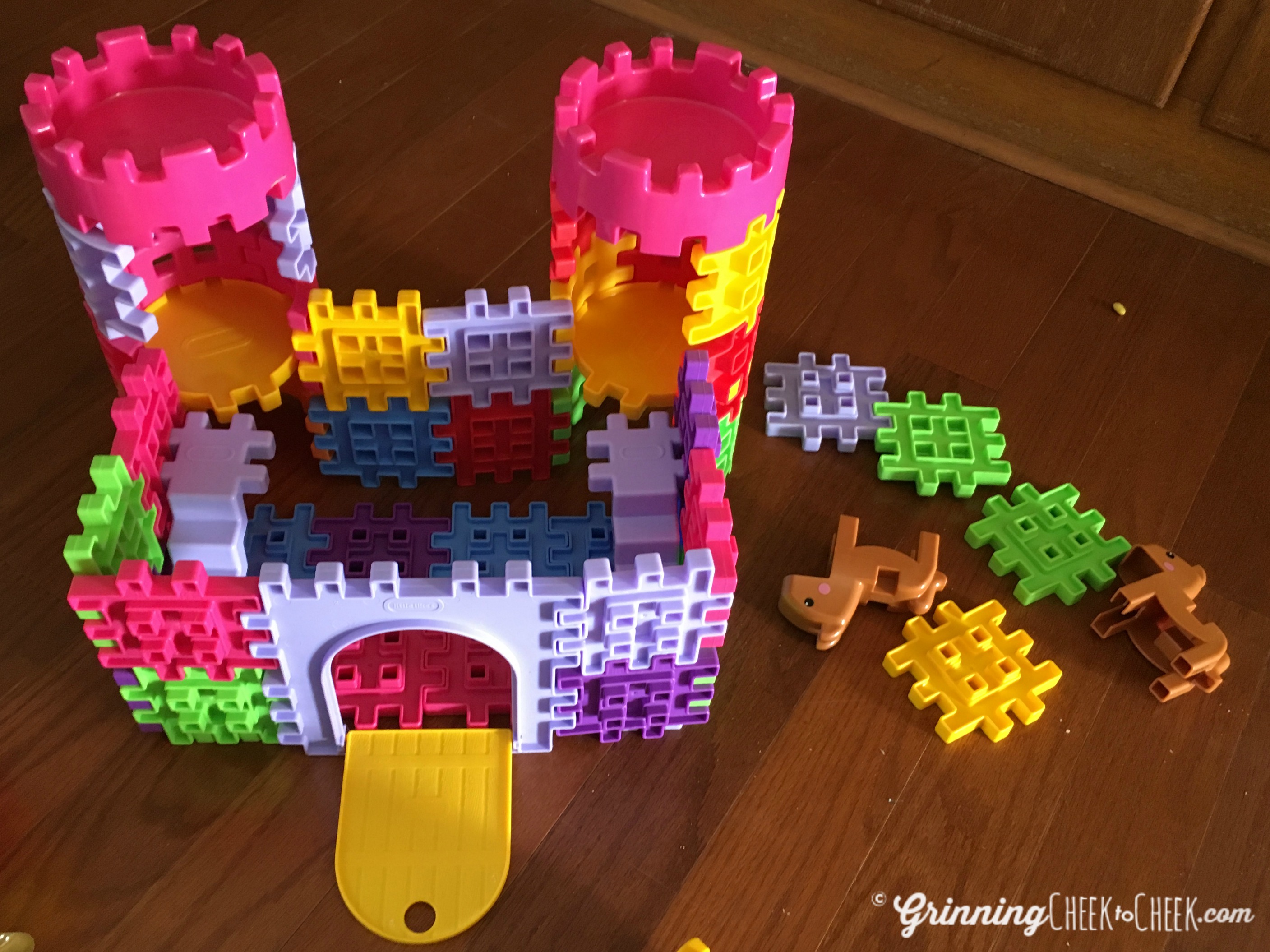 My kids are able to build creatively on their own. So, while I mostly help them create buildings, they can build simple chairs or small squares. They also choose to use the pieces as rafts and other play items. Or randomly stick them together and imagine it is something amazing. I frequently find the animals and people walking on a path over hot lava or floating on a raft through a raging sea.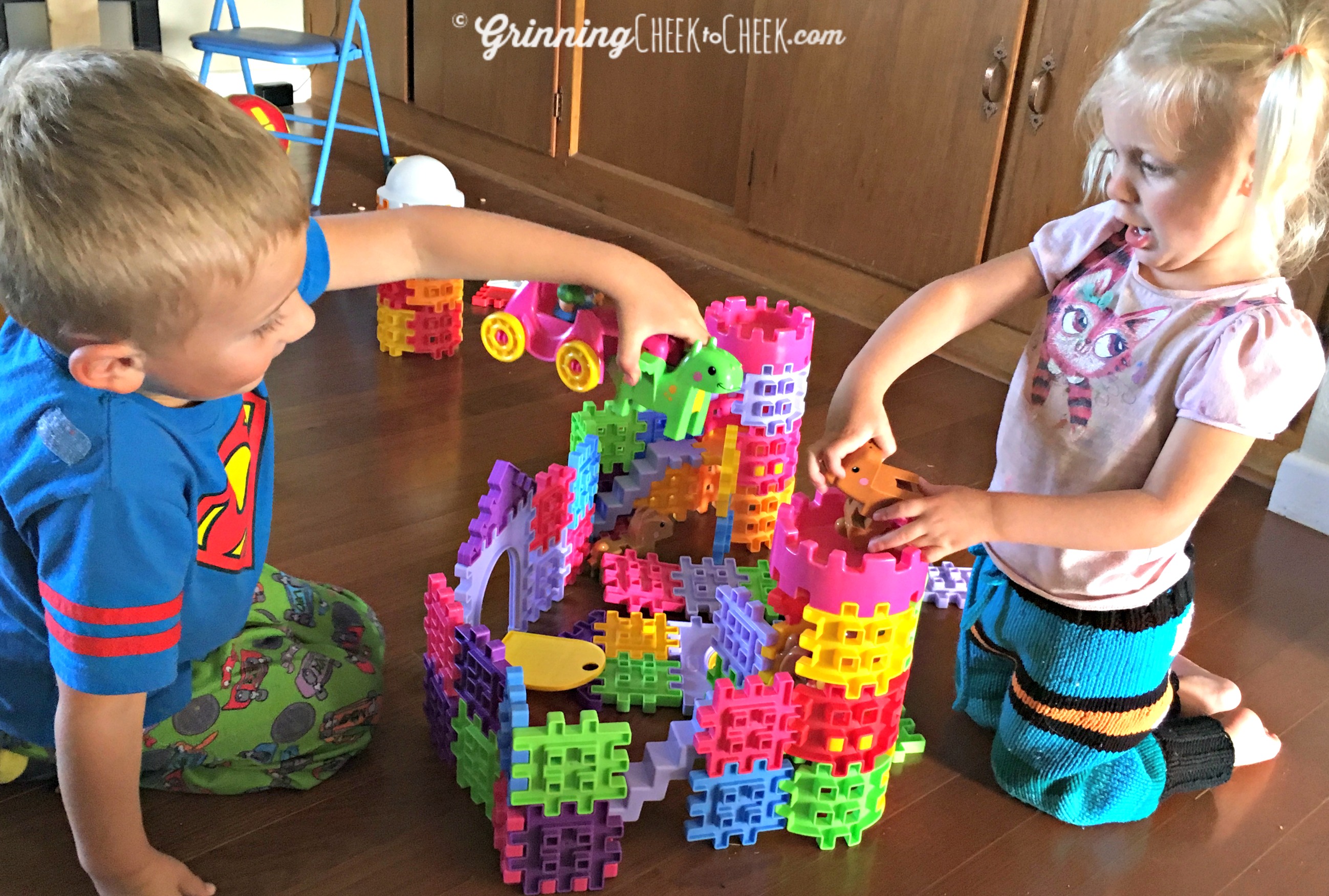 The animals and people are really cool. Very simple with bold colors and details. The legs can make them either fit on the edge or top of a block. They also can stack on each other (a person riding a cow), ride the wagon or carriage, and an animal can pull the carriage. Of course, my kids immediately made the dragon pull the carriage so it could fly.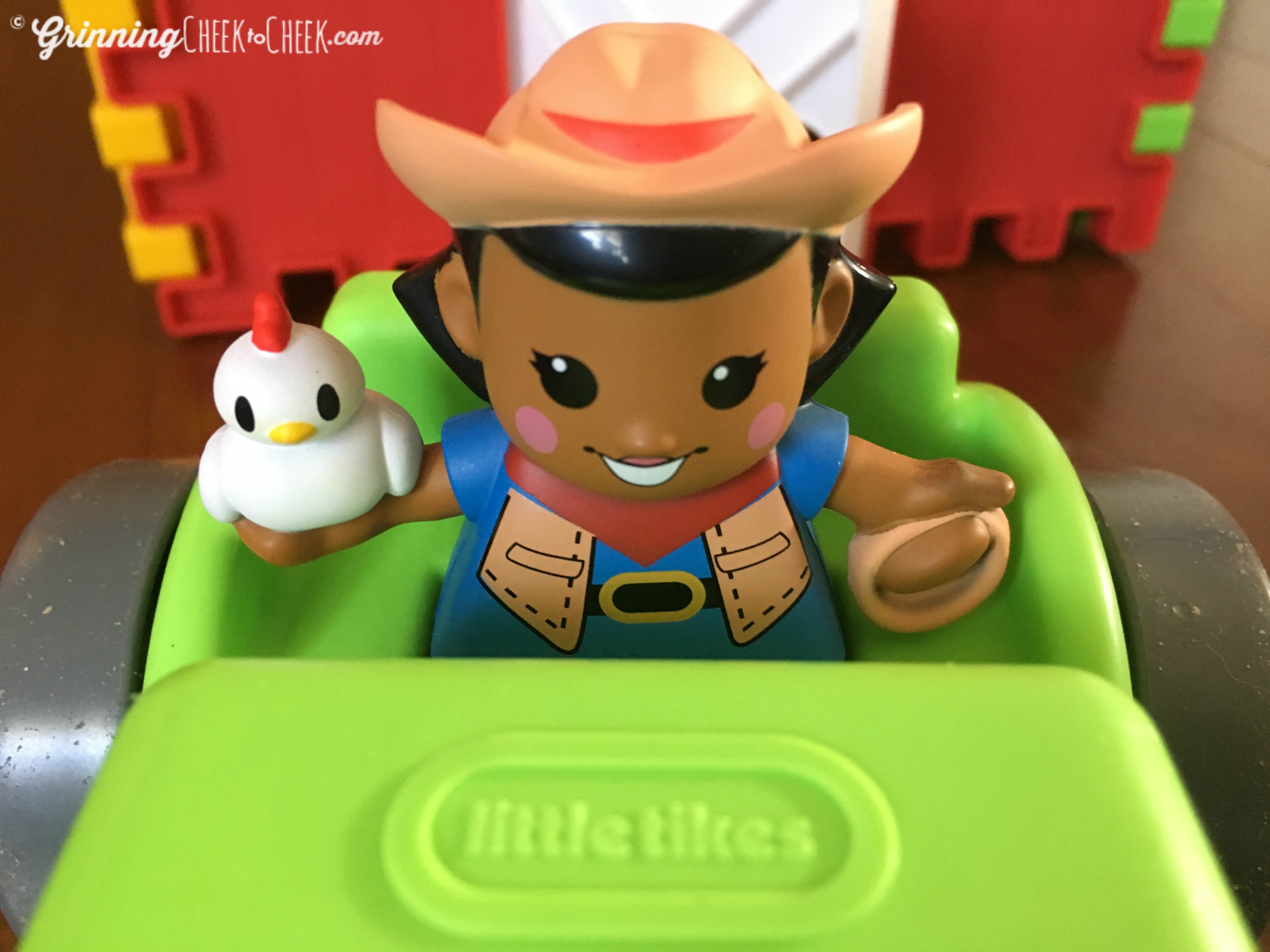 The blocks are very strong, bold colors, and strong. My kids won't break them and I know they will last for years. Each set comes with a net bag to hold them. It's a great bag with a zipper and handle. I'm sure eventually it'll get ripped, but the quality seems decent. The bag also looks small, but one bag almost holds both sets without difficulty.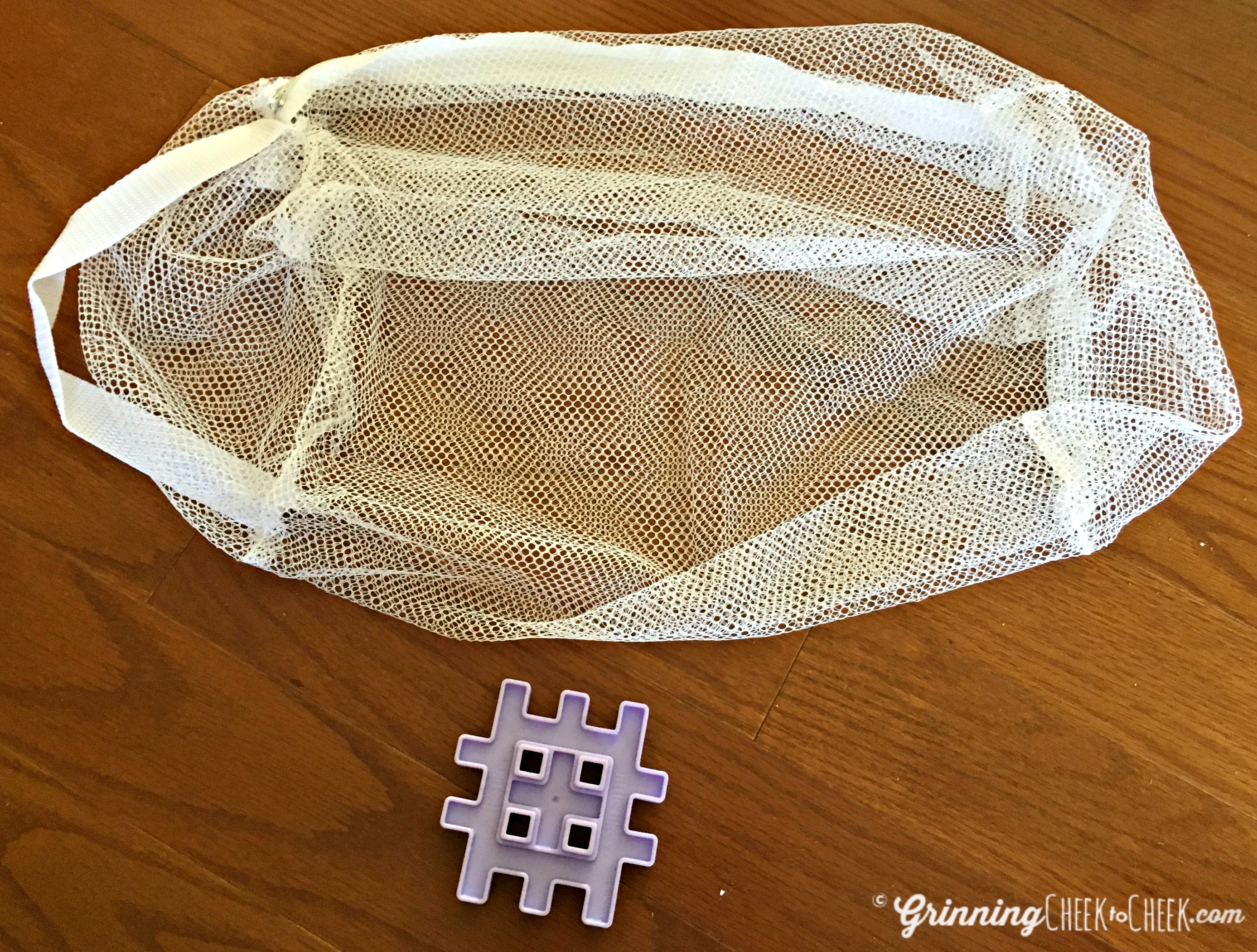 Overall, the Little Tikes Waffle Blocks are great! The assembly can be a bit tricky, but the potential is fantastic. My kids can use their imagination in a million different ways. They can play together or separately, and I can help build or let them run wild. Both in a physical aspect and ability/entertainment aspect, these blocks will last us for years to come!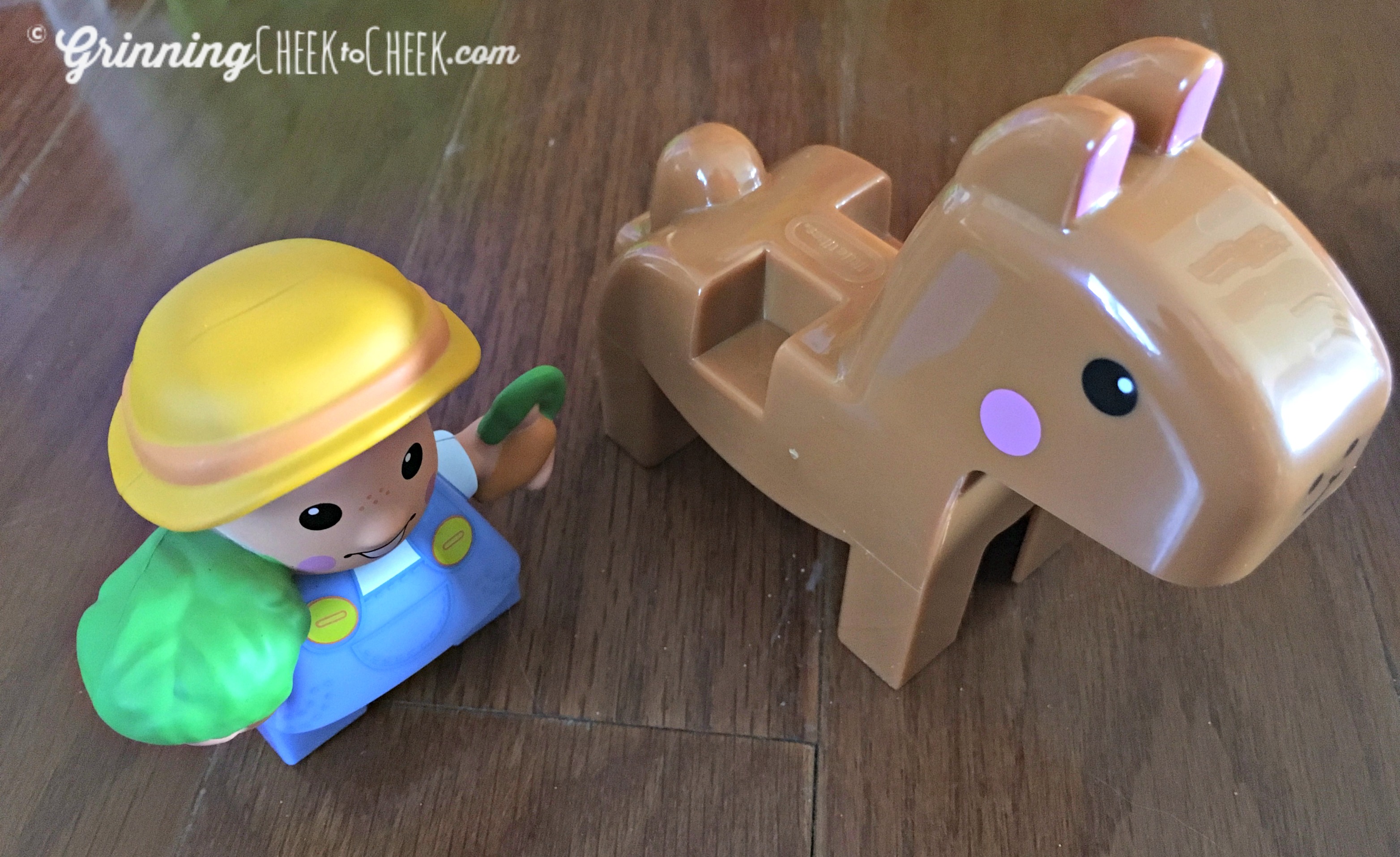 Check out Little Tikes Waffle Blocks online. Or visit Little Tikes online, or on Facebook and Twitter for other great products.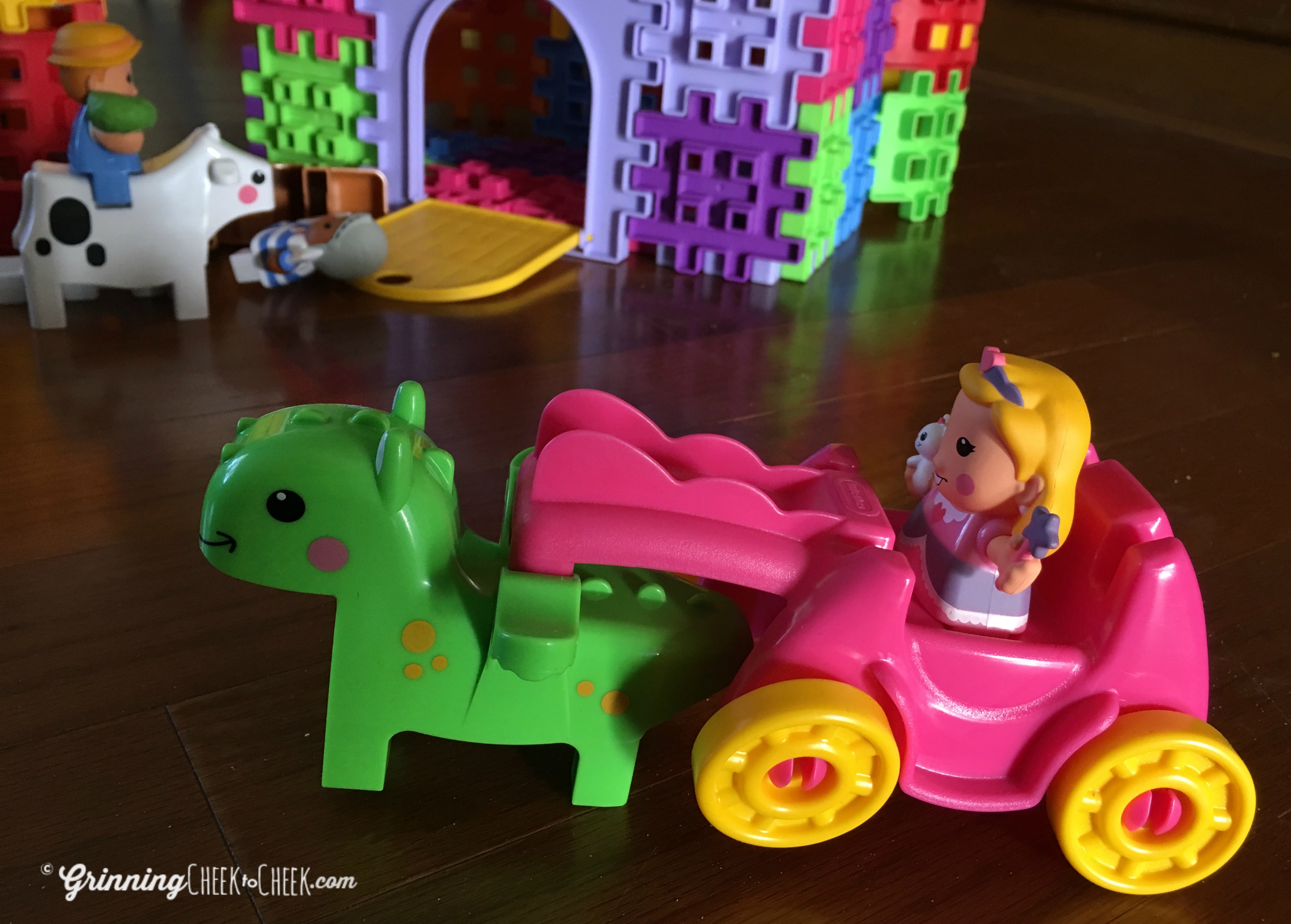 I received both sets to review for this post. Opinions are 100% my own and not influenced by compensation.