Not too many people these days have the home phone systems – But I still enjoy having mine.  I love that I have a backup phone to use should my cell phone die, or if my cell phone gets lost I can call it from the home phone.  So the last time I was looking at new phones, I wrote a post explaining why I chose the VTech Cordless Phone with answering system.
I was just informed though that VTech has come out with a newer model, the VTech CS6529-16 in Red, white and blue.  Just in time for the 4th of July! I would probably never have a specific phone color JUST for the 4th, but having a red phone any other day is kinda nice, too.  The only thing missing on this phone vs. my VTech phone is that there is no wireless headset on this phone.

It might seem strange in this day and age to need an answering system built into your phone.  But the secret to that is that it is SO much cheaper to have a home phone without all the features.  Really, who needs them?  I use CenturyLink and pay about $14/month for my home line.  I don't have long distance (but my cell phone has free LD), or voicemail (which my VTech phone covers), or call waiting.  If someone who knows me wants to get in touch with me – and my line is busy – they'll call my cell.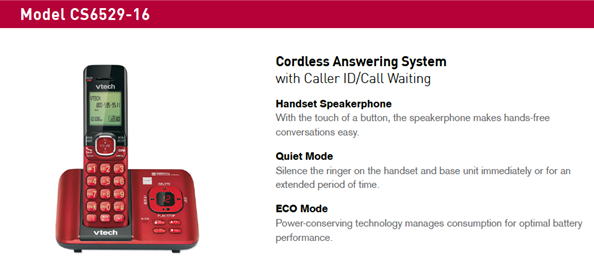 The VTech CS6529-16 has a handset speakerphone – so with the touch of a button you can be on speaker phone. This feature is great for my kids to talk to grandparents (love it!). It also has Quiet Mode which silences the ringer on the phone and base so you're not bothered when you don't want to be.
The ECO Mode is a power-conserving technology that manages the consumption of the battery for optimal performance.
Some of the other great qualities of the VTech CS6529-16 are shown below.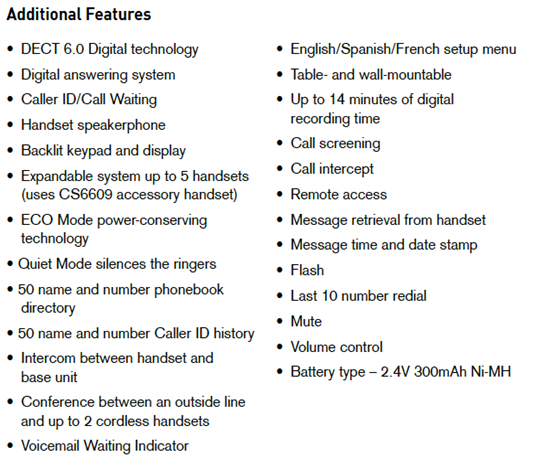 This VTech CS6529-16 is priced very well at $29.95 and can be found at Target.  I'd also draw your attention to the $44 version of this phone, which includes an extra handset that you can place somewhere else in the house; and the $19 version which does not include the voicemail feature.
Win It!!!
To Celebrate the colors and the 4th of July – VTech is offering a really cool prize package to one of my lucky readers – including the VTech CS6529-16, a $50 Target Gift Card, Cuisinart Ice Cream Maker, Patriotic Stars Pitcher and Drink Glasses Set, 4th of July Cookbook, Patriotic Cupcake Kit, Patriotic Kitchen Towels, 6" Polyester American Flags, Patriotic Tootsie Rolls, Patriotic Table Cloth, Themed Ice Cube Trays, Patriotic Party Crackers, Stars and Stripes Pinwheel, Stars and Stripes Shakers, Beach Towels, all packaged in a Red Plastic Tub.  The prize is valued at over $300!  (And I want one!)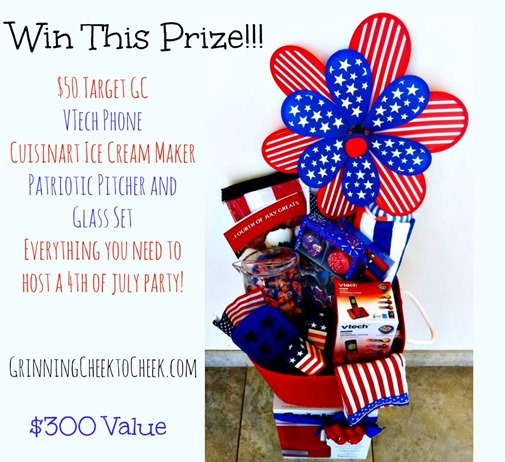 How to Enter:
Follow the Directions on the Rafflecopter form.  Each thing you do earns you entries.

Be sure to come back each day for extra entries!!    
Rules: You do not have to be a blogger to enter/win. An email address is required to enter. The winner will be chosen randomly through Rafflecopter and contacted via the email registered in rafflecopter. A reply to the winning email is required within 48 hours before a new winner is chosen. One person entering per household please. US only please.
This giveaway ends at 11:59 PM EST on June 24th, 2013.
I was given a promotional gift in exchange for sharing this information with you.