Now that Ethan has turned two, and has been watching his 4 year old brother go through the Potty Training stages for the last year – he seems like he's ready and interested to start.
We recently pulled the little potty chair out of storage and washed it out, so Ethan could get the practice sitting on it, and so we can talk about it. I'm not trying to push him (At ALL!) but he is genuinely interested. When he is naked, he runs to the potty yelling 'Gotta Poop!!' and sets up the stool to try and sit down on the toilet.
With Andrew, we were able to 'naked' potty train him. He was terrified of messing the floor, so he would naturally run to the bathroom before having an accident… He was fully 'naked' trained at 2 1/2. (All of our family and friends can attest to that! They'd come over and see a little naked boy running around…) When he turned 3, I realized that most of the fact that he's not potty trained with clothes was our inconsistencies. *We* were going to have to work harder at transitioning him into the clothed potty trained stage.
We started just at home initially. We used bribes, toys, and a potty-chart to encourage him to use the toilet frequently. I headed to Walmart and picked up several toys that he would like (that were on the cheaper end) like cars, and construction vehicles. We started with the largest toy for the first success, and then moved our way down to the smaller items, eventually switching to m&m's for an instant reward – and using a sticker chart to track progress for larger rewards.
The thought of leaving the house with Andrew was terrifying! Not knowing when he would have to go, or where we would be when he had to go was really the hardest stumbling block we came across with training… so we used Huggies Pull-Ups a lot for our outings – just in case we couldn't make it. It is so much easier to use a pull-up than it is to change their clothing in the middle of your outing!
Because Andrew is not fully night-trained, we still use Pull-Ups at night time, nap time, and for longer car rides..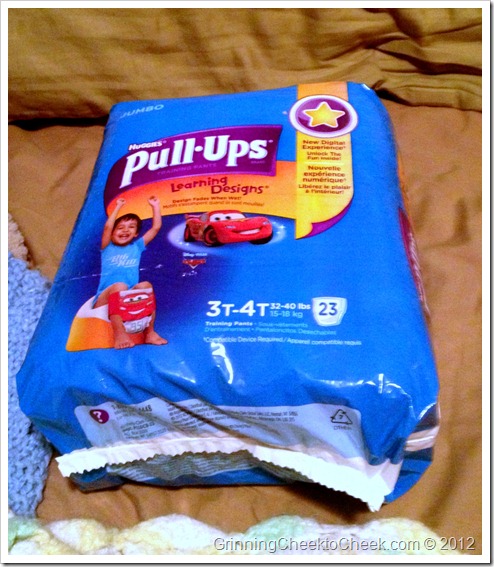 The last time I went to the store to purchase diapers for the boys, It hit me…
Soon, I'll have TWO boys wearing pull-ups instead of diapers. It is a bit more expensive per diaper for a pull-up than it is for a regular diaper.. Granted, Andrew only uses 2-3 a day – Ethan, on the other hand is in that interested stage, where "I Do It!" is his most common phrase, and he wants the freedom of pulling his diaper on and off, and has not yet made it into the toilet when he needed to be there… And he's DEFINITELY not afraid of peeing on the floor (as witnessed several times…) So we'll be going through a lot more Pull-Ups than we did with Andrew.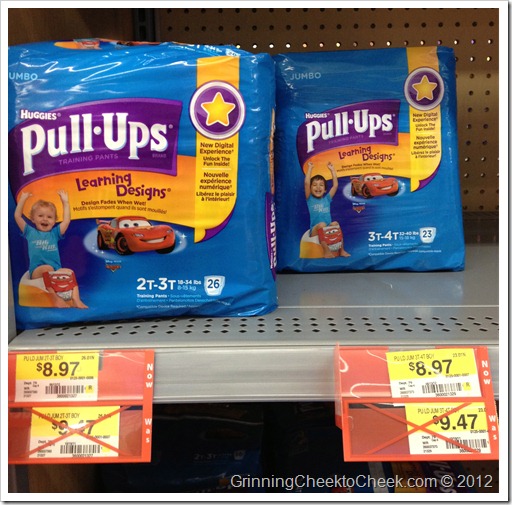 Thankfully, Walmart has put Huggies Pull-Ups on Rollback! That will help this mama deal with the costs of having two boys in this potty training stage!
How did you deal with Potty Training?
Did you use Pull-Ups?
I am a member of the Collective Bias® Social Fabric® Community. This shop has been compensated as part of a social shopper insights study for Collective Bias™ and Huggies. #HuggiesWalmart #CBias #SocialFabric