For the past several weekends my family and I have been trying desperately to get to the Twin Cities Harvest Festival and Maze.  It's rather unfortunate about what happened first:  I slept wrong and was unable to turn my head much at all without pain for one weekend, then the next weekend was Brandcation – and the following weekend was raining and dreary all day.  So. This was the day!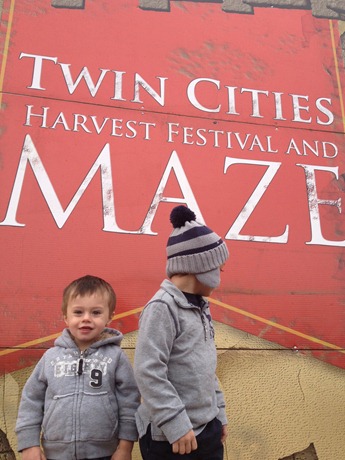 The Twin Cities Havest Festival and Maze is Minnesota's Largest Corn Maze.  This year they have chosen to celebrate Minnesota Military Families.  A portion of every ticket purchased goes to the Minnesota Military Family Foundation. The MMFF is a community-supported fund that distributes money through grants and loans to Minnesota military families of deployed soldiers that need a little help.
But The Twin Cities Havest Festival and Maze is so much more than Minnesota's Largest Corn Maze. There are plenty of things to do to keep yourself occupied all day long.
We started with the Straw Bail Maze – one of the many 'included' attractions: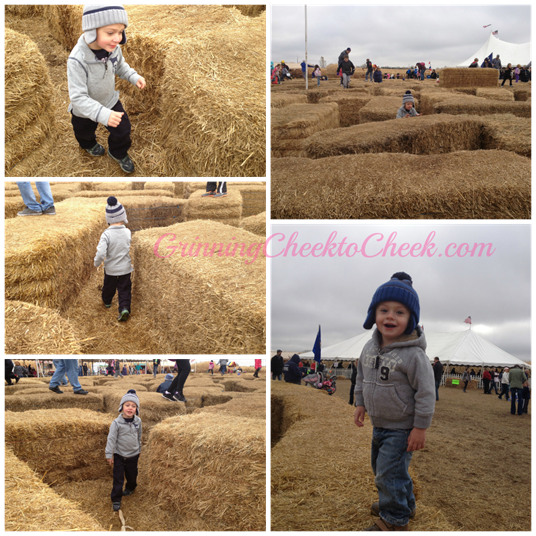 Then Moved over to a few of the premium attractions: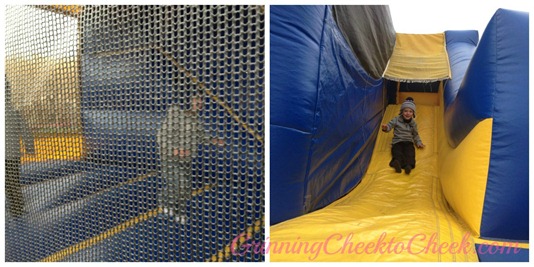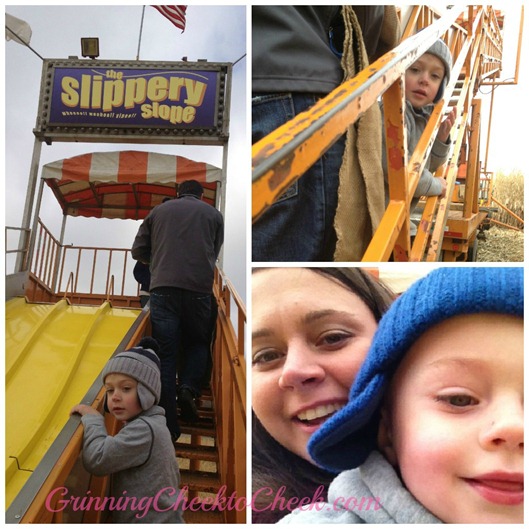 Andrew really wanted to Jump on the Trampoline – this is one of the more expensive attractions. He had to wait a bit – and was so excited that they said he was big enough!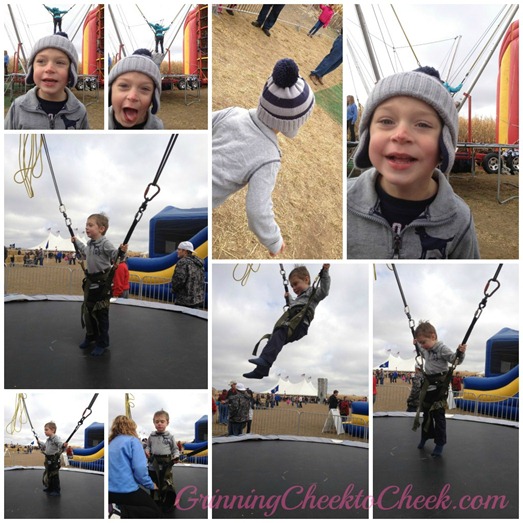 They have an entire area for animals, that you can walk right into and feed the sheep, goats, and chickens!  Really fun – and for only $1.00 per cup of food – it's a worthwhile experience!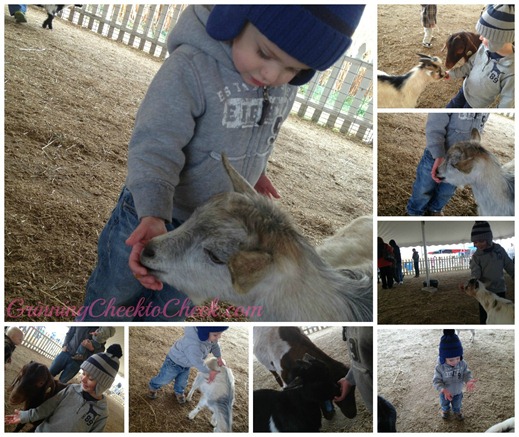 We also had a lot of fun in the corn pit – It's a gigantic area filled with corn, that is so fun to jump around in! Most of my pictures of Andrew were very blurry – because he just wouldn't sit still!! And yes, We were all pulling corn out of our underwear/diapers after getting home…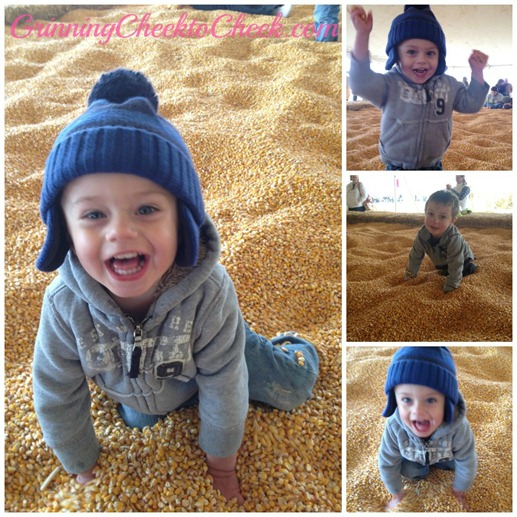 We took a hayride, slung some pumpkins, rode ponies, and jumped on a large jumping pillow: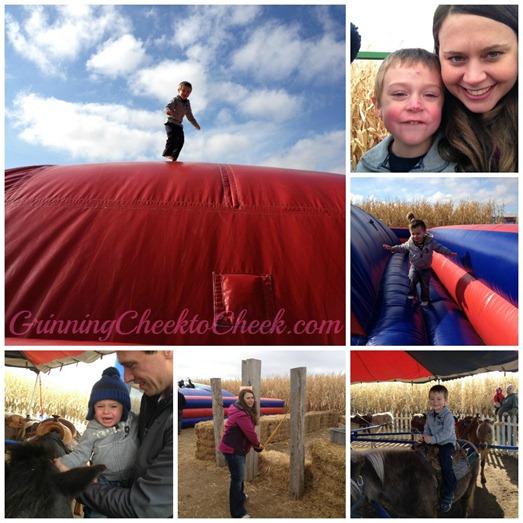 And after all was said and done: We didn't get to go through the corn maze.  Although we walked through several areas of corn, we figured it just wasn't as exciting for the kids as everything else – and if the kids didn't have to nap (desperately!) we would have stayed all day.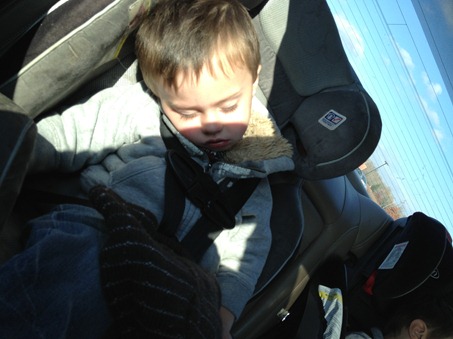 We did however, manage to get our first semi-professional photo of our family taken… And I'm pretty happy about how it turned out! (This is a picture of the picture… my scanner is acting wonky.)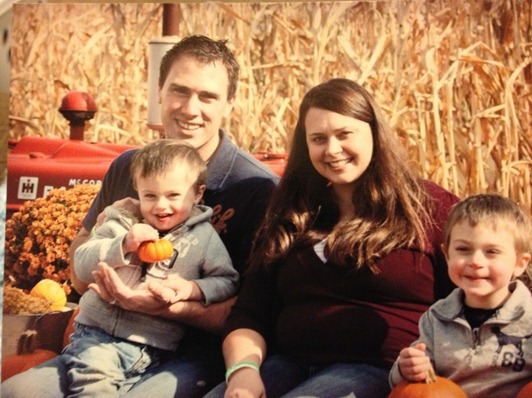 We had such a blast this year, we're definitely not going to miss out on this event again!  The cost for the festival is $9.00 to enter – which gives you access to the corn maze, the hay bale maze, the corn pit, and the Animal area.  Everything else is run separately on a 'Ticket' basis, which is $1.00/ticket.  Attractions range from 1-7 tickets.
We also managed to snag some great pumpkins: 3 orange pumpkins (ANY size) for $10! That's a great deal!  We'll have fun carving those later.
Unfortunately there's not much time left to enjoy the Harvest Festival this year (it closes on October 28th) – so if you're in the Minneapolis area, head out to Brooklyn Park directly off hwy 169 to enjoy the festival this weekend! Visit www.twincitiesmaze.com for more details. 
I was provided with free entrance and activities for myself and family to enjoy. I am under no obligation to share about them – and share only because I thought it was stinkin' awesome.