Toddler (15mo) for Sale:
Likes to climb, can get onto the counter while you are looking away, loves dumping things out – especially large bags of cereal and liquidy things like Yogurt. 
He Can hardly contain himself from Pulling toilet paper across the house, and removing his diaper.

His Favorite activity is Digging in and Playing with fresh poop from the potty chair, and throwing cups down the stairs therefore making the lids come off – and Has a strong affinity towards sharp objects.
 
He's a great napper, but rarely sleeps through the night – demands breakfast right away in the morning – and refuses to be 'Fed' by anyone but himself. 
He loves putting his hands through his hair while eating -therefore requiring a bath after most meals.  His favorite foods are Bananas, Yogurt, and Spaghetti.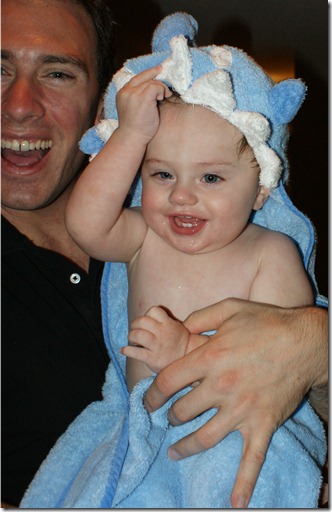 He hasn't decided yet whether he's right or left handed, can Barely Jump off the ground with both feet (a huge accomplishment) and loves to sing – loudly.  Also – He's going through the attachment phase, and refuses to be left alone without screaming to anyone except for his mommy and daddy. 
So if you're in the market for a constant messy house and a mental battle of whether or not it's worth buying something nice in the next 18 years – This is your answer.
I'll give you a great deal.. Crib included.
Of course you all know that I am totally joking – I wouldn't trade my little Ethan for the world, but he sure gives me a run for my money…. Who ever thought one little man could be so mischievous…