Tips for Traveling Long Distance with Little Kids
My kids and I recently drove from New Mexico to Minnesota, and then back again 3 weeks later. Just me, my preschooler, and my toddler. Crazy? Maybe. But we made it and it actually wasn't that bad. Here are the things I think made the difference:
Organized luggage – I intentionally packed one bag with everything we would need in the hotels on the way up and back. This way I didn't have to haul in and out multiple bags for a single night swim and sleep. I also figured we slept in a total of 6 different locations throughout the trip, so when an item wasn't needed in a location, it was separated so I wasn't needlessly moving items.
Are we there yet? – Expect this question. Frequently. Answers were variable, like no, soon, it's still 10 hours, do you see it yet?, I just answered that, and yes we are go ahead and get out. I updated my kids frequently on when I planned to stop again, how many more hours it was, and what state we were in and headed to (though geography is still pretty vague to a 4 year old).
Snacks and toys – pack lots. I kept some toys by the kids and a bunch more in the passenger seat. Plus a bunch of snacks and a few drink options. Go easy on the drinks because more liquid in means more potty stops.
Tablets – our iPads were life savers. The preschooler spent most of the car time on his, and the toddler spent a good chunk on hers. I downloaded lots of apps, shows off Netflix, and a few movies onto both tablets before leaving. Plus we had chargers in the car so they wouldn't die and leave me helpless.
Parks v fast food – with all those snacks you have packed, every stop doesn't have to be at a restaurant or gas station. Consider a stop at a park with a playground somewhere. Let them run off some energy for a bit, then load back up and keep going. We snacked a lot, did fast food for one meal, stopped at a park or grassy rest area at least once a day, and got treats at gas stations whenever we filled up.
Music – have it. My kids demanded the VBS songs when they weren't listening to their iPads. My wonderful husband also created a playlist for me and a playlist for the kids on my phone to be played over the stereo.
Hotel with pool – if your trip takes more than one day, stop at a hotel with a pool. And swim. Even if it means they are awake past bedtime, I recommend swimming. After a day trapped in the car and another day coming, staying up late to expend that cooped-up energy will help them sleep better and be more likely to nap in the car the next day. Bring a few small toys for the pool, like a fun Nuby Submarine!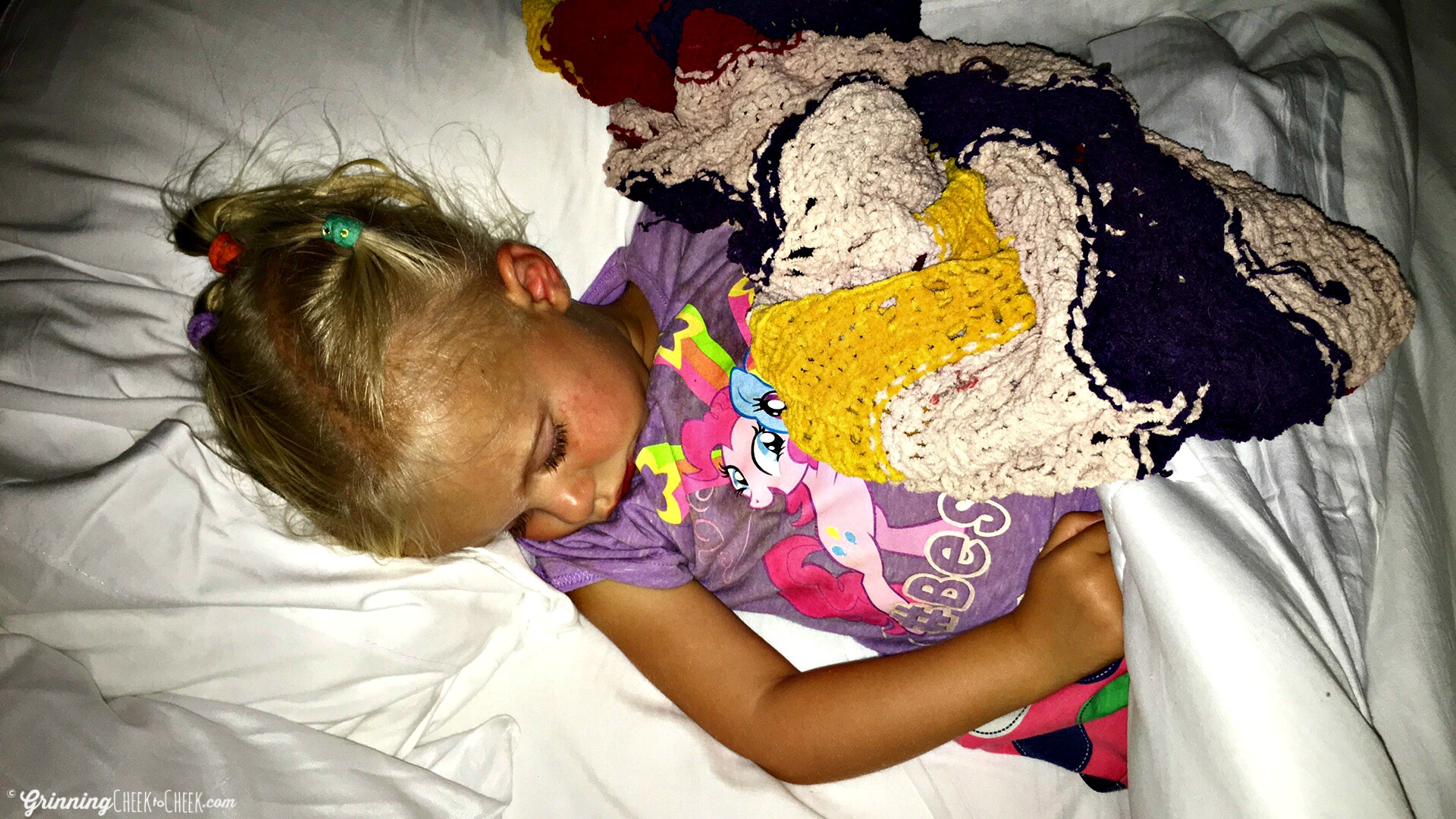 Tents – pitch a tent over the car seats. Really. Tuck a blanket behind the head of the car seat and then drape it over the seat in front. It provides the child with a private space, keeps sun out of their eyes and off their tablets, and can easily be pushed away or ripped down when they don't want it anymore. Just make sure they still get some airflow inside their tent so it doesn't get hot inside.
Fill space by feet – My toddler can't reach past her toes when she is in her harness. And I can't reach her floor when I'm in the driver's seat. So we filled the space between her toes and the floor with blankets and pillows that were coming with anyways. Anything she dropped couldn't go further away than she or I could reach.
Hand on the gas cap while unloading – my son has been doing this since my daugher was born. Once he's out of the car, he puts his hand on the gas cap while I unload his sister, or stuff from the trunk, etc. Both kids would put their hands on the gas cap while I grabbed the hotel bag from the trunk. This way I knew exactly where they were, no running off and perfectly safe.
Tolls – again, my wonderful husband's idea – have a selection of dollar bills and quarters for toll roads. We used an old frosting container. They were super easy to grab when I came up on tolls.
Puke bucket – have something a child could puke in. Because they'll decide they feel sick with about a two second warning, definitely not long enough to pull over, unbuckle yourself and a child, and get them to a safe puking location.
Car seats – have good car seats. Ones you feel your children are safe in, ones that are easy to buckle and unbuckle. My favorite seats in my mommy blogger years are these 2 Diono seats and this Graco seat.
The couple days after! – be prepared for crabby kids. You've driven many hours, thrown off their regular routine and activity level, ended up in a different place with different people, and are probably on edge yourself. Settle back into routine, reassure them that the rules are the same despite the change in location, and breathe deep when they push those buttons!