Does your husband or father ever wear a tie?  I've never worn a tie, but I can imagine comparing it to something along the lines of pantyhose – around your neck.
Every time my husband puts a tie on; he goes to this website that he has bookmarked on his laptop that teaches him (again) how to tie the perfect knot.  He's kind of a strong – handsomely rugged type of guy; so he's got a big neck.  I compare him a little bit (in my own fantasy world) to Gaston from Beauty and the Beast!

Ok – well he's not THAT rugged; or that large… But he has a big neck – and is handsome.  Maybe he's a little more like Ariels Prince…  Anyway…. Getting back on track.
I'm sure it's the same with any guy who doesn't wear a tie on a regular basis – but he gets pretty uncomfortable in a tie; with his shirt all buttoned to the top. <but he's oh-so-cute in a button up>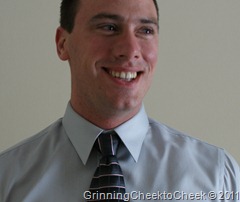 So when I saw the opportunity to review the Tie Snug – I thought this might just be the answer that he is looking for.  When he gets his tie perfect; he can keep it there all day long – and not worry about his tie falling down.  Also, a really key thing to the Tie Snug, is that you can keep your top button UNDONE – and the Tie knot staying in the perfect place to keep the open area hidden!
This must-have men's fashion accessory is a

revolutionary concealed necktie accessory designed to make wearing ties more comfortable, eliminate adjusting and ensuring that a tie knot stays in place.  The product also doubles as a collar extender so the top button on a collar can be undone with the tie knot staying in the perfect position.  TIE SNUG makes for a cleaner, polished and more professional look.  Its simple design and easy application, makes it the newest must-have accessory for anyone who wears a tie and wants to look professional.  This handy tool can be easily stored for everyday use and travel and is 100% sterling making it extremely durable.  TIE SNUG can be applied to all types of men's ties and is designed to stop all tugging, pulling and re-knotting; as a result ties last longer and do not become worn as easily.  Consumers can go to www.tiesnug.com to purchase or to watch an informational video about how TIE SNUG works.

Father's Day will be here before your know it.  TIE SNUG makes a great gift retailing for $29.95 and has a 30-day money back guarantee.
My husband found the Tie Snug quite easy to put in and pretty much just ignored the fact that it was in, until he took the tie off.  The one downside is that it is small – like cufflinks, and would need to have a special place so as not to get lost.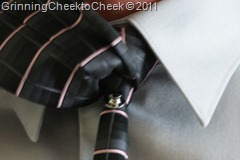 I think this would be a good gift for business men who wear a tie on a regular basis; as well as the occasional tie-wearer.  It may not be the most exciting gift in the world; but they'll thank you for it when they're heading off to their next business meeting or wedding – and can rest assured that the tie snug is holding their tie in place.
On a side note: I think this is a great idea for men in the medical field – who wear a tie under their lab coat!!  Being a dental hygienist I've seen all too many dentists that are adjusting their ties; and trying to make it look clean and professional under their lab coat opening.  The Tie Snug would allow them to be bending and twisting in their chair and practically upside-down into a patients mouth without worrying that the tie is going to loosen! Just a marketing idea for Tie Snug!!