Back when I first started drinking alcoholic beverages – Beer was my drink of choice.  Light beer. Since then, my tastes have progressively changed toward the foo-foo drinks, and long island iced tea's. Problem is, it's so hard for me to go back to beer and enjoy it.  So when I was contacted by Buffalo Wild Wings to try their new beer that pairs perfectly with their wings… I figured it wouldn't hurt to try. Especially considering that I adore their wings.
It's Called The Game Changer!
And for darn good reason, too.  The idea behind the name Game Changer was that it would change the game of beer.  It's definitely not a light beer with a watered down flavor, and it's definitely not an I.P.A beer that's super 'hoppy'.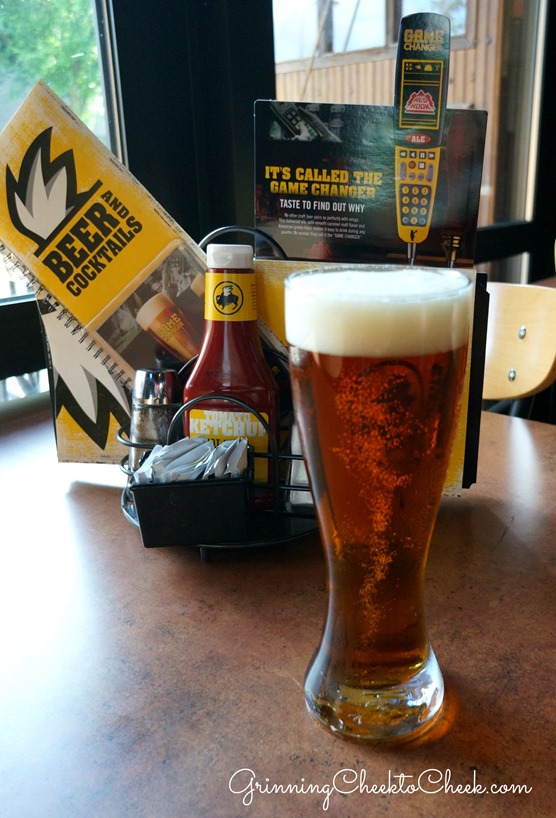 Buffalo Wild Wings and their team of Brewmasters from Red Hook Brewery got together and worked hard on a beer that paired perfectly with BWWs wings and sauces.  They wanted a beer that complimented the wings, and was perfect while watching the game.
The Challenge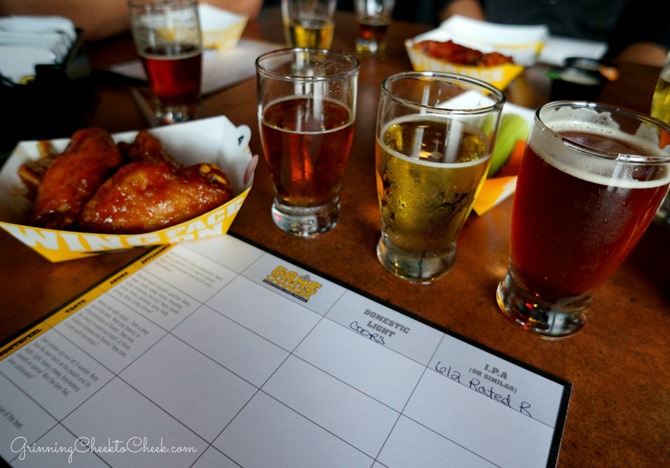 They put us to the test with three different beers: The Game Changer, Coors Light, and a local I.P.A beer called the '612 Rated R.'  We were supposed to rate our thoughts on all of the senses of the beer and how they pair with the wings.
The Coors Light was pretty much exactly as I expected. It had that familiar taste that was pretty low-key and sort-of watered down.  I really don't know how I ever drank so much of this light beer.
The 612 Rated R was by far the worst beer I have ever tasted in my life. I am *not* a fan of strong beer, and this was overly powering and left an awful taste in my mouth which I had to wash away with some wings.
And the Game Changer beer was so perfectly centered between the two: it wasn't light and it wasn't overpowered with Hopps.
Then we tried the beer matched up with wings.  With the wings; the Coors Light tasted like Beer-flavored-water.  I wasn't even about to put another sip of the 612 Rated R in my mouth again. And then the Game Changer:  My husband tried this first. He said that he was so impressed with how well the game changer beer paired with the Mango Habanero sauce – and took the burn away from his mouth to leave a perfect taste of beer.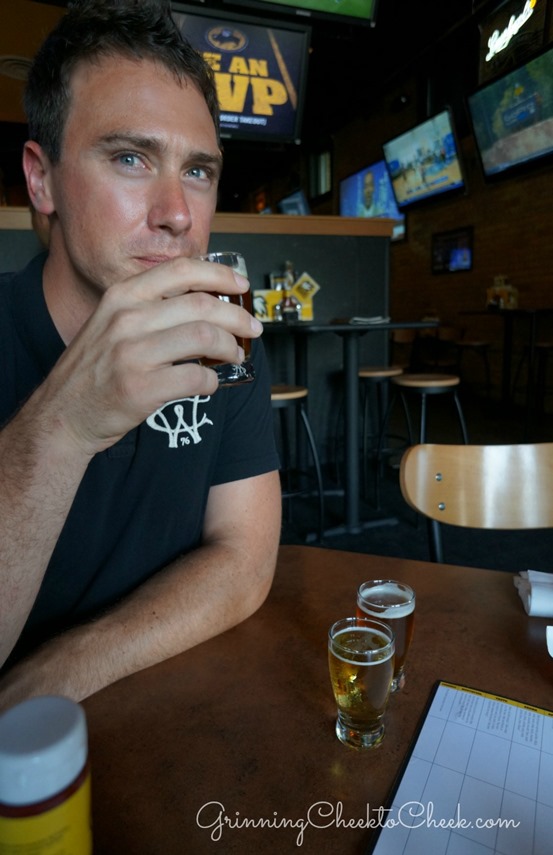 So of course I reached for those wings and took a giant bite.  The sauce is fantastic… to start.  Then I had a sip of beer and to me the hopps flavor was exaggerated – so I didn't love the combination.  But – after a minute or two my mouth started BURNING. FIRE FIRE FIRE!!!! I was literally sweating. Yowzas!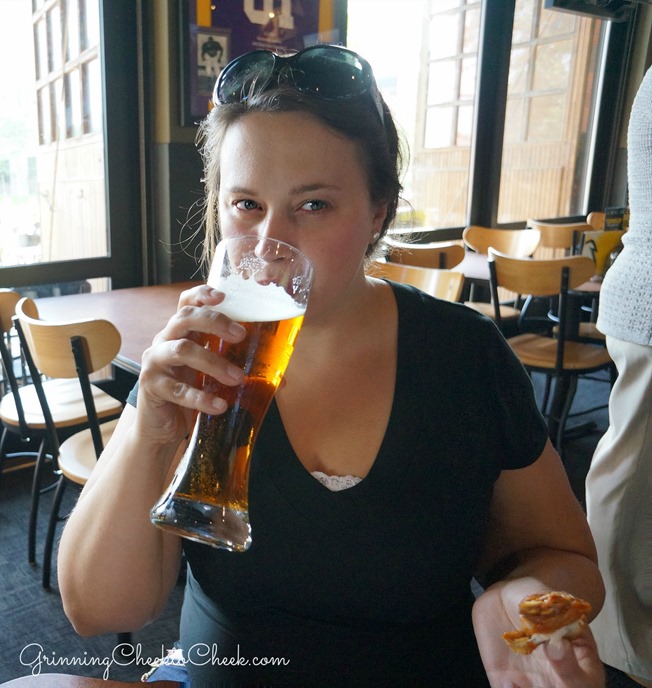 A little bit later I was able to order some of my favorite BWW wings: Medium Buffalo. Now: That was certainly a perfect pairing.. The beer tasted amazing afterwards and did a good job of cooling me down. This would be my ultimate combination.
Gosh I'm getting Hungry now!!
Starting TODAY – Monday the 15th of July – you can order the Game Changer at any Buffalo Wild Wings.  I highly recommend that you go and check it out – maybe preform your own taste test! I'm really excited to get back there soon for some more!
Thanks to Buffalo Wild Wings for inviting me out to try the new beer and providing me with a promotional Thank-You item for my time, as well as offering to have us host a giveaway!
Win It!!!!
One Lucky GC2C Reader will win a $25 Gift Card to Buffalo Wild Wings to have a chance to test out the Game Changer!
How to Enter: Leave a Relevant Comment on this post
Then: Fill out the Rafflecopter form
Be sure to come back each day for extra entries!!   
Rules: You do not have to be a blogger to enter/win. An email address is required to enter. The winner will be chosen randomly through Rafflecopter and contacted via the email registered in Rafflecopter. A reply to the winning email is required within 48 hours before a new winner is chosen. One person entering per household please. US only please.
This giveaway ends at 11:59 PM EST on August 9th, 2013