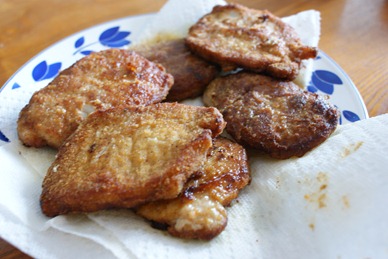 My husband is not one to complain…
I used to call him a human vacuum cleaner. That is, until he hit 30, and started to realize that human vacuum cleaners don't always keep their shape.

But pork chops are certainly not his first choice of meats for dinner.
He was visiting a friend who was cooking pork chops for dinner.  And like normal – with a nod and a smile – he accepted them.  They happened to be some of the best, most juicy, tender, pork chops he had.  So – he asked for the secret.
I'm going to share the secret here…
Shake n' Bake – in a frying pan and oil!!
Ok, I know – not the HEALTHIEST way to eat them, but certainly the most delicious

Ingredients:
Thin cut pork chops (or thick ones, cut in half)
Shake and Bake (any variety)
Oil
Side DishRecipe:
So my pork chops were about 1" thick, which I tend to think are too thick.  so I cut them in half.
Heat pan with about 1/4" of oil in the bottom.
Coat Pork Chops with breadding
Fry for 2-3 minutes per side
Enjoy!
Cut.
Shake.
Fry.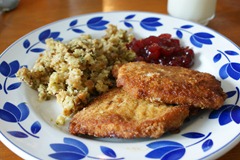 Enjoy!!