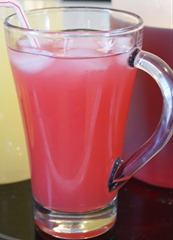 So – If you're a Starbucks regular, you might recognize this title.  I was there meeting up with Jen – a great girl from www.lifewithlevi.com who.. well let me Tell you about my recipe first….
So at Starbucks, I had this Tazo Shaken Iced Passion Tea Lemonade, and it was amazing.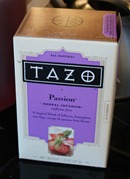 Fast forward to my last Target visit, where they had the Tazo Passion Tea on sale, for $1.75….And I just so happened to have a coupon for $1.25 OFF 1 Tazo Tea…  and TaDa! A match made in heaven

Ingredients:
Tazo Passion Tea
Lemonade
Water
Pitcher(s)
Optional: Sugar or Starbucks sweetener
Recipe:
Boil 8 cups of water.  Steep 8 packages of Tazo Passion Tea into the water for 3-5 minutes.  Refrigerate
Make lemonade (I made a pitcher of Country Time lemonade, because that's what I had.  Simply Lemonade brand tastes SO much better)
Pour half a glass of lemonade over ice, and fill the rest of the glass with the Passion Tea.  Add 1-2 tsp. sugar if desired for extra flavor (I just make my lemonade extra strong instead) Stir.  Enjoy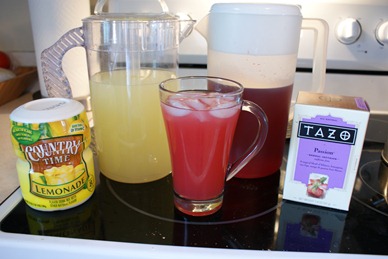 So getting back to the other half of the story about Jen.
I'm going to BlogHer on Thursday…!! and my first roommate I had planned unfortunately was unable to attend – and so I needed a new roommate.  I posted on my favorite forum Momdot.com about needing a roommate – and she (Jen) responded.  She sounded sweet and we got to chatting by email, and then shortly after realized that we live only a few minutes away from each other.  Small world, right??  Anyway, So we're roommates for BlogHer – AND we both have little boys who are almost turning 1 YEAR OLD!!
So we're throwing an amazing Birthday Boy Blast Event come this September (ANOTHER SIDE NOTE: which, if you have kids/babies or plan to– you'll want to stick around for these AMAZING giveaways we are planning for the event.  I am floored, Really.  We're talking – Hayneedle (Britax/LittleTikes) Ergo, Halloween Express… … Ok. Enough Name dropping

.  /EndRant.) 
We were meeting at Starbucks to coordinate schedules for BlogHer and talk about the event details some more. 
Great story. Right?