We started out when Andrew was about 2. I had read a lot of reviews online about balance bikes, and the importance of learning to balance before pedaling – and my husband and I decided to splurge and spend the money on a balance bike rather than purchasing a tricycle.
What's a Balance Bike?
A balance bike is a bike for toddlers, ages 1-5 with a much smaller frame, made specifically for toddlers – but it has NO pedals.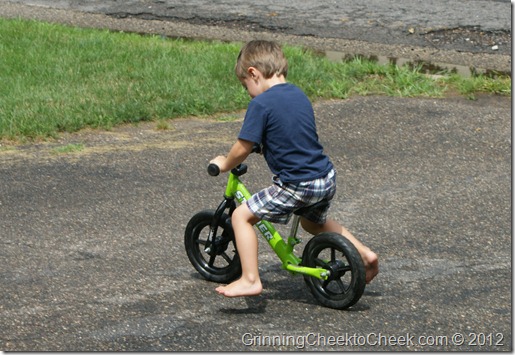 Your toddler simply uses their feet to scoot themselves along – and quickly and effectively learns the art of balancing – and riding the bike.
Bike riding becomes a breeze when you teach your child balance and coordination before pedaling. The STRIDER™ takes pedaling out of the mix so that kids can concentrate solely on learning balance, which takes more practice. Pedaling is a secondary skill that kids can easily learn within a few short minutes.
Our Story:
After purchasing a non-strider balance bike for Andrews 2nd birthday – we quickly realized that not all balance bikes are created equal.
Within 5 minutes of putting the bike together, we knew that the bike we purchased was not going to work. The bike weighed over 15lbs and my little guy was not even able to pull the bike from laying on the ground.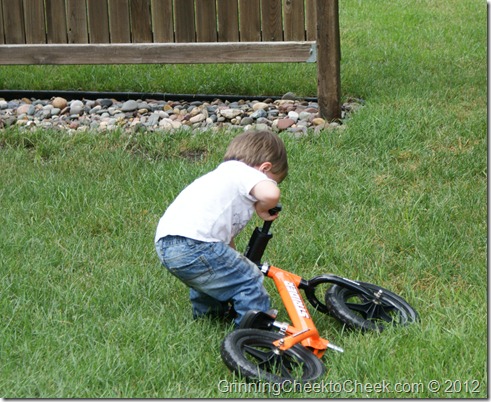 So we returned that bike, and did a little more research. What we had discovered – was the BEST Balance Bike for toddlers – made by Strider Sports.

Strider Bikes are only 6.4 pounds! My 1 1/2 yr old can lift it – and my 3 1/2 year old can load the bike into the trunk!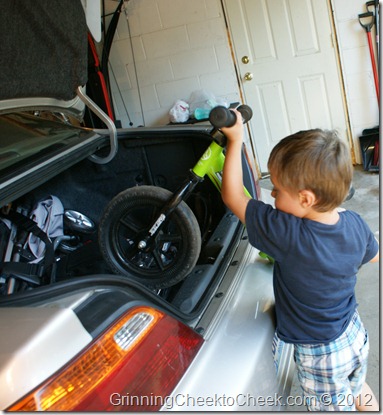 I read a lot about the Strider on their website – and watched all the videos – and my husband and I were totally convinced that it was the coolest bike we could possibly get. So – I ordered one! It was the best gift we could have given.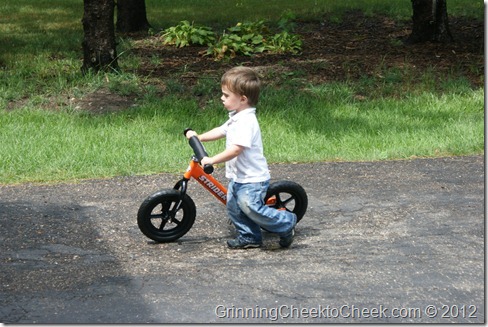 I knew that Andrew loved his Strider so much that we would need a second one for Ethan this summer.
Ethan has had his Strider bike now for about two weeks – and is still 'walking' the bike along – but I'm sure before the snow flies, he'll be pushing himself on it at least a little.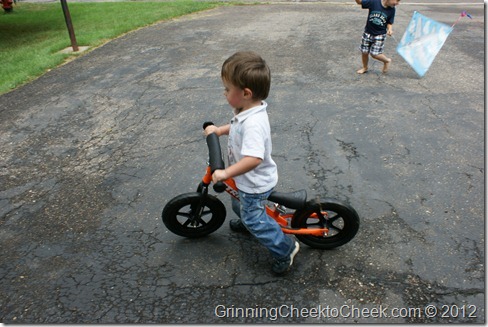 I honestly recommend this bike to all of my friends, and to anyone that asks about it. We get asked about the bike EVERY time that we take a walk/stroll through the park – and it usually takes them a few seconds to understand that there are no pedals.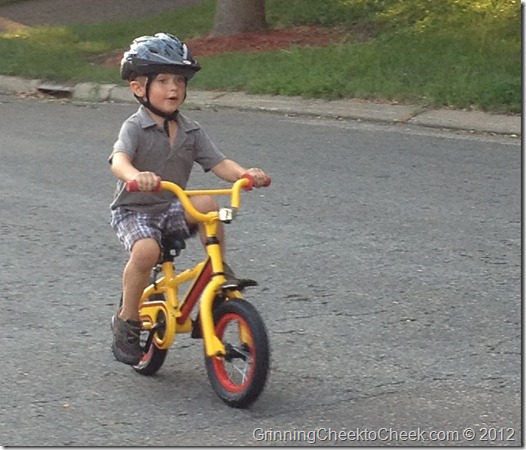 Best part of it all? Last week, Andrew transitioned smoothly from his Strider to a pedal bike. It took ONE day, and was seamless. *HE* was the one that was asking to ride the big boy bike – and just TOOK off on it!
You can learn more about Strider Bikes by visiting them Online at www.stridersports.com and follow them on Facebook, or watch more videos on their YouTube Channel.