So there are essentially two kinds of days in my summer life:
Sunny, warm, outside days; and cloudy, rainy, dark Inside days.
Either way I still have to find a way to entertain the kids!
Thankfully Chuggington has sent some great items to have both types of days covered!!
Sunny Days:
For sunny days – we like to spend much of our time outside.  I love having a fenced in yard and plenty of outdoor toys and activities – because my toddlers don't often stay in one place for a very long time.
Chuggington recently sent over a really fun Bubbles and Balls package! Perfect for my toddlers!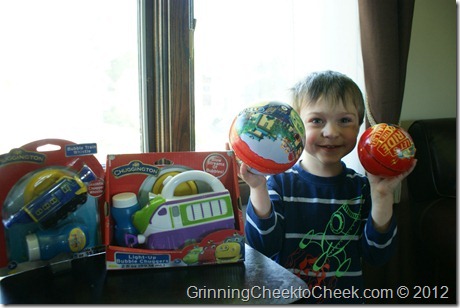 Brewster (the blue one on the left) is a Chuggington Bubble Train Whistle. Simply dip into the bubbles and then blow on the whistle end!  Not only do bubbles come out – but also a train whistle noise is heard! (Assuming your toddlers don't do what mine do, and put their mouth over the whole thing!!) Retail price: $3.99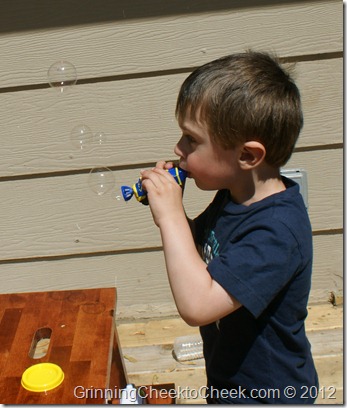 Our favorite toy here is the Chuggington Light Up Bubble Chuggers!  Koko also comes with bubbles – but is battery operated!  So even my 19 month old son can figure this one out!  Dip KoKo into the bubbles, and push the button! Koko's nose also lights up while pushing – making for an awesome evening toy! Retail Price: $8.99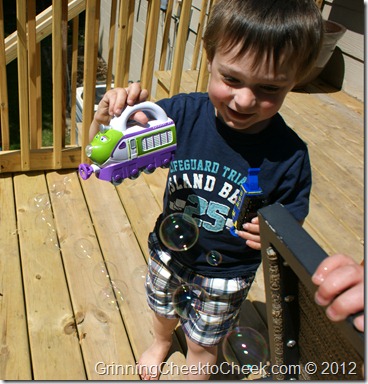 Also the two vinyl Playballs are really fun for the boys to have in the yard.  They're small enough for inside, but fun enough for outside!  These two balls retail for $2.00-$2.50.
Dreary Days:
For dreary or extra hot days – Chuggington has sent over their newest DVD:  Wilson and the Ice Cream Fair, from Anchor Bay Entertainment. 
We love all the Chuggington Episodes – but The Ice Cream Fair has got to be one of Andrew's favorites! (Maybe it's because he *loves* Frostini!)
This DVD hit shelves on May 15th – so be sure to get it now before your next rainy day or road trip!

Ready for this??
I've got two giveaways here:
Win It!!!!!
One Lucky Reader will win the Chuggington Bubbles and Balls prize pack (With one of each of the four toys) AND One Lucky Reader will Win the Wilson and the Ice Cream Fair DVD!
How to Enter:
Mandatory Entry: Leave a comment here telling me about your Chuggers favorite thing about Chuggington! (Whether it be a character, a phrase, or whatever!)
Then: Fill out the Rafflecopter Form:  Entering here will enter you for both prizes! Although, you may only win one of the two prizes.
Be sure to come back each day for extra entries!
Rules: You do not have to be a blogger to enter/win. An email address is required to enter. The winner will be chosen randomly through Rafflecopter and contacted via email. A reply to the winning email is required within 48 hours before a new winner is chosen. One person entering per household please. US ONLY please.
This giveaway ends at 11:59 PM EST on June 9th, 2012.