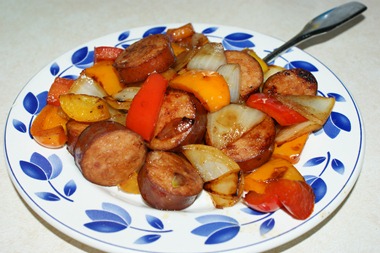 One thing I have noticed a ton lately is that my taste buds have been changing dramatically. Just even over the last several months (since Ethan was born). I have begun to love peppers (still not green ones…) and onions, and guacamole. And for the first time in my life, savoring salsa's.
I was at Sam's Club and they had this recipe on display to show their kielbasa smoked sausage – and I was just blown away by what I ate. So I bought all the ingredients; came home – and cooked it for dinner.
Ingredients:
1 Kielbasa Smoked Sausage – sliced (I like Turkey Kielbasa!)
1/2 Red pepper – cut into chunks
1/2 Orange pepper – cut into chunks
1/2 Yellow Pepper – cut into chunks
1 sweet onion – cut into chunks
1/2 can chunk pineapple in pineapple sauce – drained
-OR- 1 peeled apple cut into thin slices
Obviously you can substitute any of the ingredients; remove pineapple if you don't like it; add more pepper – all one color or multiples; less onion – whatever you like! I do whatever I have on hand.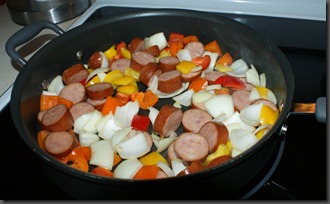 Cooking:
Simply – cook on medium-high. no oils – the sausage has enough fat and flavor to get the veggies tender and browned. I like to cook with a non-stick pan for about 15-20 minutes; until the veggies are tasty and a little softer but sautéed to a nice brown crisp.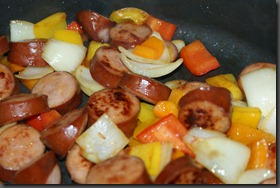 This is one of my favorite go-to last minute dinners; and it's so refreshing and colorful for summer days and gloomy days alike!
***UPDATE*** We still make this quite often: I definitely much prefer to get the Turkey Kielbasa vs. the Beef. I also like to cut up an apple into thin slices and add it to the mixture – it adds a great flavor!