Sleeping on a Futon
Typically, futon mattresses are thin and uncomfortable for sleeping on. But, in our 3-bedroom house, we don't have space for a spare bed. The office does have space for a futon, which makes a comfortable place for Peter to work, me to scrapbook, and kitties to sleep. When my parents came to visit for two weekends, we gave up our bed and spent nights on the futon. And it went great! I didn't sleep quite as well as on my pillow-top bed, but the DHP mattress slept way better than any futon or couch I've ever been on before!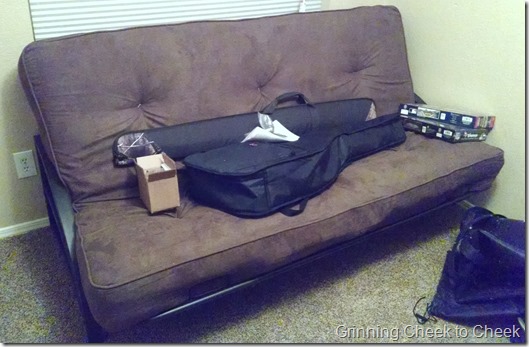 Alessa Metal Frame – $120
The DHP Alessa metal frame was a little complicated to put together, as any futon frame is, but now that is it together, it looks sleek, takes up little space, and easily coverts from futon to bed and back. The best part I noticed was the metal pieces to prevent the futon mattress from falling off! It's nothing fancy, but definitely a good, pretty, solid frame.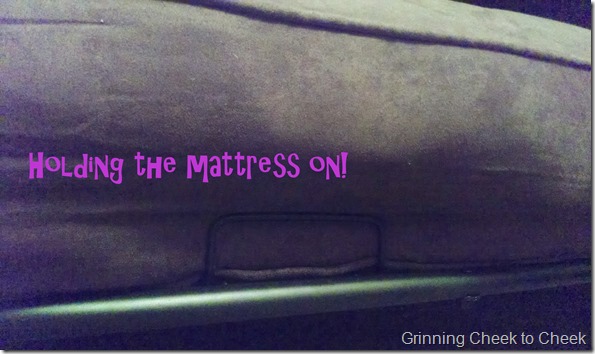 8" Futon Mattress – $150
This DHP mattress came rolled up and practically flattened me to the wall when we pulled it out of its bag. It seemed way too solid and thick to bend onto a futon. Yet, with little effort, it fit perfectly onto the Alessa frame. Yay! The covering is soft microfiber and the mattress is comfortable. We slept solidly (better than babies!) through the nights, no problem.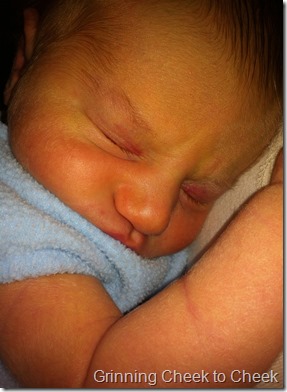 Newborn Micah
Downside?
The futon was very hard to fold back up. I actually had to take the mattress off, and then it folded back into a couch shape easily. I'm hoping this is just because it's brand-new and stiff, we'll see how it goes in the future. It would have been a lot easier with two people too.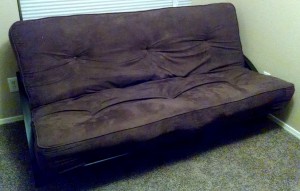 The only other downside we noticed was the packaging. The frame and mattress were both packaged, put in another box, and then the space was filled with packing peanuts. Micah took advantage and had a great time playing! We considered using them to make our own bean-bag-chair, but that hasn't happened.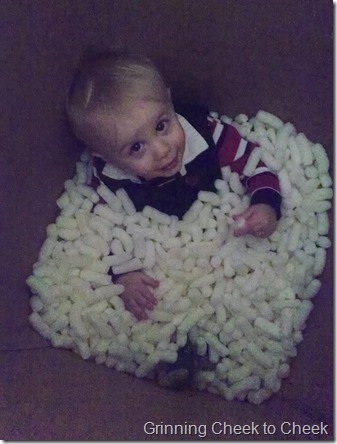 Check out Dorel Home Products (DHP) more on Facebook, Pinterest, and their website! They have some really cute, interesting, and stylish products!
To buy the Alessa frame check out Walmart or search for it on Amazon! For the mattress, also check out Walmart or other retailers like Target, Amazon, Kmart, and Wayfair. 
Dorel Home Products furniture provided me with an Alessa metal futon frame and deluxe mattress. Opinions are 100% my own. And my opinion is the DHP 8" futon mattress on the Alessa metal frame looks and sleeps great!