I haven't spent much time lately watching comercials lately (and therefore previews to the newer movies) but when I was at the theater a few weeks ago I saw the preview for Safe Haven.  It looks so good!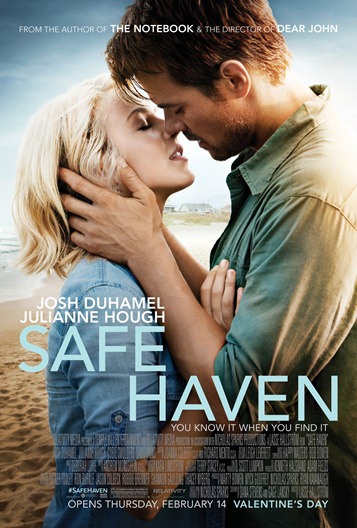 An affirming and suspenseful story about a young woman's struggle to love again, Safe Haven is based on the novel from Nicholas Sparks, the best-selling author behind the hit films The Notebook and Dear John. When a mysterious young woman arrives in a small North Carolina town, her reluctance to join the tight knit community raises questions about her past. Slowly, she begins putting down roots, and gains the courage to start a relationship with Alex, a widowed store owner with two young children. But dark secrets intrude on her new life with such terror that she is forced to rediscover the meaning of sacrifice and rely on the power of love in this deeply moving romantic thriller.
I told my husband that he can take me to that movie as part of my 'Valentine's Gift'… Except now I've gotten an invite to a screening the week before the release, so I'm taking him, instead

Are you looking forward to seeing the movie?  Here's a preview below:
For more information on SAFE HAVEN
Like Safe Haven on Facebook
Follow @SafeHavenMovie on Twitter #SafeHaven
Watch the trailer & clips on YouTube
Find Safe Haven on Instagram & Pinterest too!
Look for a giveaway next week pertaining to this movie release! It's *really* good!
Are you planing on going to the movies around Valentine's Day?