Our recycling habits over the last year of us living in this home (where we pay the garbage bill) has evolved tremendously. *Horrible to admit, I know*
Unfortunately – until a few months ago – it looked like a whole lot of garbage piling up in the corner of the kitchen.
We would put out a paper bag, and the bag got more and more full, balancing one item on top of the other – until the balancing act failed.  THAT's when would bring it down to the recycle bin.
(Garbage is my husbands ONE job that I refuse to give in to, so yes, it piles up sometimes.)
I never really thought about a using a container.  — That is until Rubbermaid contacted me about their 2-in-1 container.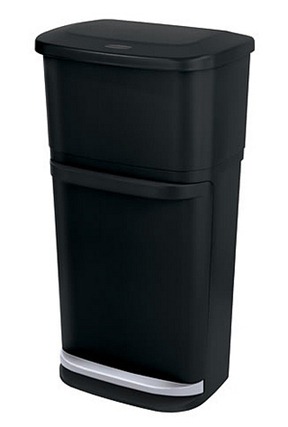 Genius. Serious!
We don't have to sort our recycling because it all gets put into the same can – but having an enclosed place for our recycling? Genius.
I love the handles on each of the compartments which allows us to carry the recycling down and dump it, without touching it or using any other bags.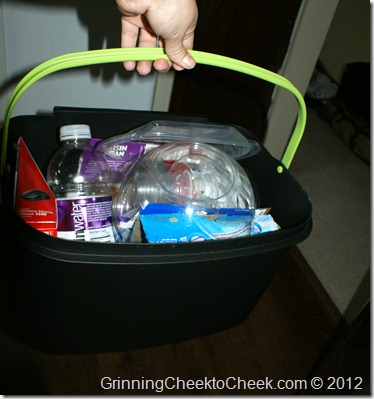 *I* have even brought the can downstairs a few times to dump it out *GASP* I know!!!
Rubbermaid 2-in-1 Recycler is an all-in-one location for sorting recyclables.  The features of this product include:
– Keeps recyclables off the counter by giving them a place to live in your kitchen
– The bottom tilt out bin holds a standard 8-gallon trash bag AND features LinerLock bag management, so your bag stays put and does not slip
– Both the top and bottom bin have convenient handles when needed to transport recyclables to wherever your recycling is stored for pick-up or transport
– The 2-in-1 Recycler fits more recyclables while using 25% less floor space compared to typical divided containers
– Made with recyclable materials, and is recyclable itself
If you have to sort recycling, I think this would be a great addition to the kitchen – in that you can keep things separated in the compartments.
I do feel like it gets full really fast.  But then again, so did my corner of kitchen when I used paper bags to collect and stack recycling. It might also help if I broke down all the boxes and stepped on the plastic bottles before putting them in the 2-in-1 Recycler.  But, That takes effort

It encourages me to empty it on a more frequent basis, therefore keeping the hassle of dealing with TOO much garbage to a minimum.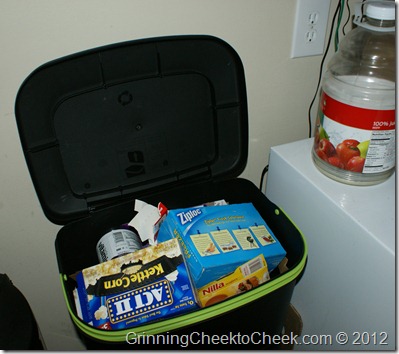 I am often trying to rearrange the can to fit more things in, and then I realize that it is just a quick lift and carry to get downstairs to have an empty container!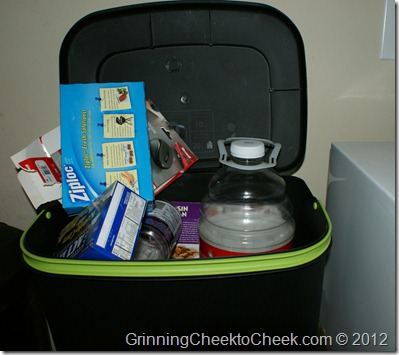 I took it all apart today to take the pictures – and Andrew put it all back together by himself.  He's 3.  So If you're looking for a great job for kids to help you with, this would be a great place to start!
Buy It!
The 2-in-1 Recycler is available for purchase online at Rubbermaid.com as well as available in store at Meijer and retails for appx. $43.99.
Win It!!!!
One Lucky Reader will win a Rubbermaid 2-in-1 Recycler (ERV $44)
How to Enter:
Mandatory Entry: leave a relevant comment on this post
Then: Fill out the Rafflecopter Form below!
Be sure to come back each day for Extra Entries!!!
Rules: You do not have to be a blogger to enter/win. An email address is required to enter. The winner will be chosen randomly through Rafflecopter and contacted via email. A reply to the winning email is required within 48 hours before a new winner is chosen. One person entering per household please. US ONLY please.
This giveaway ends at 11:59 PM EST on May 25th, 2012.