As far back as I can remember I have had the hardest time finding clothes that fit well.  I'm not sure why but it seems that I'm ALWAYS in-between sizes..
Right now for me – Most XL's are too small, but Plus-Size is too big.
Well.  Lately – I've been shopping with my friend Jen from www.lifewithlevi.com – and she mentioned that she just grabs clothes – and buys them. WITHOUT trying them on. *Gasp* Sometimes she has to return them, but mostly they end up working well enough for her.
I cannot imagine doing that.
Well I am changing that for her.  A few days ago I took her to my all-time favorite clothing store: Maurices.  I'd safely say that 90% or more of my wardrobe is from Maurices.  They have many cute clothes – ranging from XS all the way to XXL in their regular sections – and then they even have a plus size section.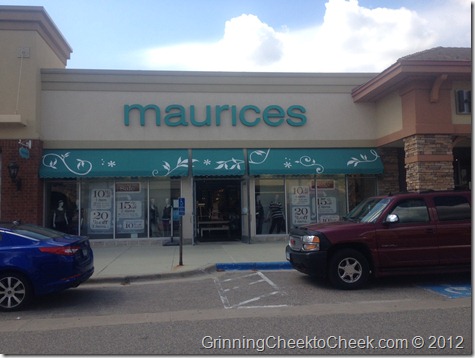 While I'm not into the plus-sized clothes (just yet… ugh)– I've been keeping my eyes out for anything in that section in the smallest size that might be cute for me to wear.
They have definitely changed the way that I personally view plus-sized clothing.  I used to think of plus-size as baggy, long, ugly shirts – but now days they are definitely more stylish tops that are made to flatter your curves.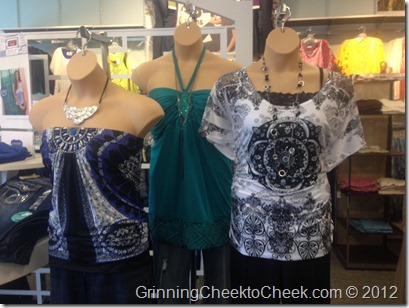 I do enjoy looking through outfit styles online, but I absolutely cannot buy clothes online.  Even when I'm in a store I grab 2-3 sizes of each thing, because everything seems to fit so differently!
When it comes to catalog and online shopping – I get especially frustrated because sites that are made to showcase clothing specifically for sizes 14 and up – but the models they use to show off their clothing selection are small!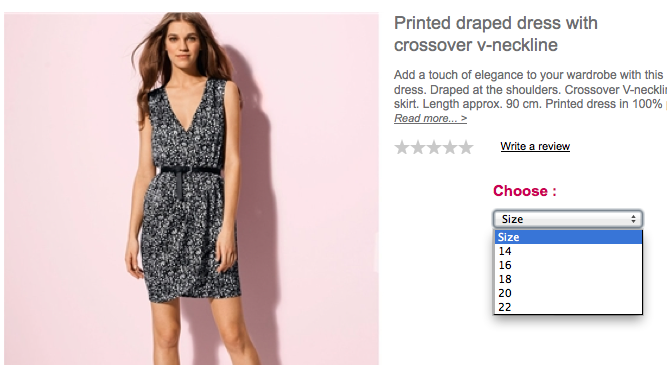 She's most certainly NOT a size 14 (or larger…).
My best guess is that she is wearing this, and it's all pinned together in the back – just like they do with the fake models at the stores.
Do you have frustrations with clothing? Or can you order clothes online and purchase clothing just by looking at it and grabbing the 'right size'?