These are my goals for this year in regards to healthy living.
Posture and Ergonomics: I sit many hours at this computer per week: and a few weeks ago suffered from tendonitis in my wrists and was unable to type two handed for almost 4 days.  I *need* to make improvements in my workspace that supports my body while I work. I need a new Chair, a keyboard wrist rest, and a footstool of sorts. 
Baby Steps: Work a little each week on a small change in making myself and my family healthier:
Overlapping with my Blogging Goals:
This is also coming along with a new weekly meme: Fit Family Fridays!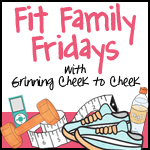 Each Friday starting this coming Friday I will be posting a little bit about something that week that I did to improve the health of my family:  Little or Big – I'll be posting it and adding a linky for other bloggers to link up their photos, recipes, or stories that go along with 'Fit Family Fridays'.  I'm really excited for it – and look forward to sharing with everyone a little inspiration on living healthier!
Check out some of my other Blogging Goals for 2012!!