Now that we live in Arizona, I expected to wear shorts and t-shirts all winter, but it does actually get chilly here sometimes! And cooler weather demands hot drinks. Plus, having a baby around means less sleep which demands more coffee!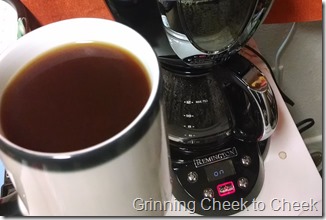 The Remington iCoffee
That's where the iCoffee comes in. After much time and work, Remington came up with a new way to brew coffee: with pre-steam, a permanent filter, and rich crema extraction capabilities.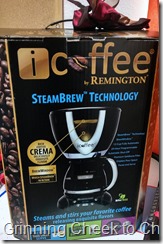 The SteamBrew Pre-Steam
According to their website, the pre-steam helps unlock the nutrition and flavor of the coffee, similar to how steaming vegetables brings out the best in them. This helps increase the smooth flavors or any coffee grind, rather than the bitter and acidic flavors from drip-brewing.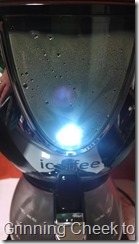 Peter and his iCoffee
Peter took the iCoffee to work with him, because he definitely needs a cup of coffee most days, sometimes 2 or 3. His thoughts: it brews a creamier coffee, "not bad, just different". The way he described it, the texture is more creamy and less like coffee flavored water. Though, towards the bottom on the pot, it does seem to have a fine grit. He drinks coffee black, so he likes the bitter, acidic taste. I put more cream and sugar in than there is coffee, so the creamier the better.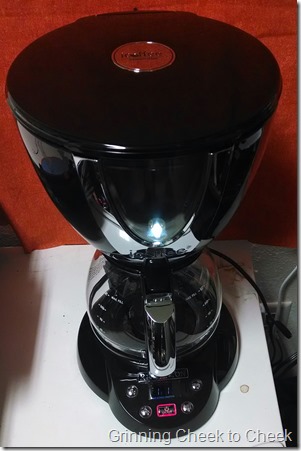 Perks of the iCoffee
-Six rotational hot water jets with a brew-viewing window with a light!
-24-hour programmable, 12-cup fully automatic, auto-shut-off with 2-hour keep warm
-Plays Mozart when it's done. Peter says "kinda cheesy, but better than just beeping"
Check out the iCoffee Online:
Website: http://www.icoffee.com/
Facebook: https://www.facebook.com/iCoffee
Twitter: https://twitter.com/icoffee
Pinterest: http://pinterest.com/icoffeeusa
Google+: https://plus.google.com/u/0/101104852521441303695/posts
I received an iCoffee in exchange for sharing this information with you. Opinions are 100% my own (and Peter's).