So as I was searching through several old photos lately – I came across the file of well over 1000 pictures that we took on our vacation almost exactly three years ago.  My Husband and I along with my In-Laws drove from Minneapolis, to Banff, then to Glacier Park, then to Yellowstone, and finally came home after two weeks.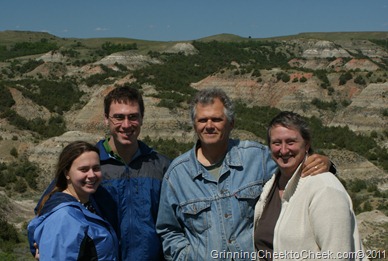 It was an interesting point in all of our lives – my Mother-In-Law had found out just one year before that she had Stage IV Colon Cancer – and had been on Chemotherapy drugs; and was always sick.  I myself, was in my 3rd month of pregnancy… and was nearly bulimic (but not by choice.)  So we both had our ice cream pails near our feet – ready to heave at any moment; and one of us would set off the other.  So needless to say, it was an interesting car ride.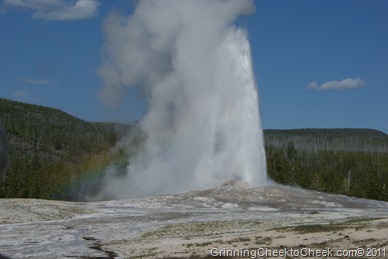 This was almost the exact half-point between my MIL's diagnosis and her funeral.  It brings great memories, yet a bit of sadness to look at these pictures – because while we had a great time; I often remember that she was trying to be so strong for us to enjoy our vacation; while she was dealing with a blockage in her colon and was throwing up everything. We wanted to go home early for her sake so she could get to a Dr. (or the hospital really) but she didn't want to go – she too, loved the scenery and wanted to take it all in as much as she could, knowing it would be her last visit to these great places.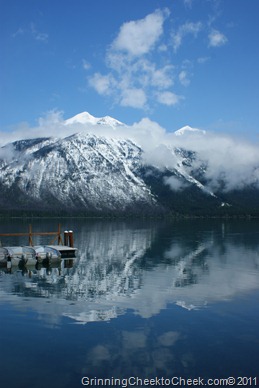 Over the next several days/weeks I'll be showing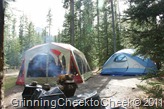 some of the great pictures that we took – mostly the scenery <because honestly – we didn't shower enough; often slept in tents; and therefore I don't think you want to see how awesome we looked.> I'll try to spare you all from my babbling and tell you just the good stories

.
I don't want to get too ahead of my self and promise this or anything – but we've got vacation pictures from MANY trips that I'd just love to show here.. We have been to some pretty awesome places (almost all of which were with my in-laws) and had some great times that I would love to just get down in writing/photo!
I will put these under the family dropdown with the title 'Our Travels' so you can catch up on these any time you'd like.
Click here to start the journey:  Banff- Part 1