My husband is really into the R/C Stuff.  Pretty much anything that flies- he wants.  It has become quite a nice thing for him to keep his mind busy and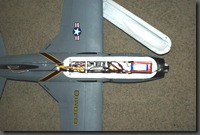 to teach Andrew all about.  He's more into something called FPV – where he uses a camera attached to the plane and then watches through goggles as he flies; and can record flights to share with others online. I guess there's a pretty big community for all of this!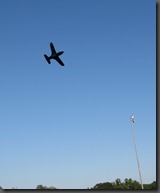 Now since the weather has started getting better here – he has started pulling out all the airplanes and starting to tweak them a bit.  He had gotten a new body of airplane and now he's starting to piece it together and get it set up so he can fly it.  I can't wait till he finally gets it up, then I can put a video up here of what I'm talking about.
Anyway – so the point of me telling this whole story is not really about the airplane.  Yesterday after Andrew had finished breakfast, I was washing the dining room table and noticed a PILE of glue.  Its not just regular glue either – its like cement for airplanes that will not come out.  He must have tipped the bottle over.  Why did he not have paper or something down?!
I asked Joe about it and he was like, 'Oh well, we needed a new table anyway!'.
When we were first married we had a  pedestal dining table that was given to us – and then a few months into our marriage almost nine years ago we bought a new $80 table from Walmart that worked better in our eat-in kitchen at the time.  That table has been the perfect sized table for us up until now. Not that our dining room is HUGE – but it is much larger than any other dining room we've ever had, so there's a lot of empty space around the table.
I think it would be nice to get a table that has leaves for expanding it, so we can have company over; and make the adjustments.
Just another thing to add to the list!