For Christmas this year, our one year old Ethan was so happy to open up his Radio Flyer 4 in 1 Trike. Actually, Andrew was probably the most excited – but only because Ethan didn't really know what he was getting until we put it together.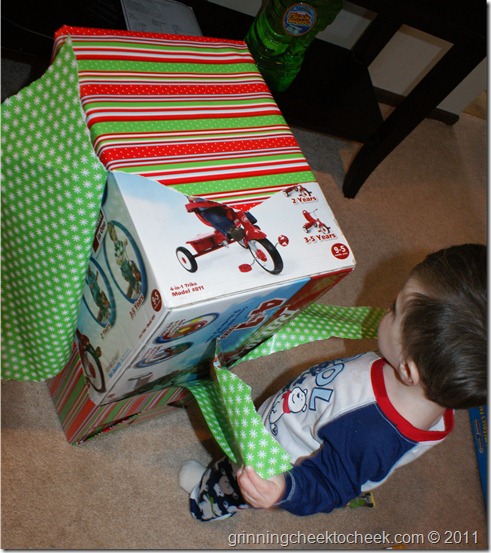 Andrew, on the other hand wanted us to put it together, right away so he could ride it to Grandpa's house.
Joe put some of it together on Christmas morning, but we really had to get going.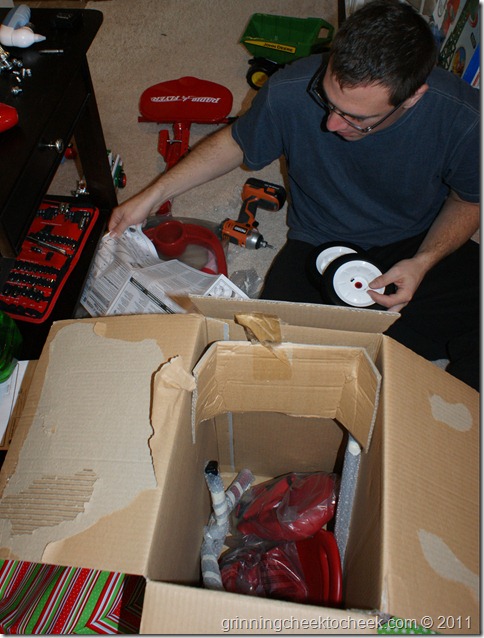 (Did you notice, that my husband actually reads directions?? I love that!)
So the next day we got the trike put together. Joe and I were super excited, as we have always wanted a trike like this (back when Andrew was about 1 year old) but because we lived in a condo – we didn't really have a great area to use it in, and it would just have taken up more of our precious (little) space. But now in our home with a neighborhood to ride around, I'm very excited to get to use this trike outside!
We practiced a bit downstairs first –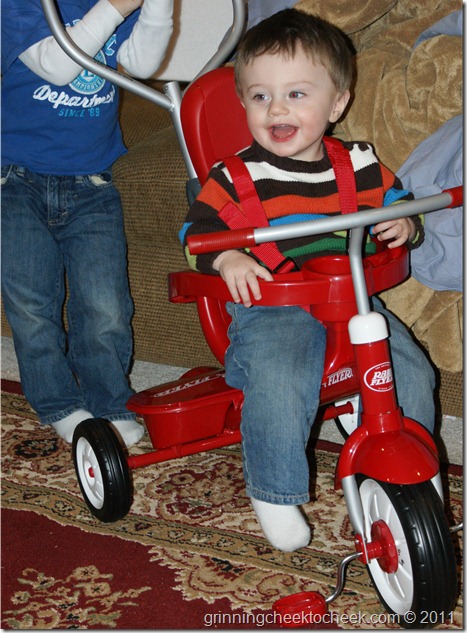 Ethan still doesn't have quite the balance or realization yet that he can fall off of these things, so I'm really glad that he can have the wrap-around tray to help hold him in. The harness helps really well also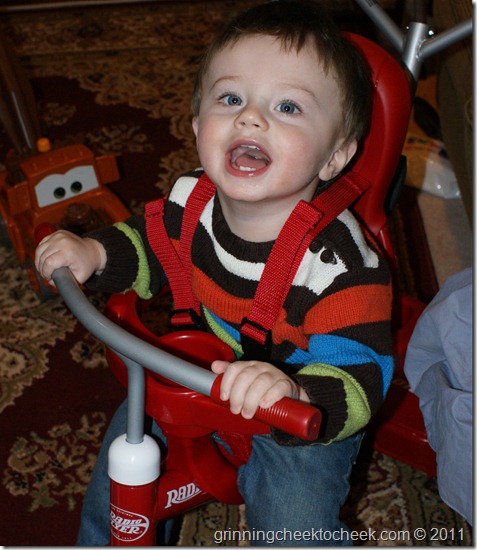 I love that we have the option to push and steer him – since he can't pedal himself yet, I am able to push him and not worry about where he might be steering us. I like that even when he does start to pedal and steer on his own – it will be easy for us to remove the steering stick.
Meanwhile, It's also fun for Andrew to push him!
I love that the pedals can be locked in place so they don't move and hit their feet while you're pushing them, and they're unable to reach the pedals yet.
They are quickly and easily unlocked as well.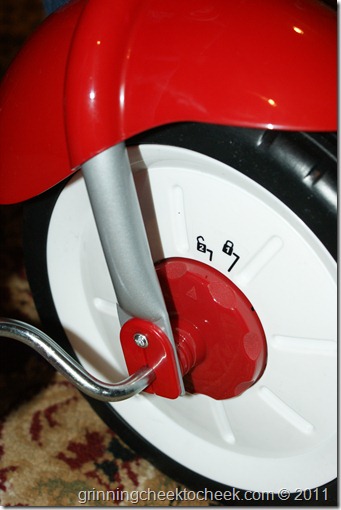 The downside to this trike is that Ethan is not sure what to do with his feet. I'm a little saddened that there isn't a footrest option for younger children – because either his feet just dangle, which seems to be uncomfortable for him – or he is trying to get his feet on the pedal, which he isn't quite long enough for yet.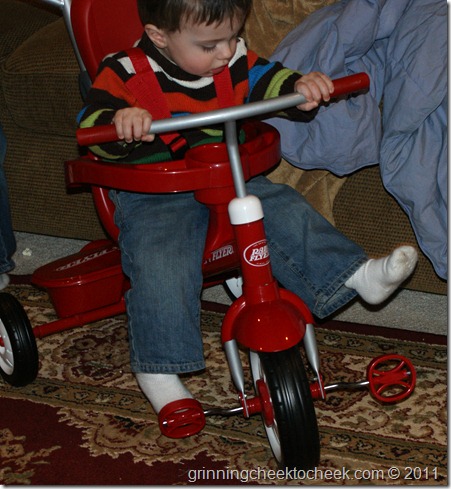 In the pictures on the box and online, it shows the kids putting their feet up on the tire cover. But Ethan hasn't quite gotten that one down yet –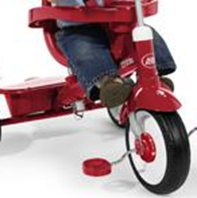 Maybe while we're out he'll figure out that it's more comfortable there.
One of my favorite aspects about this trike, is that it will last until Ethan is 5 years old – and even our 3 year old Andrew can use it!
Just a few adjustments for Andrew to get on.
Every removable piece has the nice hand-turnable knobs, so you can easily add or remove a piece.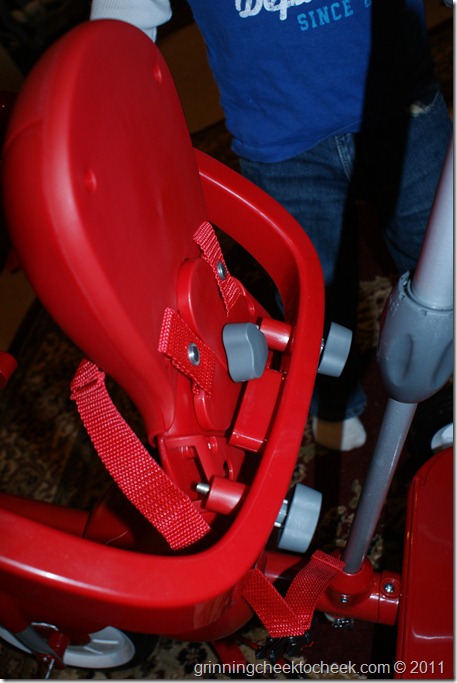 So to make this work for Andrew, we simply have to unscrew the wrap around center, and the top part of the back rest. We can also adjust the seat to be closer or further from the petals.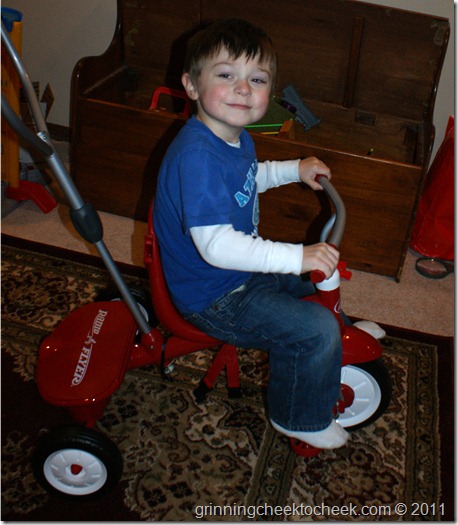 We could have removed the steering pole, and the harness pieces, but didn't in this particular case because we knew we'd be putting it back for Ethan in a few minutes anyway.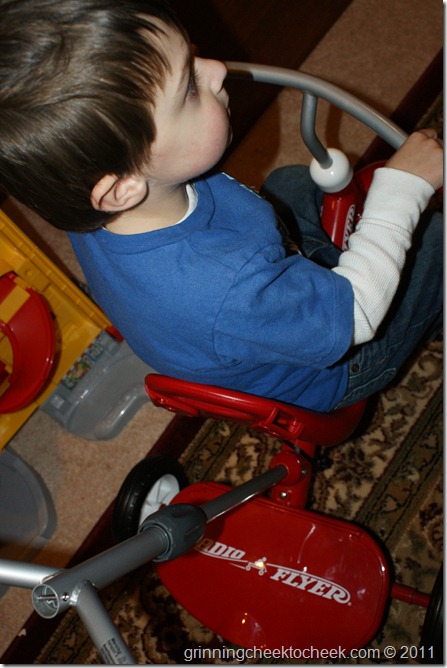 There are a few other neat features of this trike as well –
Like the bucket storage in the back. This is great because I'm so used to having my stroller base to store things in when we go around the block – so I can still keep a few things like keys and my wallet back here. And when Ethan is a little bigger and wants to keep a few toys in the back, he can do that!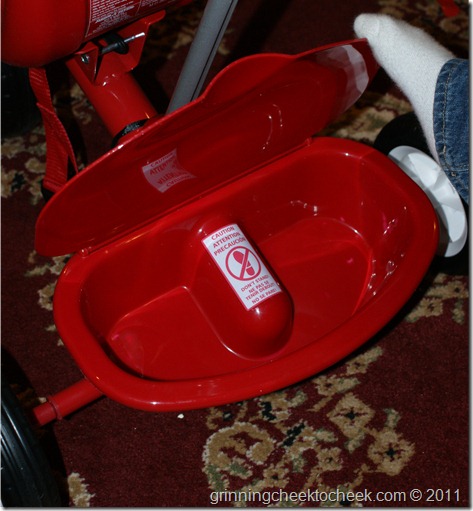 Also there is a hood that attaches to the trike to help block the sun from harming your baby's skin. The hood isn't terribly large, but can be adjusted to whatever direction the sun is coming from.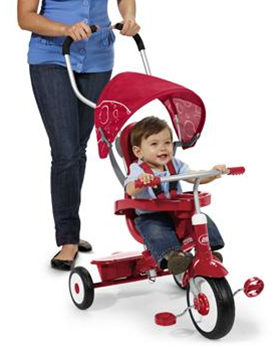 We're so excited to give the trike some love and get it outdoors this spring! Andrew on his bike, and Ethan on his trike!
You too can enjoy this spring and summer with your little one – and you can find the Radio Flyer 4-in-1 Trike at most major retailers, as well as online a http://www.radioflyer.com, for a very inexpensive $99.00.