Thanks to Quaker for sparking this conversation about their new partnership with AdoptAClasroom.
All opinions are 100% my own. 
It's almost bittersweet that my boys are both entering school this year! My oldest starts Kindergarten next Monday, and my youngest starts preschool next month.  I love all the exciting new things they're going to learn, but I am TERRIFIED of the things that I am going to have to learn; like morning time-management, getting my kids out of the house on time and Homework!  Heck – I was panicking over the Summer Homework (and it's still not finished!).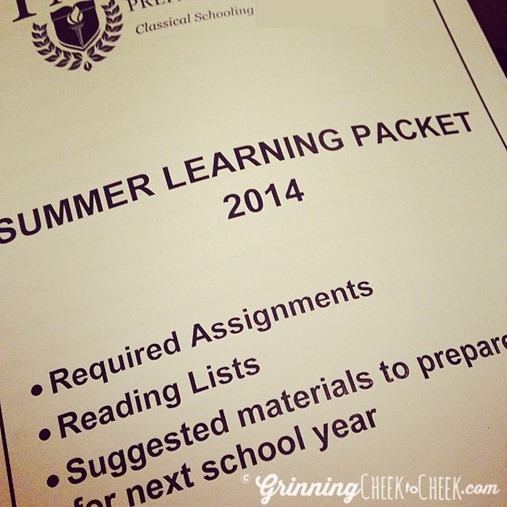 Tomorrow is our Kindergarten Orientation – where we will figure out the ins-and-outs of the school he is going to. It's so amazing to me that these teachers have spent much of their time this summer preparing for their new year with my precious child!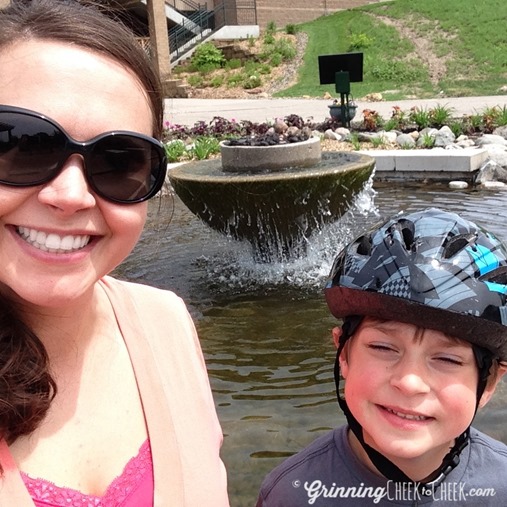 Did you know that Teachers spend more than $1 billion a year stocking their own classrooms (source), and they're buying more than just school supplies. In fact, Three in Five K-8 public school teachers say their students regularly come to school hungry, and as a result these teachers typically spend $37 per moth from their own paychecks on food for their students (source).
I am guessing that several of these children coming hungry are not hungry because they just want more food (like my seemingly bottomless-pit children) but because they really did not have breakfast: due to availability, cost, time, or irresponsibility.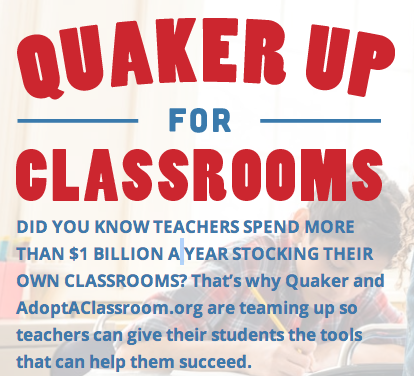 Thankfully – this information is coming to light; and companies like Quaker – who understands the importance of helping to fuel health and wellness in schools – are joining together with programs like AdoptAClassroom.org to help fuel classrooms cross the country!
I've also teamed up with Quaker as a Quaker Classroom Ambassador – and I'm inviting you to join Quaker in supporting teachers nationwide. Through September 30th – you can purchase specially-marked Quaker products and enter the unique package codes online at www.QuakerupForClassrooms.com. For every code entered online, Quaker will donate $1 to AdoptAClassroom.org up to $250,000 (minimum donation $150,000). PLUS: You'll get a coupon for $1 off Quaker Products!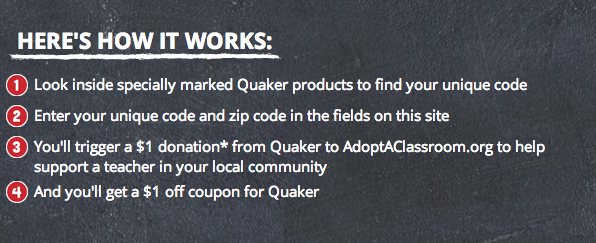 Specially-marked Quaker products include:
 Instant Quaker Oatmeal Maple Brown Sugar – 10 ct.
 Instant Quaker Oatmeal Apples & Cinnamon – 10 ct.
 Instant Quaker Oatmeal Regular – 10 ct.
 Life Regular – 13 oz.
 Chewy Chocolate Chip – 8 ct.
 Chewy Peanut Butter Chocolate Chip – 8 ct.
 Quaker Oat Squares Brown Sugar – 14.5 oz.
 Life Cinnamon – 13 oz.
Start purchasing your Quaker products today – and don't forget to enter the codes! Then – keep your eyes peeled for the next few posts that I will have including some great back-to-school content from myself and the other Quaker Classroom Ambassadors! Join the conversation on social media by following the #QuakerUp hashtag.
Help calm this new-to-school Mama:  Tell me about some fears you have or have had for back-to-school time! Any B2S Tips are Appreciated!!!