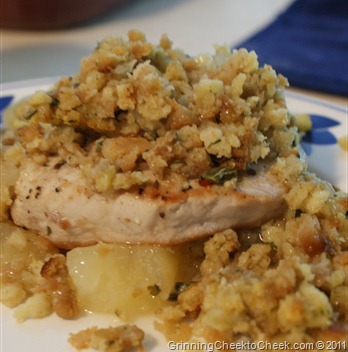 Another one of our favorites around here.  What goes together better than Apples and Pork Chops?? Just about nothing.  When I was little we used to have pork chops and smother them in applesauce.
Not to mention, one of the Easiest recipes EVER!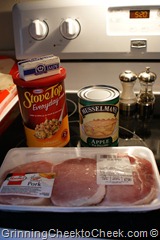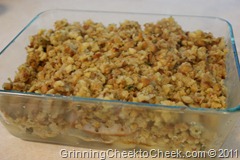 Pork Chops with Apples and Stuffing3 Ingredients.. ok 4.
Pork Chops (one inch thick) I used 3
Apple Pie Filling -1 can for a small/square pan 2 cans for a 9×13
Stove Top Stuffing – I made extra because our family loves stuffing!
Margarine for Stuffing.

SIMPLE STEPS:
Preheat oven to 350.
Prepare Stuffing as directed. I mixed it and made it in the microwave, it is super fast and easy.. Add water, stir, place butter over the top, cover, and microwave for 5 minutes. fluff with fork.
Season and Sear the Pork Chops in a pan. I lightly sprayed the pan with cooking spray. 2 minutes or so on each side, just to get them nice and brown.
Spread Apple Pie Filling along the bottom of your pan
Lay Pork Chops on top
Top with Stuffing
Cover with aluminum foil
Bake at 350 for 35 minutes. Be sure to check the temerature when you're done. Somewhere around 160 is good!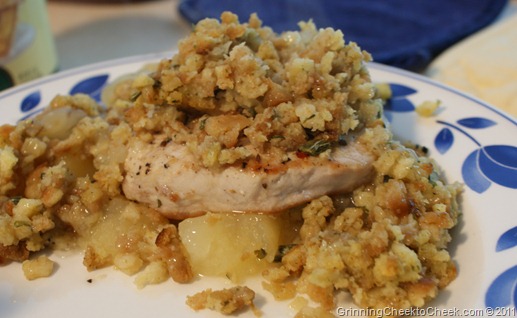 You can get pretty fancy with this meal also. Once I made my own Caramel Apple Pie Filling, from scratch.  It took forever, and tasted about the same, except the apples were super scrumptious to lick off the bottom of the pan – but it was just more time, energy, calories, and cost!