As long as I'm sharing Mother's Day gift idea's – I'm going to clue you all in on another few great places to look for some gifts.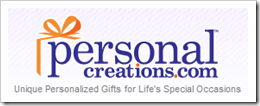 Personal Creations is actually one of my many favorite 'personalized-items' sites out there.  I love that each personalization store really has their own variety of products.  I love Personal Creations for sentimental gifts for family members.
What a perfect time for you to find a gift for mom – or for your spouse to find a gift for you.  Maybe you can strategically leave your window open… I won't tell!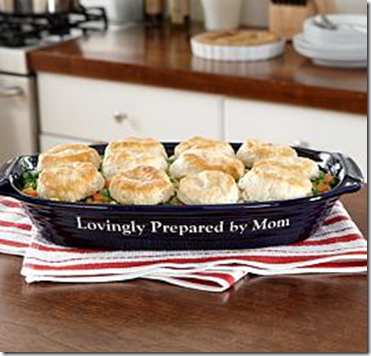 I Got this beautiful stoneware casserole dish for myself (as a gift from my family, right??) I actually really liked that it says 'Lovingly Prepared by Mom'.  What a great reminder when the kids can read that I do love them, and the meals I will prepare for them will be from my heart. I love that I can set that down on the table, as a reminder for them to thank me for dinner. (In a perfect world. Right)
But you can get it personalized however you would like (up to 25 characters.)
It was really well made, and looks amazing. I'm excited to make a casserole in it!!
Personalized Creations is a great place to get a gift for your mom, or grandma – or… if you're like me: something for your Half-Sister's wedding that is coming up soon

(I hope she doesn't read this blog, otherwise – Hi Alyssa!!!  Look away if you don't want to see what you're getting as a wedding gift!)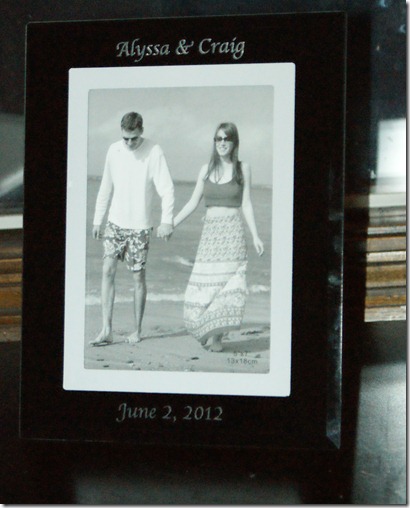 I got this frame for my Sister Alyssa and her soon-to-be husband Craig. If I had to do it again, I think I might have made a different choice on frames – but this one is still pretty good.  I'm just not totally sold on the shiney-ness of the frame, and how easily it picks up a finger print.  Looking back, I wish I would have chosen the wooden style.  Bummer.  But it's still gorgeous and well engraved!
Actually I'm pretty positive that last time I reviewed for Personal Creations I bought my Cousin a personalized wedding gift, too!  It was also beautiful – but unfortunately still in my bedroom. (We TOTALLY forgot to bring it to the wedding, and they're a few hours away. I'll see them eventually… haha!)Sorry Andrea and Peter!!
I find myself looking through the store for hours adding things to my cart left and right. I try to keep in mind Graduation Gifts, Weddings, Showers, Birthdays, Christmas, and everything in between.
I mean – If I'm going to pay shipping, it might as well cover as many gifts as I can, Right?!
Are there certain gifts that you prefer to buy personalized?
Win It!!!!
One lucky winner will receive a $50 Gift Code to shop at Personal Creations!
How To Enter:
Mandatory Entry: Visit personalcreations.com and take a look around. Leave a comment telling me what you might purchase if you win the Gift Card!
Then: Fill out the Rafflecopter Form below.
Be sure to come back each day for Extra Entries!!

Rules: You do not have to be a blogger to enter/win. An email address is required to enter. The winner will be chosen randomly through Rafflecopter and contacted via email. A reply to the winning email is required within 48 hours before a new winner is chosen. One person entering per household please. US ONLY please.
This giveaway ends at 11:59 PM EST on May 24th, 2012.