Todays discussion about the dairy farm tour we took is being sponsored by Midwest Dairy Association but all content and opinions are my own.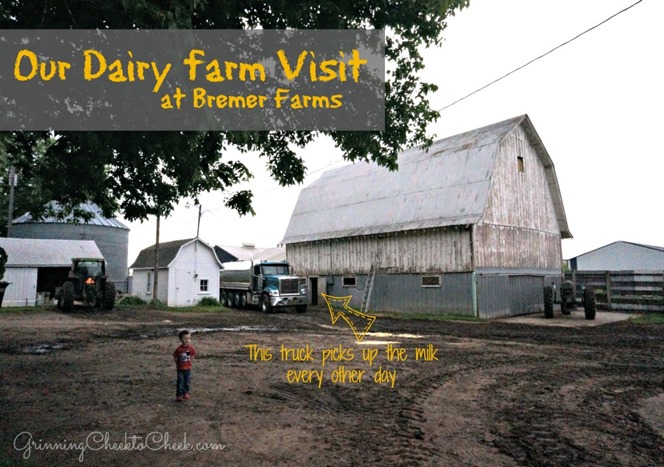 This weekend my family and I had the wonderful opportunity to meet an amazing family – the Bremers.  Janet and John Bremer along with John's Parents and their two grown children are dairy farmers – with an average sized dairy farm, about 128 cows.  The farm is a family-affair, and they do not hire out for help, so they like to keep it around this size, which is comfortable for them to handle.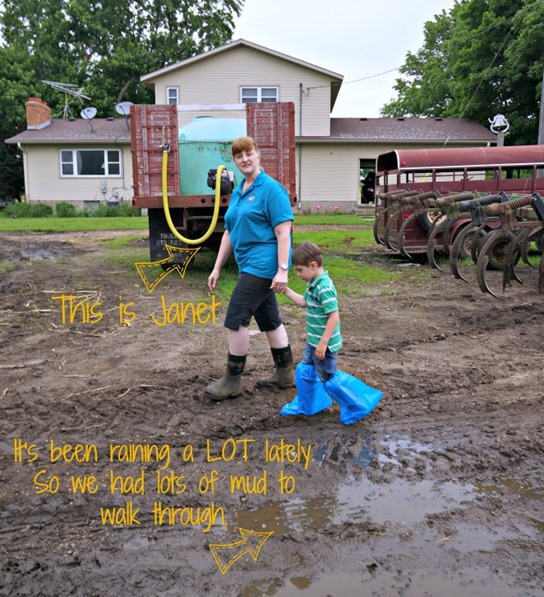 The night before we went to the farm, we had thunderstorms all night long.  That left everything muddy and soft. Then, of course, just as we were arriving the skies turned dark and the rain started again. The rain stopped for a little bit so we went outside to take a peek at the back side of the farm where they do the feeding of the cows.
Ethan was NOT thrilled to be inside the first building with the tractor and the large feed-mixer. I'm pretty sure he was terrified of the cows that were poking their heads around the feeding area, getting excited for food to come out for them.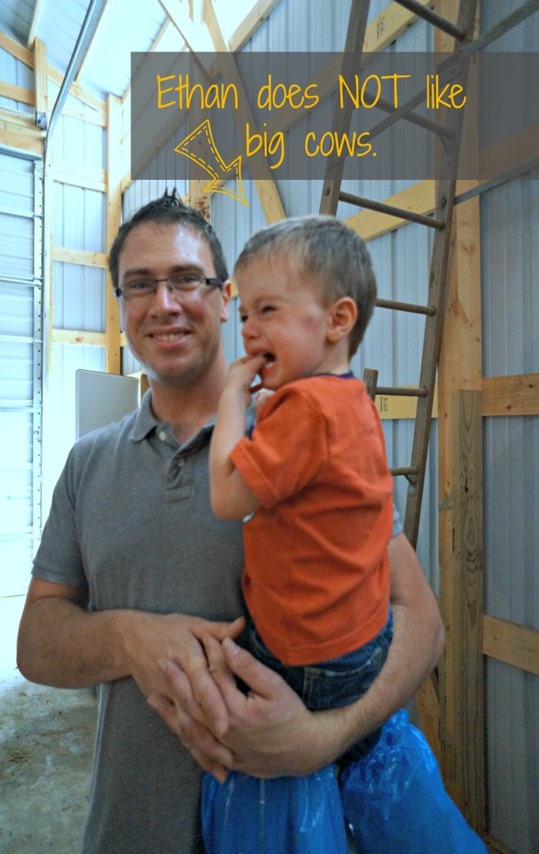 We stepped outside to get Ethan to calm down, and the cows came right up to the fence to greet us. They definitely know what it means when the people are around… Food, Love, and more!  They were such sweet cows, too.  Of course, Andrew noticed the smell – and wasn't impressed.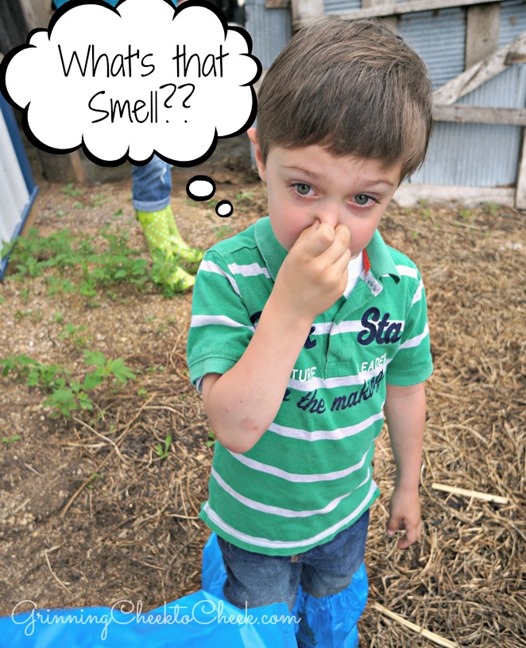 The rain started up again a bit – so we headed inside to visit the male cows that will be used as food or sold. Again, Ethan was *Terrified* of the cows.  They, too came right up to the fence, and were just a bit overwhelming for him.  As we were leaving this barn – Ethan stopped to look back at them from a 'safe' distance, and then waved lovingly shouting 'Bye Cowsssss!!!'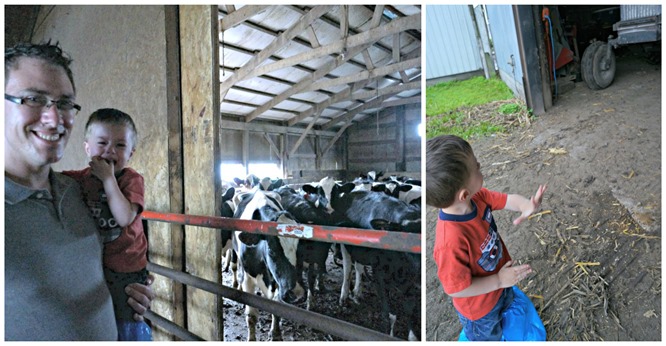 Now it was raining even more – so we went to the milking area. I didn't get many pictures in here, because I was so intrigued about the whole process! But essentially two (or three) people coordinate the cows to be milked twice a day at the same time each day. They have a newer set-up that allows them to have 8 cows on each of two sides at a time.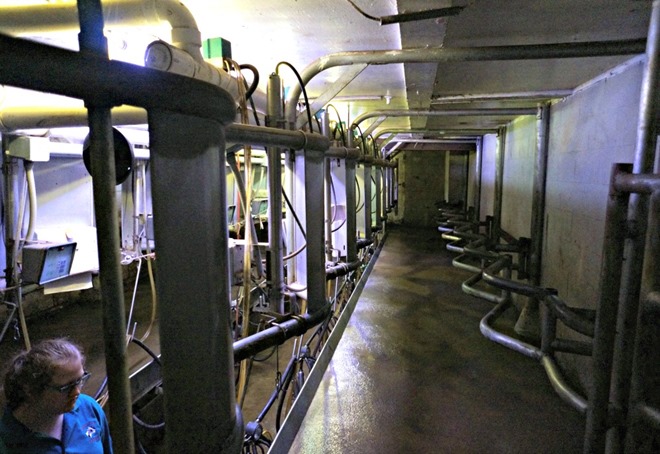 The process is complex, but very well worked. They walked us through how they determine which cows should and should not be milked – which ones should be milked and then the milk get tossed because they've been on a medication. They have to pay very close attention to what is going on with each cow to determine if any cows are ill, injured, pregnant – and how far along they are in pregnancy.  They do not milk a cow during her last two months of pregnancy – so she can use that energy on growing the baby.
Next we headed over to the calf barn – where all the newborn calves and young cows are kept.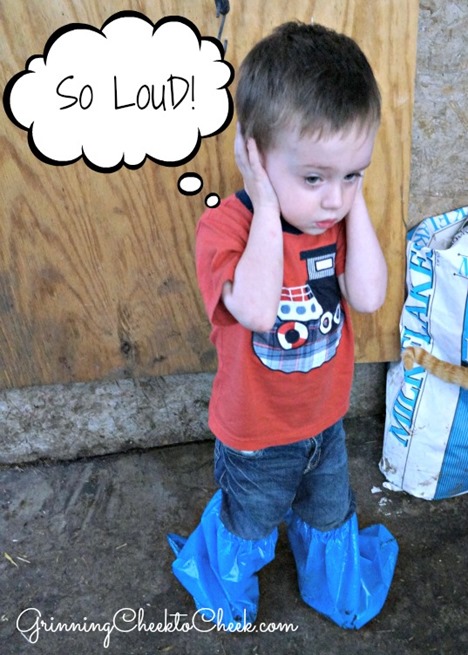 This was a room that Ethan could handle. The cows here are much smaller – but are definitely more vocal and know that when people walk in the room that it's time to eat – so they were pretty excited. Ethan didn't like all of the mooing at first, but then got used to it.  He was excited about the baby cows and even got brave enough to pet a few of them!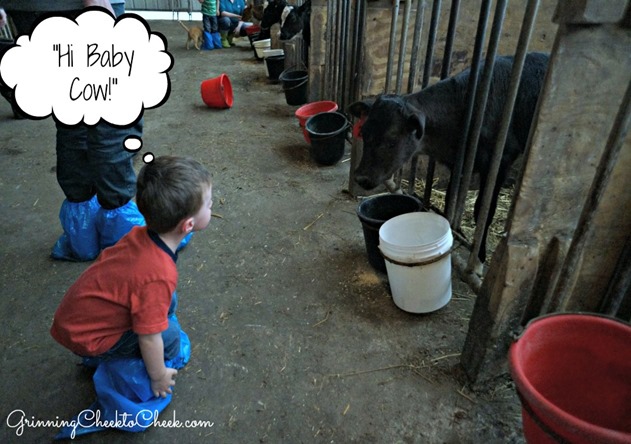 We stopped here for a family photo as well – this poor baby cow got scared away though with us surrounding each side.  We were hoping she'd come stick her head out!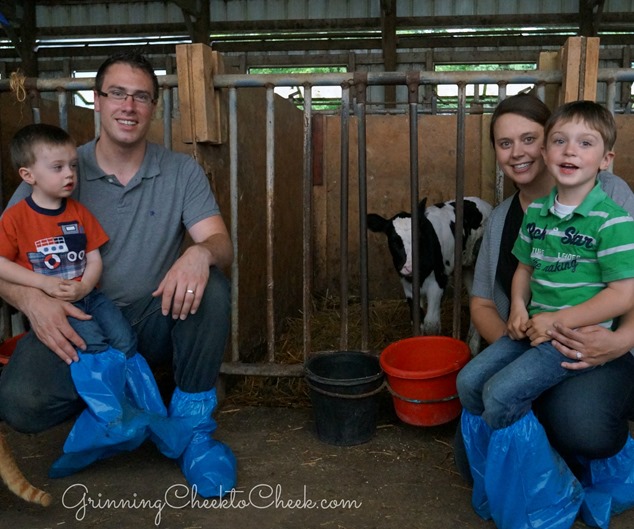 We spent most of our time in this barn, interacting with the babies and learning about the process that a cow makes from birth to birthing/milking.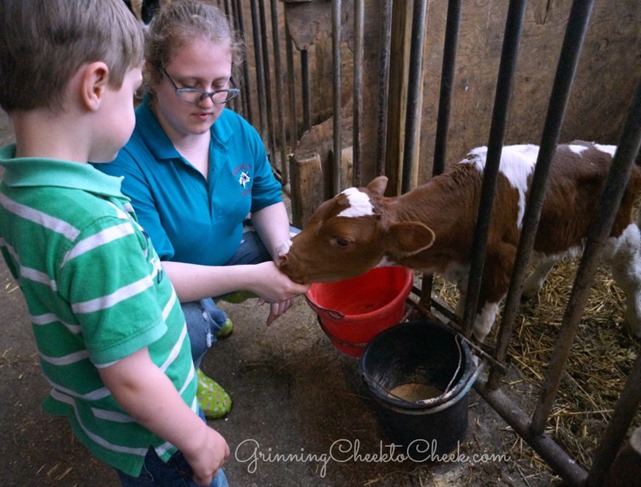 Ethan waved goodbye again, and even said that he was going to miss the baby cows.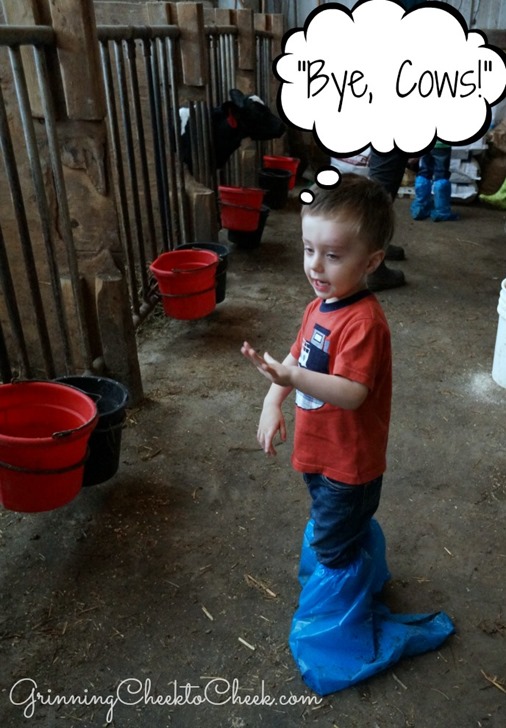 Andrew was super interested in learning more about the tractors that they use to spread the manure on the fields and all of the other big machinery at the farm.  He loves his tractors. Sarah (Janet's Daughter) was very attentive to Andrew and answered his questions, and showed him the cool things that he would appreciate. She was fantastic with him.  Andrew was sad that he didn't get to say goodbye to her – as she had to rush off to help milk the cows just before we were leaving.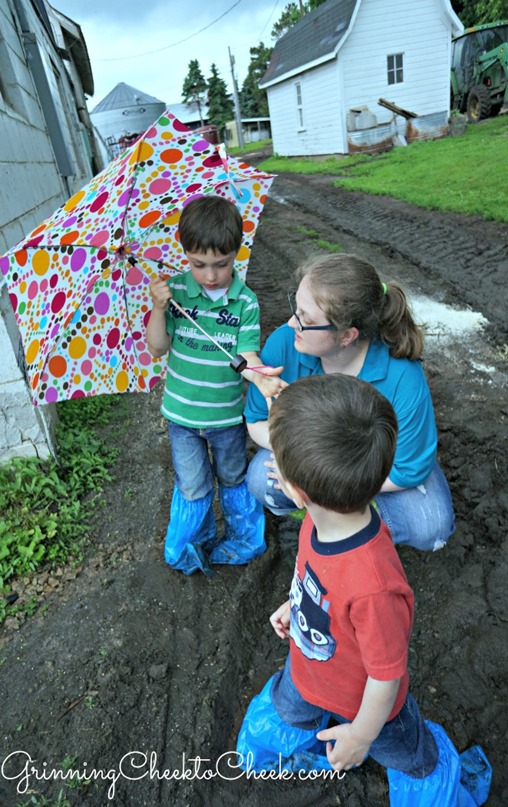 After the tour, we went inside the house for some cookies, milk, and ice cream. YuM!  We had a special surprise there from the Midwest Dairy association – with some cow hats, Frisbees, and aprons that were representing Midwest Dairy's partnership with Domino's Pizza.  They also sent along a Domino's gift card for us! *Yay!*  Then, Janet also had a present for us – which was so sweet of her! She got the boys each a stuffed cow, some strawberry milk flavoring, and a very awesome recipe book that was compiled of family favorite recipes by farmers across the world!

The kids spent a lot of time playing in the house and we talked for a while. It was SO nice to get to know Janet and her family.
We learned so much about cows and dairy farming and even more – made some great friends.  My husband and I really connected well with Janet and Sarah (her daughter). She reminded us of Joe's mom, whom we miss very dearly.  She had that warm caring loving approach that just made us feel at home – and really gave us that nostalgic feeling from when we used to visit my husbands family. It's very funny – because both of us were thinking this while we were there, and mentioned it about the same time after we got into the car (great minds think alike!). 
Thanks so much to Midwest Dairy for setting our family up on this tour with Bremer Farms. And a big thanks to the Bremers for allowing us into your home and farm. It's truly one of those experiences that you can't forget!
Don't forget to check out Midwest Dairy association to learn more about the importance of dairy and many other topics.  Also, Janet has her own blog about her "barnyard view".  You'll see just how passionate she is about dairy –and the sweet side of her, too.