We have several things on our project list.  Ranging from Want to do, Need to do, and HAVE to do.  Mostly the Have to do items are the dumb things; which really sucks.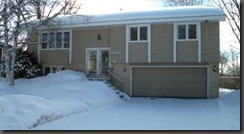 The problem really is – that before we bought the house, our city came and did an inspection on the property; and gave it a list of things that had to be done.  We put down a sum of money to the city as an escrow; saying that we promise to do these repairs – and then you'll give us our money back.  That was the deal, or no house.
These projects include things like – fixing/replacing the deck; repairing rotted

wood from doors on the shed; fixing the wall in the garage to the house that has been dented (it's a fire wall…); outdoor lighting; electrical boxes with saftey covers; vent covers; new doors for the bedrooms; and there is a 'trip hazard' in our driveway leading to the garage that is about 4" high that needs to be taken care of.
The city estimated these items at a little under $2k to fix.  And I'd sure love to meet the person who would do all of this for us at that price.. Because Seriously; we've had at least four people look at our deck and the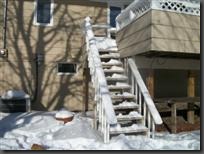 CHEAPEST estimate we got (doing a much smaller deck and having stairs running along the side of the house vs. into the yard) was $3500.  Every one of them said that replacing the rotted wood (most of the deck) and bringing the deck up to code would cost more than just tearing it down and starting over again.
The driveway on the other hand – has to get done.  We cannot get our cars into the garage with our 'trip hazard.'  I love that they call it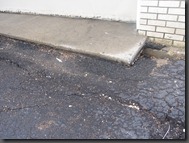 that– because its really so much more than that! Pretty much the asphalt driveway has sunk right near the cement skirt from the garage (due to the fact that there are no gutters on the house except over the ever so important garden… *sarcasm*). This wasn't such a big deal for us in the winter; because we simply piled snow to make a ramp for our cars to get into the garage.  Now that the snow has melted; our cars bottom out on this ledge.  We've had several people look at it – and the cheapest estimate we had was $900 to have them repair the slope – all the way up to over $10k for a new cement driveway. ha! We were wondering if because it's just a 'trip hazard' if we could just paint the cement yellow – and then it's a legal trip hazard… you know?

Well anyway –  we have decided to do that project on our own – at least as a temporary fix to get the city off of our backs. I will have a post about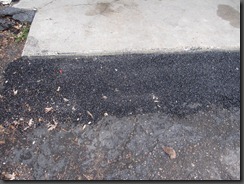 this when we finish the project.  It was warm when we started the project, but then got terribly cold and snowed the next day and since then it hasn't been warm enough for long enough to get the rest of it completed.  It will most likely not be completed during this event. But details will follow.
The worst part of all these repairs is the mental battle; there are other things that we would much rather spend our time and money on – but we're being held back by the city because of all these other repairs that they're requiring.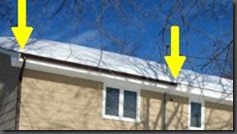 Gutters:  There are no gutters on the house.. Except for over the garden.  Weird? They Cared more about their garden getting no water drippage than they did about their driveway sinking and not being able to drive into the garage due to not having gutters…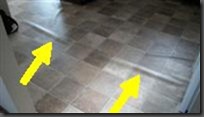 Kitchen Floor:  I was SO ready to do the kitchen floor the day we moved in.  I would have too, if we had the right equipment and someone was available to help us figure it out.  In our condo we had beautiful floors – and I *loved* that I could see all the dirt. I mopped the floor every day on my hands and knees because I could see it.  It was awesome.  Now – we have this crappy vinyl roll flooring that was poorly cut; leaving a huge bulge in the middle of the floor that we often trip on.  Talk about a REAL trip hazard.
I would have actually done a whole kitchen remodel if Lowes would have given me a better price off the bat.  The lady scared me out of the decision to do it.  I had the measurements done; and told her I wanted a nice – but cheap kitchen.  She gave me a price of over 10k.  I freaked, and never went back.
New sink in the 2nd bathroom: The sink in the bathroom works just fine; it just has a huge crack in it and is a pedestal sink.  But there is very little space for hiding my toiletries.  If I could do it again; I'd get a sink with a cabinet below and maybe a drawer.
We did buy a washer and dryer when we moved in; as well as a stove, and microwave. That has helped: but I'd also LOVE to have a new kitchen table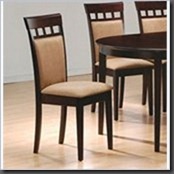 and some nice dining room chairs to go with it.  Our table is almost 10 years old and was purchased from Walmart on clearance for less than $80.  It's wobbly, chipped, dented, all of the above – but it just wont die. I was dreaming while looking at a site that had beautiful side dining chairs and found a set that I would love to get. They would match my kitchen and go perfectly with the rest of my house.
We're not even sure if the air conditioner works.  I'm kind of doubting it is based on its age and our luck.  Joe has some experience with re-vamping a/c systems; and so we will see 🙂
These are just a few of the many major projects that we're looking at in the next few years.  I'm sure there will be more along the way – and I just pray that eventually I get a new kitchen floor.
The links on this post are sponsored. The content is 100% my own.