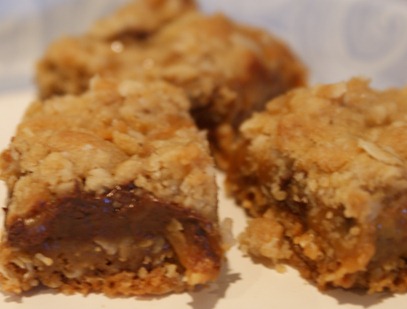 ——— Warning ———
These are HIGHLY addicting.  You cannot just eat one.  That's why I have a recipe for a whole pan of them.  My advice??? Take half the pan, cut it up – and give it away before you have time to devour it all.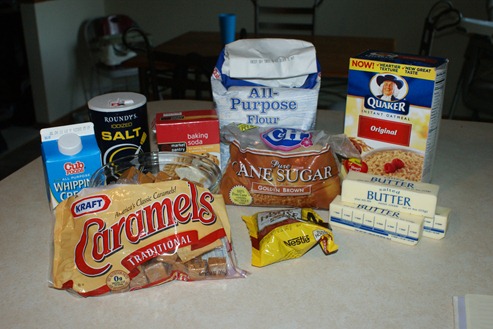 IngredientsCaramel:70 Kraft Caramels (you will need a little more than one bag)
2/3 Cup Heavy Whipping Cream
Crust:
1 1/2 C. Butter, melted completely
2 C. Flour
1 1/2 C. Brown Sugar
1 tsp. Baking Soda
1/2 tsp. Salt
2 C. Instant Oatmeal (I just used the packets because it's what I had on hand.)
Other:
Chocolate Chips
Chopped Walnuts (optional – my family didn't want walnuts)Recipe
Preheat oven to 350
Mix Flour, Brown Sugar, Baking Soda, Salt, and Oatmeal together —
Pour fully melted butter over the top and mix thoroughly.
Put 1/2 of the mixture onto jelly roll pan, pat down flat and bake at 350 for 10 minutes (even if it doesn't look done yet, take it out) Let cool while caramel is melting.
Pour whipping cream over unwrapped caramels and microwave, stirring occasionally until melted.
spread caramel evenly over top of the base layer, then sprinkle with about 1/2 of a package of Chocolate Chips, and then sprinkle the last of the crust mixture over the top.
Bake again at 350 for 15 minutes.  Again, remove at 15 minutes and it will be perfect!  Let cool for apx. 15-30 minutes for the caramel to harden a little, and Enjoy!!
Mix the dry ingredients, and then pour butter over the top
Don't be afraid to mix with your hands, it works the fastest and best.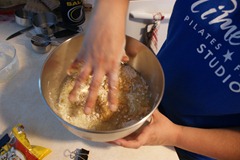 Pat 1/2 of the mixture down thinly onto a jelly roll pan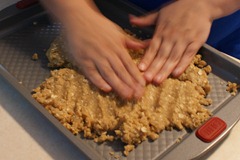 bake for 10 mintues. Not 11, not 9.. 10.

Unwrap caramels, pour heavy cream over the top and microwave, stirring occasionally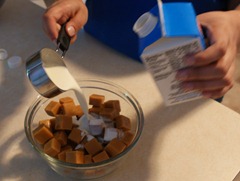 I accidentally did this backwards, it's easier to spread the caramel first, and then sprinkle the chocolate chips over the top – but it works either way.
Sprinkle the remaining crust over the top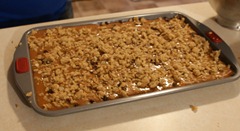 Bake for 15 minutes.  Let cool
Cut, and ENJOY!!