I've been thinking a lot lately about our home décor.  Not that I have the finances to change around too much – I can still dream.  At my in-laws this weekend I was looking through a few magazines that they had about home décor stuff… I'm not sure which magazines they were, but they had some really cute ideas, as well as some really not so cute ideas.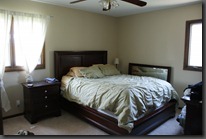 Currently my bedroom sits… pretty un-decorated.  We put up a curtain over the larger window so that no one would be able to watch me change clothes – but that's it.  We haven't even hung up the large mirror over our dresser in the bedroom yet.  I Imagine it will be one of the last priority rooms for décor.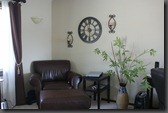 We first did the living room, dining room and main bathroom; then the Nursery; next we're going to be working on the downstairs living room as well as Andrews bedroom.
I have NO idea what I want in Andrews room.  He has a larger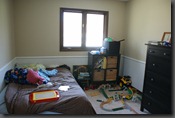 rectangle room – a tall dresser, a square bookcase/toy storage, and a full sized mattress.  the mattress is just on the floor for now with no frame.  I was thinking about getting more of a platform bed with storage drawers

for his room – because the storage drawers would be nice toy storage; and then it seems like it's low enough to the ground without worrying too much about him falling off.  (Yes. he falls off the FULL SIZED mattress… he's so mobile in his sleep.)
I was thinking a platform bed because our mattress; although it was a really comfortable one; is just too soft.  We have had to put plywood between our mattress and box spring because it is just sooooo soft.  Half of the problem we know is the box spring; because before we had kids; we used to take our top mattress out to the living room and watch a movie while in bed; and those nights were so heavenly because we had the solid ground under us.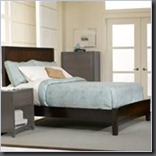 So someday I would love to get a california king size platform bed myself – and just keep our top mattress. I think they are pretty nice – I even think this one will fit into our bedroom set of dresser, side table, and mirror!
But either way; I know Andrews room needs more storage; and our room needs some… well. Love by Décor.
So by now; I imagine you have a fine idea of what We're looking at as far as house projects go…. I guess I didn't mention the major landscaping that we're going to eventually have to do.. And there's probably a lot more that we missed.
If Only I could win BIG in a lottery that just randomly happens; because I'm not one who buys lottery tickets…
*links in this post are sponsored