There's something about having a white carpet that makes toddlers have a *need* to put something on it. I have two mischievous boys and on most days, you can definitely tell where they've been playing. We have white carpets which makes it stand out that much more and I hate having a dirty floor. It's one of those small pet peeves that you can't really overlook because it's everywhere. I need to keep the floors clean for my own sanity.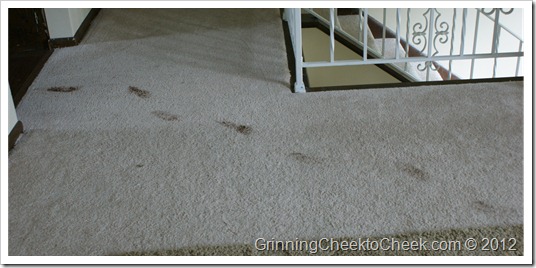 The Neato Robotic Vacuum is designed to take up all of the messes from pets, so it should be able to handle messes from two little boys right? This little robot has been designed with brushes and blades along the bottom to help get dirt, crumbs, hair, and just about anything else out of a carpet that doesn't belong there. I have to say we've been really enjoying this time-saving machine.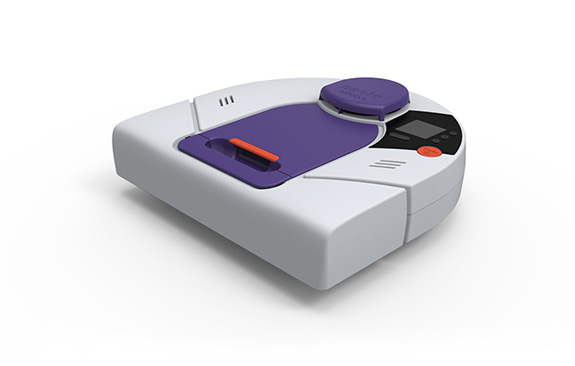 I've been loving our Neato. While I'm currently working, it leaves very little time for me in the evenings. Now I won't have to choose between getting the house cleaned up or spending time with the boys and my husband. (Can they make one of these that folds laundry too?) I like that I can set a time for it to turn on and clean the floors – we have it set it for the middle of the night so that it's cleaning while we're sleeping with no extra effort from us.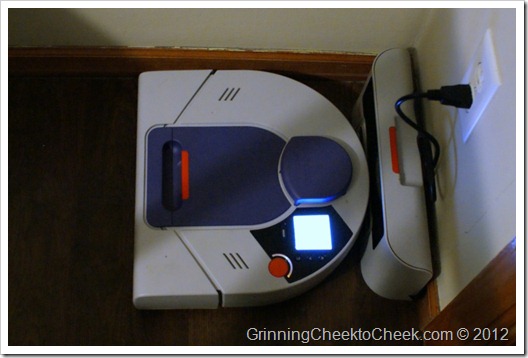 The Neato moves across the floor in a set back-and-forth pattern to be the most efficient, much like you would do with a traditional vacuum. It can handle going from hardwood to carpet to rugs and back, so it can really be left alone to clean by itself. I wish there was an attachment or suction vent or something to get into corners a little better, but it's easy enough to sweep the messes out of them just a little before bedtime so that the Neato can get it from the middle of the floor instead.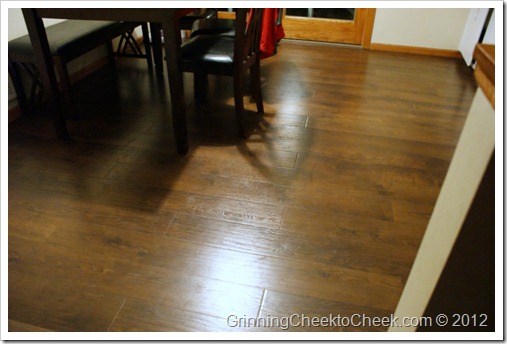 I've been using the Neato more in the kitchen than the carpeted areas. I have such dark wood floors that I can see all of the dirt and crumbs from the kids – and that drives me nuts. Although on occasion for a smaller mess in the living room I will get it on the carpets during the day outside of it's automatic time at night. It is so much easier to let this little robotic disc slide under the table rather than have to drag out the chairs and bench to get every bit of mess out with a vacuum. With our recent experiences with our rodent visitors, we can't afford to leave any food on the floor.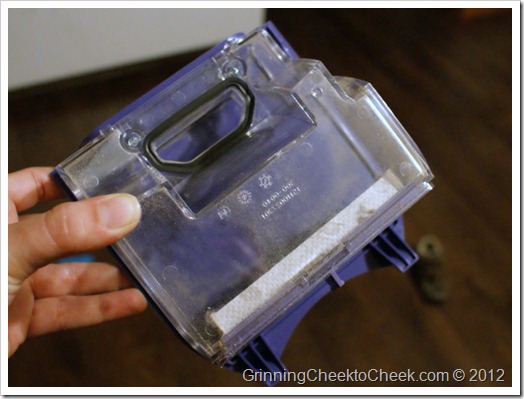 The Neato is so powerful that it can suck up whole pieces of cereal and desposit it into the tray inside. When the boys are done eating and it's done cleaning, it's as easy as emptying the remains of breakfast from the tray. Look Ma, no bags!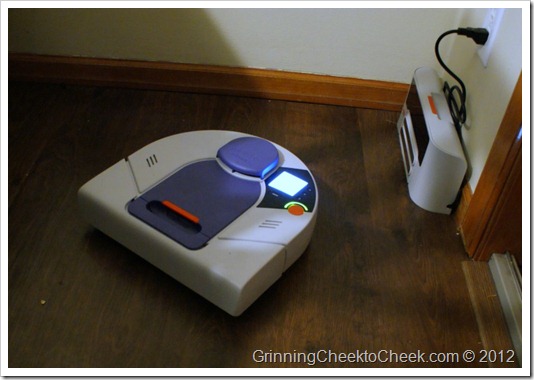 Overall, this has been an awesome addition to our family and it's kept up great with our two little mess tornadoes. It's nice to be able to set it and go do whatever else needs done around the house or just spend time with my family instead of obsessing over what's been left on the floor.
See how the Neato works:
You can buy your own Neato Robotic Vacuum XV-21 from Best Buy for $399.99.
Connect with Neato Robotics: