We love music in our house – I've been trying out all sorts of new CD's from the Library trying to find some good ones that help to teach the kids the basic kids songs like, 'If You're Happy and You Know It,' and 'Old MacDonald Had a Farm.'

I came across 'Name Your Tune' Personalized CD's and thought about how great of a gift this would be for the kids.
I love the first few songs especially. They're really upbeat and fun, and I love how it doesn't sound like they some how worked the name into the music – they actually sing the name right along the songs…
A few of my favorites:
Little Ethan Had a Farm, and Boom, Boom, Ain't It Great to be Ethan!
The CD starts getting a little off for me with Head and Shoulders (knees and toes) – where the woman has a big accent. I usually just skip over this song – but it saddens me that this song is kind of ruined by that – because it's such a good song normally.
The rest of the CD starts winding down after that and getting to more softer, but still good and creative songs – and it finally ends with an instrumental lullaby.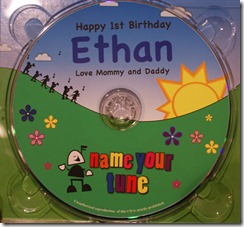 It's something that Ethan will enjoy right now and continue to enjoy until he can no longer associate with 'kids' music… haha!
I Kind of really wish that I had gotten this CD for Andrew, because he'd have such a kick out of it playing his name instead!  I'm really looking forward to getting the 2nd CD because there are several songs from my childhood on there.
They have over 4800 names to choose from, and even the different phonetics of each spelling of name.  You can personalize your CD with the name spelling, and a personal message.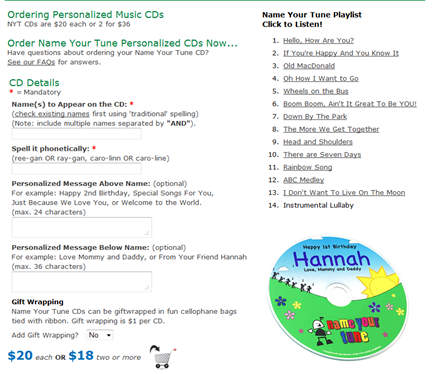 So Check Out www.nameyourtune.com and get a CD for your little one – they're so fun and really creative! And at $20 for one or $36 for two, it's really a great deal!