When we moved into our home a little over two years ago, the walls had been freshly painted – which was so great for us because I had a 2 year old, and a 4month old. We certainly didn't have any spare time on our hands to paint!
I know right away I painted my youngest son's room with stripes, because I had this new stripe tool that I wanted to test out – but not one other spot in our home got paint.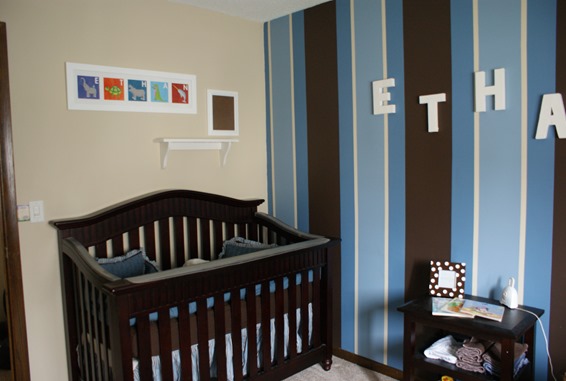 That started to get a little boring after some time, and having every single wall being the same color, was really redundant.  I was looking for ways to spruce up the house without doing a ton of work.
Many of you followed along as I updated my bedroom (which I didn't paint…) during the Home Makover Event that Heather from OurKidsMom.com and I did. But what you guys hadn't seen was the work I was doing on my 4 year olds room…

I contacted My Wonderful Walls – because they have some really amazing product, and I knew that my son would just love them.
Wall stickers are a great option for people who like instant makeovers, enjoy decorating often, or don't want to make a permanent change to the walls. And you'll love the wall sticker material. SafeClingTM is a fabric wall sticker material that is repositionable and removable. It adheres well to walls, is easy-to-apply and easy-to-clean. It is virtually impossible to mess up and leaves no sticky residue when you remove it from your walls.
I loved that I really didn't have to paint too much, and then I can just apply some fabric stickers to the wall – and totally transform his room.  And it did!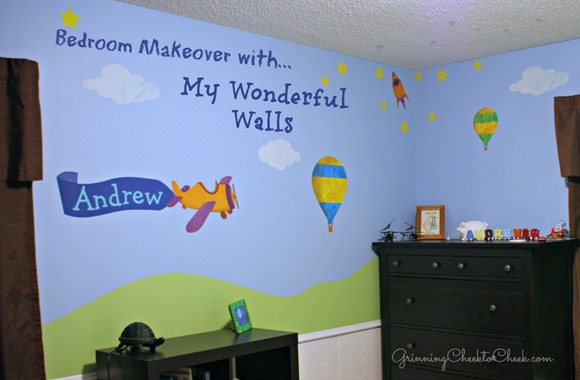 My Wonderful Walls has amazing decals for pretty much every theme you can think of – and a generous selection of boys wall stickers, which is pretty rare.  I chose the Transportation wall stickers for my transportation-obsessed son.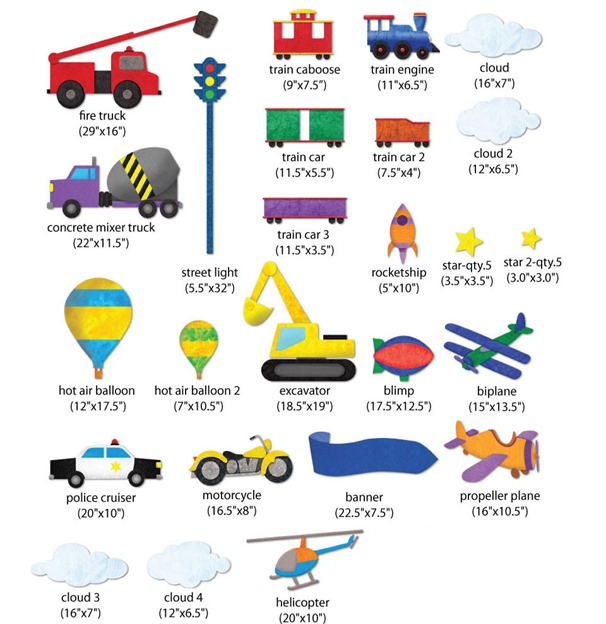 We chose to paint the wall very similar to what they have in all of their 'stock' images.  They tell you exactly what brand, type, and paint colors to buy to re-create the look that they have – which matches the decals.
The paint they tell you to buy is sold at Lowes.  I went to Lowes expecting to pay about $25 for the 1 gallon and 1 quart of paint (Hey, it's apparently been a while ,OK?).  I handed the guys at the paint counter the numbers of the paint that I needed – and they took care of the rest. However, when I got to the checkout – my total was over $60! Just for a gallon and a quart.  *YIKES!*  The cashier assured me that it was totally OK and I didn't need to purchase them. I felt awful, but I did not have the budget for that.
I took the paint samples over to Walmart.  They Color Matched, and I spend around $22 for the paint.  No biggie *whew*.
Andrew was away at Grandma and Grandpa's cabin over the weekend – so my husband and I were doing this as a surprise for Andrew. We started by painting most of the wall light blue, and then added the green hills – just free-hand.  We chose to leave the bottom half white and decorating only the top half of the wall.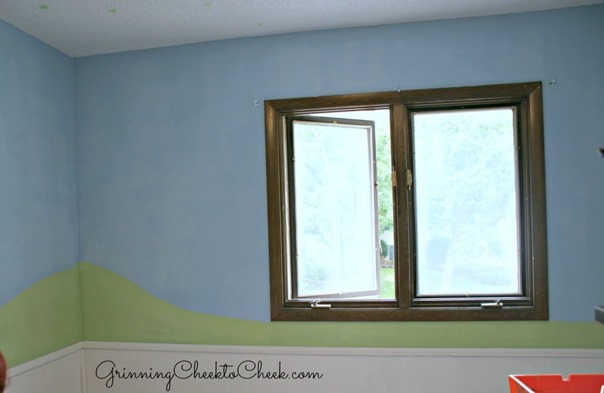 After the paint dried, the fun came – applying the decals.
They're so simple to apply. Simply peel them off of the sheet, and stick'em where you want!  They are removable, and re-stickable – so we didn't worry too much about perfection of placement.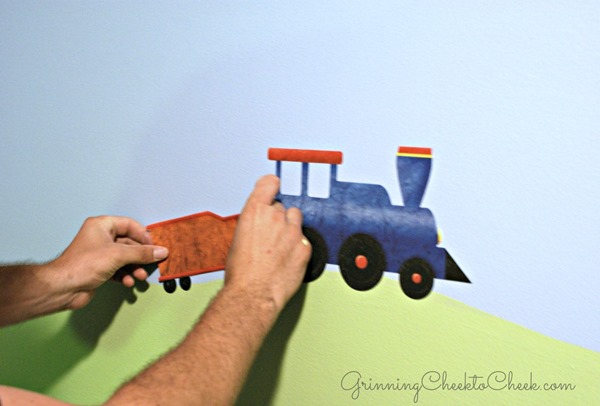 I *love* the way the clouds turned out and how well they blended in with the paint color. Amazing.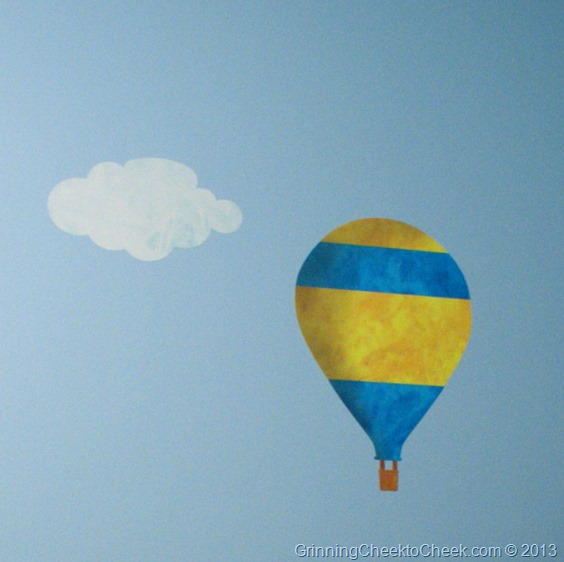 One corner we chose to make the 'sky' area with the clouds and stars and rocket.. and the super cute airplane that's pulling a banner that says 'Andrew' behind it (Customization of the banner is included with the package!).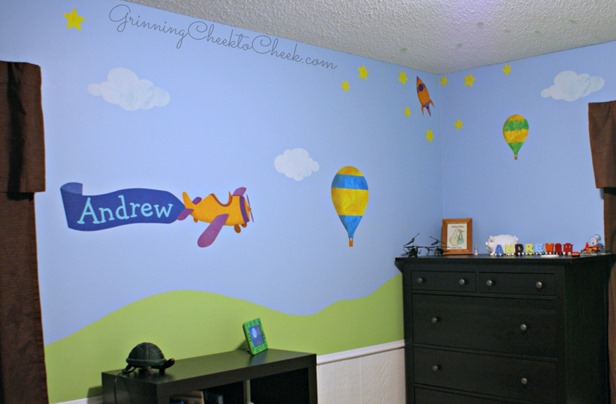 We wanted to add some dynamic to the style of the room with the train going around the corner, and took our time placing everything and re-placing everything until it was perfect.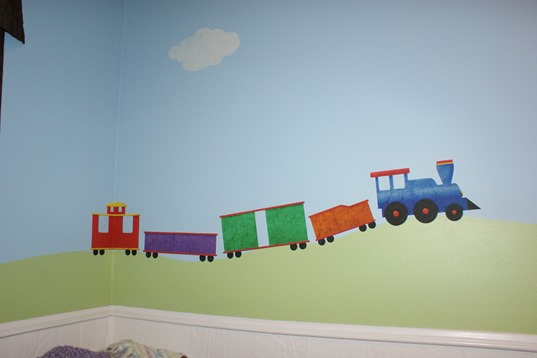 I only wish there were more clouds in the package – but you can purchase extra clouds for $20-$25. I *Highly* recommend it – because the clouds are sooooo cute.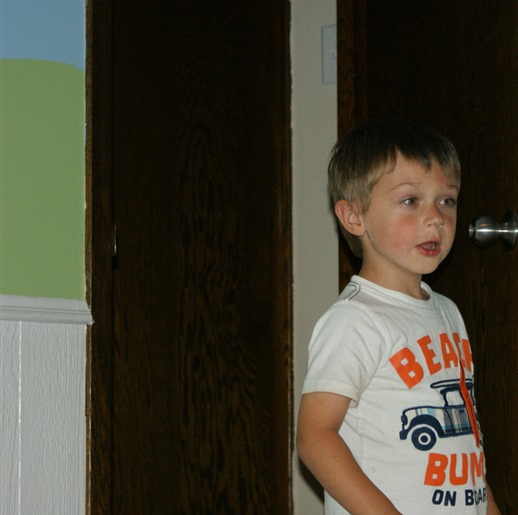 Andrew was AMAZED when he saw the room – He was in total shock and awe. He said that he has the coolest room ever – and was so excited to show his friends that he has the coolest room.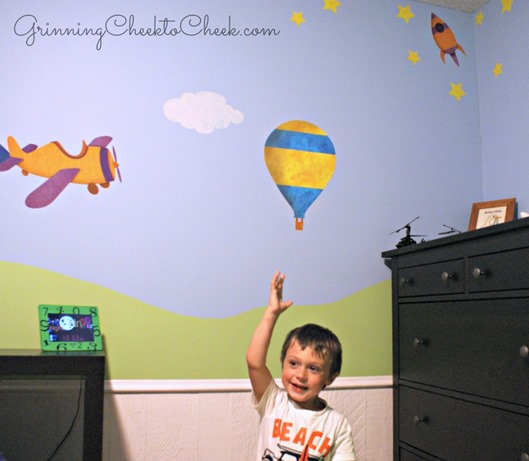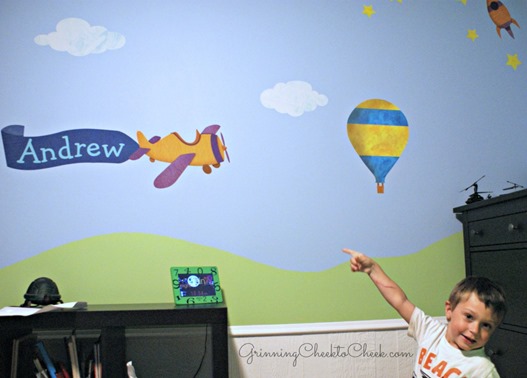 Want to see more of the room?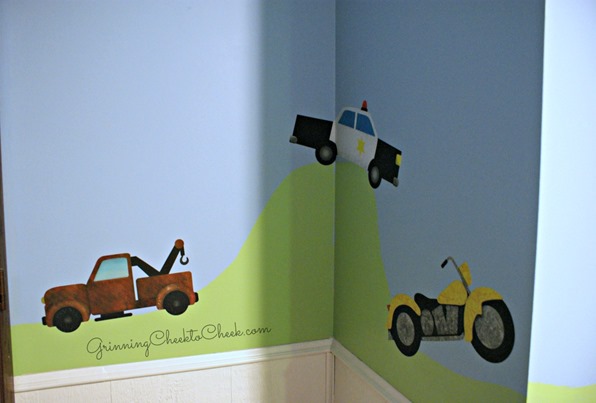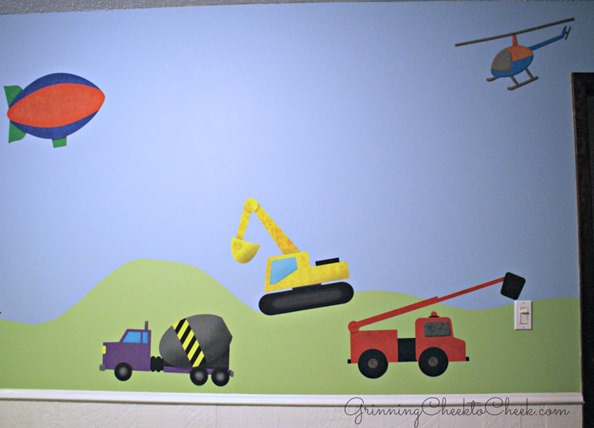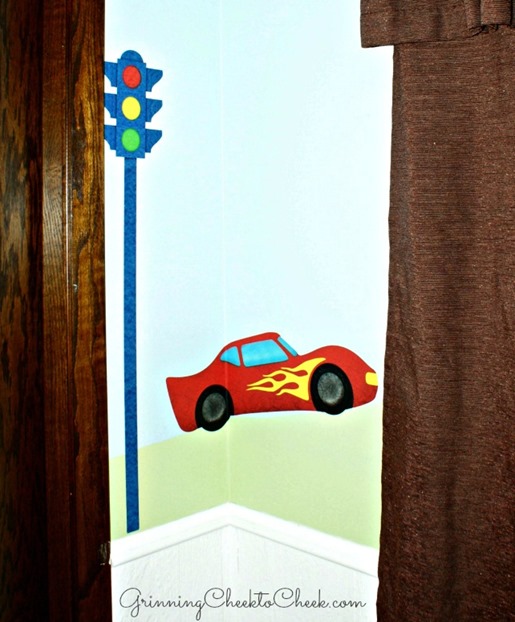 I absolutely loved working with My Wonderful Walls – and I'm already looking at my second project with them to redo Ethan's room to be something a little more toddler-friendly and cute for him, too! Although, I really wish I would have seen these Nursery Murals back when we moved in, I probably would have done one of those!
I really hope that you enjoyed checking out our room design! Do you think that you'd want to do a makeover like this?  You Can!  If you'd like, you can purchase a set with our special 15% discount at MyWonderfulWalls.com by using code gctc420.
Keep up with My Wonderful Walls on Facebook, Twitter, and YouTube!
Win It!!!
One Lucky Reader will win a free product from My Wonderful Walls with personalization up to $182 value! You can choose from any of their sticker sets, stencil sets, and more!
(ERV $182)
– Giveaway open to US, Canada and Puerto Rico
(Australia and European Union winners would be required to pay for shipping- which is $40)
How to Enter:
Mandatory Entry: Visit MyWonderfulWalls.com and leave a comment here telling me which product you would choose if you win.  You can also use the comment area to suggest a design that you would like to see offered.
Then: Fill out the rafflecopter form.
Be sure to come back each day for extra entries!!
Rules: You do not have to be a blogger to enter/win. An email address is required to enter. The winner will be chosen randomly through Rafflecopter and contacted via the email provided in your rafflecopter sign-in. A reply to the winning email is required within 48 hours before a new winner is chosen. One person entering per household please.
Giveaway open to US, Canada and Puerto Rico
(Australia and European Union winners would be required to pay for shipping- which is $40)
This giveaway ends at 11:59 PM EST on May 10th, 2013.