Munchkin Makes Baby Food Easy
It's the Little Things!
Micah loves to eat. He started eating just after he was 5 months old. He would watch us put food in our mouths, open his mouth and reach for the food, and cry if we didn't let him taste it. So we started feeding him baby food. And I started making baby food at home with our food processor. And he adores eating, he would eat all day long if we let him.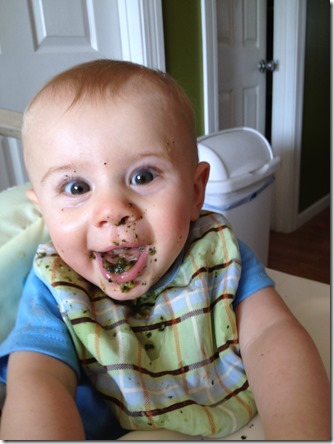 Freshly made food is healthier, preservative free, and so much cheaper! Plus I'm not limited to the jars that fill my cupboard space, I can use the foods that Peter and I eat for Micah, age-appropriately of course, so it doesn't go to waste and I feel like a "good" mom for giving him foods I would also eat myself. So I was really excited when I recently got some Munchkin Fresh Baby Food System products.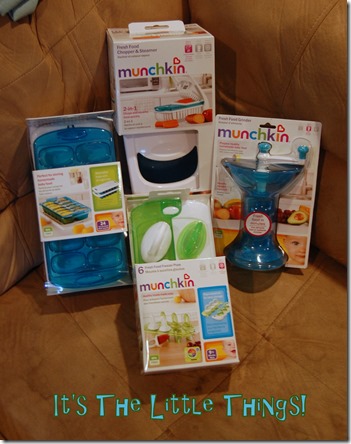 The Munchkin Fresh Baby Food System is spectacular.
The Munchkin Fresh Food Chopper and Steamer
The Munchkin Fresh Food Chopper and Steamer is great for chopping and steaming food. Just chop the food to the size to fit in the chopper, bring the handle down to chop it smaller, and repeat. Then take off the blade, put in a little water, push the lid closed to the Steam mark, and put it in the microwave. The Fresh Food Chopper comes with a little manual with some common foods and how long to steam them. The blade is really sharp, so it cuts well. It did struggle with the stringy-ness of asparagus, but cut sweet potatoes like warm butter. After steaming, I just used a fork to finish mashing it down. Or I fed it into the Fresh Food Grinder.
The Munchkin Fresh Food Grinder
The Munchkin Fresh Food Grinder looks confusing at first but works really easily. I just pull out the bottom part, put food into the opening (soft and ready to mash), and push the top part down onto the bottom while turning the knob. The food squishes up out the holes while being split by the dull blades and is instantly the right consistency for Micah. Again, it struggles with stringy foods like asparagus, and it can only handle about one serving at a time, but it works like magic for his morning banana, lunch time sweet potatoes, and supper time avocado. And so much easier and faster than using a fork!
And then Micah gets to eat fresh food! Or I can freeze it for later…..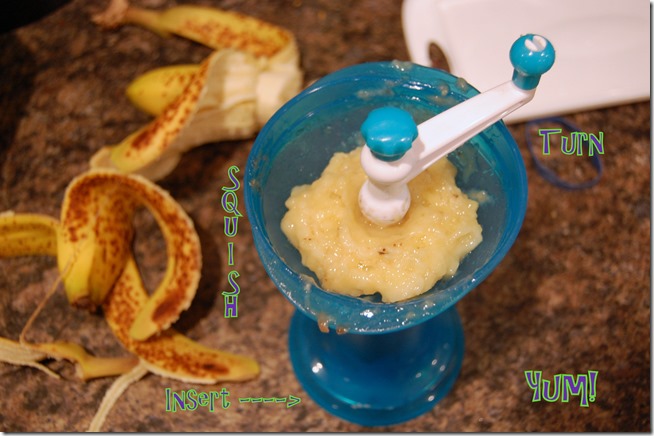 Munchkin Click Lock Fresh Food Freezer Trays and Pops
The Fresh Food Freezer Trays look pretty, are really durable, and have a Click Lock lid to keep the food from spilling, which is phenomenal because our freezer is always full and I am constantly spilling food or setting things on top of not-yet-frozen cubes and making a mess. I was thrilled with them until I tried to get the food out, which actually proved rather difficult and I had to run the trays under hot water to loosen the cubes enough to pry them out with a fork. So not so thrilled with the Freezer Trays.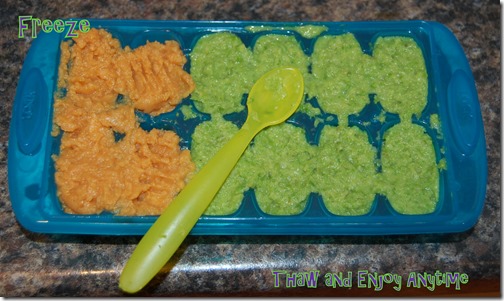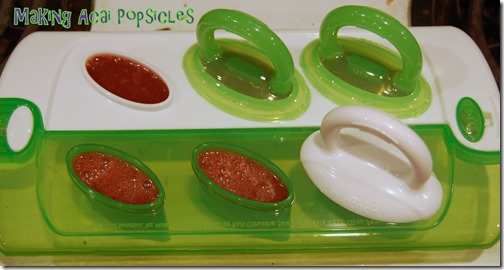 The Freezer Pops, on the other hand, are awesome! The tray makes 6 cute little popsicles that are easy to fill, freeze, and remove. The tray also splits in two to fit in smaller freezer openings, or to make just 3 popsicles. And the popsicle handles are big enough for Micah to easily hold! He loved his acai popsicle and didn't drop it or even set it down until the whole thing was gone and he had a big purple smile. I am really excited to try other kinds of popsicles and the three of us can enjoy fresh frozen fruits (and veggies…woah) on hot summer days.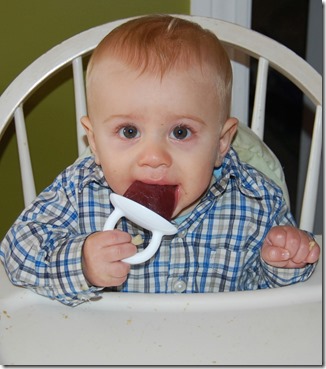 And since I am a busy mom and hard-to-wash dishes are the last thing I want to do, all the pieces of each item can come apart for easy washing, though I definitely recommend rinsing them sooner than later so the holes don't get clogged with dried food bits. The Chopper even comes with a special "comb" to clean out the blade and chopper mechanism.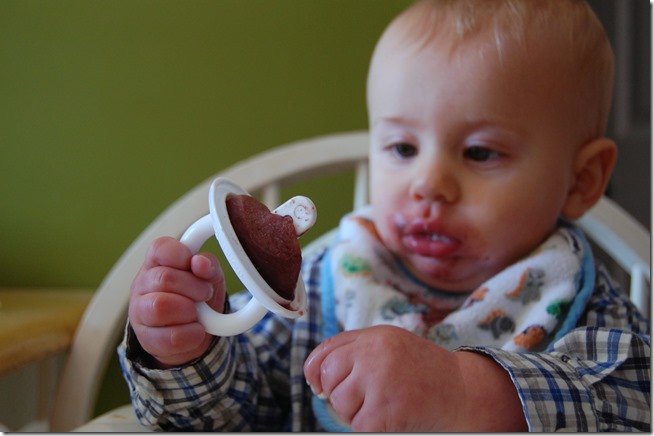 For the stringy foods, or for making large batches of food, we still use our food processor. Munchkin also sells a food processor, which I have not tried but it looks fantastic as well.
Visit Munchkin online or on Facebook for valuable coupons and more information!
Win the Munchkin Products Featured Here!
How to Enter:
Mandatory Entry: Leave a thoughtful comment about baby food.
Then: Fill out the Rafflecopter form.
Be sure to come back each day for extra entries!!
Rules: You do not have to be a blogger to enter/win. An email address is required to enter. The winner will be chosen randomly through Rafflecopter and contacted via the email registered in Rafflecopter. A reply to the winning email is required within 48 hours before a new winner is chosen. One person entering per household please. US or Canada only please.
This giveaway ends at 11:59 PM EST on August 23rd, 2013
Munchkin Provided me with compensation for this post but opinions are 100% my own and not influenced by compensation.