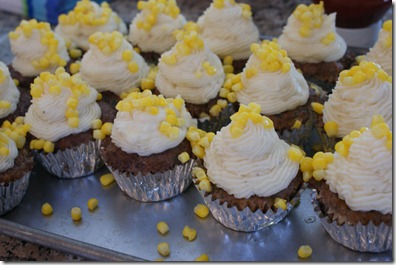 I know – not exactly what you would consider the best combination… Meatloaf and… Cupcakes?
Well I had recently been making friends with Courtney from CourtneysSweets.com – and I saw on her blog the great Idea of Meatloaf Cupcakes…  She even got creative and made them Halloween Friendly!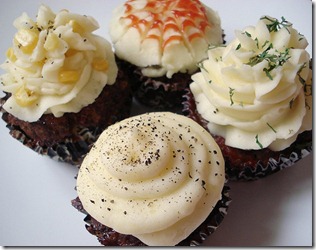 I saw them – Drooled over them, and moved on.  Didn't look back.. UNTIL I started thinking about food for Ethan's Birthday Party!  I was thinking what kinds of foods I could do that were 'cupcake' themed – and a big 'ol light bulb went off in my head – bringing me back to these meatloaf cupcakes.
I knew mine wouldn't look nearly as pretty as hers – but they were sure fitting for our party!!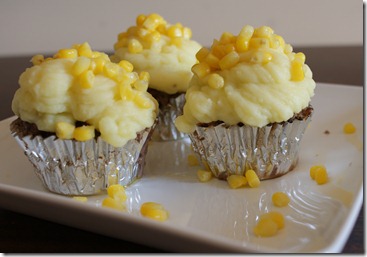 I had planned to make 5 batches of the cupcakes – but the day before I wanted to test the recipe to be sure that I knew what I was doing on the day of the party.  It was a very smart thing to do – because I did end up adding an ingredient which I believe made all the difference.
I've eaten a lot of meatloaf before – but never one so gourmet tasting.  usually we throw in whatever ingredients that are in the house and always include saltine crackers.  But this one – was much different, and OH-SO-Tasty!!
Meatloaf "Cupcakes" (makes 6-7)
1lb lean ground beef
1 egg white
1/2 small onion, chopped, sautéed with a little olive oil.
1/2 cup club soda
1/3 cup Italian bread crumbs
1/8 cup ketchup
1 tsp dried parsley
1 tsp garlic salt
1/8 tsp pepper
1 clove minced garlic
1 tsp worcestershire sauce
Pre-heat oven 350.
Mix these ingredients by hand – being careful not to over-mix.  Form the meat mixture into foil lined cupcake liners in your cupcake pan.  Keep in mind that the meatloaf might shrink a little – but it will not 'form' into your liner like a cupcake. Bake for 30 minutes or until internal temperature reaches 160.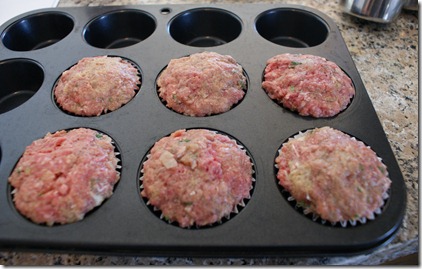 Mashed Potato "Buttercream":
2-3 yukon potatoes
apx 1/2 cup milk
1 Tbsp butter
1-2 cloves minced garlic (optional)
Salt to taste
Peel and chop potatoes and bring to a boil.  When the potatoes are done mix them along with the butter and salt at medium speed until potatoes are broken up.  Slowly add the milk until you've reached the desired consistency for piping.
Once potatoes are semi-cooled, add them to a piping bag with tip of your choice, and top the meatloaf cupcakes.
Enjoy!
Making them for a Large Gathering?
Being that I made a large Batch for apx 25 guests, I made the meat mixture ahead of time and put into the cupcake liners and covered them with saran wrap.  They turned out great being done ahead of time.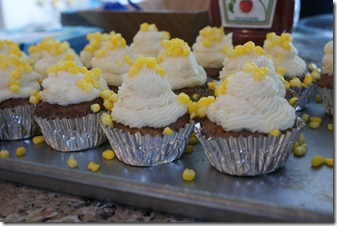 I also made the potatoes ahead of time – they were perfect consistency before heating, but upon re-heating them they became much more runny, and we were unable to successfully pipe them and were forced to purchase 'deli' mashed potatoes to serve our lunch.  I suggest doing these as you're about to pipe them.