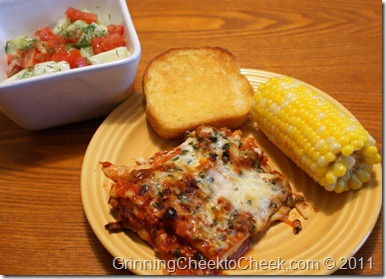 I love to cook – But when I'm just not in the mood to make a big meal, I love to have some frozen food back-ups.  Dad is usually in charge of cooking the frozen meals.
I've had a favorite lasagna since as far back as I can remember.  I've rarely deviated from it.   So needless to say – I am set in my ways.
But.
I am always willing to try new things!  So – I jumped on board with the review of Marie Callender's Lasagna. 
The 31oz pack of lasagna was very inexpensive at the store – only $6.49 – NOT on sale.  It was more than enough to feed myself, and my very hungry family.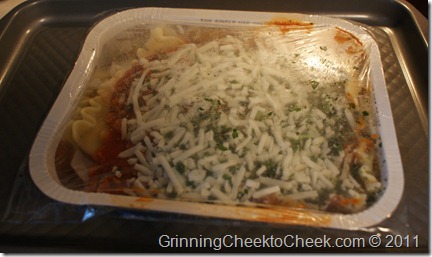 The lasagna looks delicious and you can tell the quality difference in the lasagna with the shredded cheese and herbs on top.
Although the Lasagna can go from frozen to cooked in the microwave in under 15 minutes, I chose to cook it in the oven – Mostly because I wanted to time it out just right along with all the other foods I was preparing, and my oven needed to be on for my garlic toast to be cooked, so might as well, Right?
Maybe it's just because that's what I've done forever.
I prepared some corn on the cob, some garlic toast, and a cucumber and tomato salad fresh from my garden.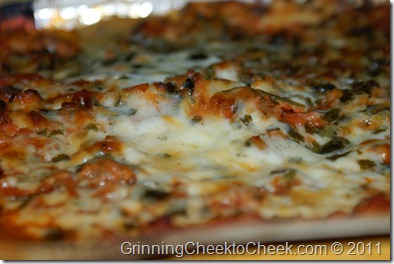 It came out of the oven 60 minutes later, looking totally delicious.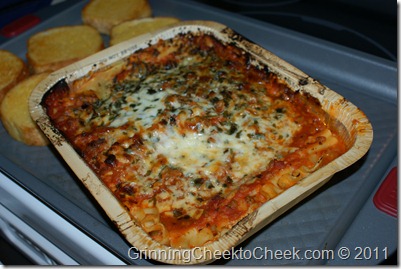 My husband got the first bite.  He moaned with contentment for the flavor (in a good way).  He said hands down it's the best lasagna that he's eaten.
He loved all the flavors – and normally is not a fan of Ricotta cheese (which is why we don't buy some of the other brands) but he loved the cheese in this one.  It really is a thicker cheese inside – and not gritty like some ricotta cheeses can get.
Personally, the first bite I had was overpowered with Anise flavor – which turned me off right away – but I tend to be over-sensitive to Anise where it tastes like black licorice to me (which I can't stand).  But – the following bites had a better blend of flavor and only slight flavor of Anise.
Both my boys gobbled up more than they usually do of the lasagna – Ethan eating an entire portion – and making the cutest mess ever.

Overall
I would buy this lasagna again, and even recommend that you all give it a try!  For the price, the delicious flavors, and for the fact that It can be prepared in 15 minutes from frozen in the microwave – It is a perfect dinner  for a regular night, or especially for when my regular cooking plans fall through and I don't feel like cooking – it's very daddy friendly.