I just love any morning where I can wake up and have the time to make and enjoy my very own Latte!  It's one of those joy's that makes me feel all warm and snuggly inside – and I can feel good when I make them myself, that I'm not spending ridiculous amounts of money on Lattes from the store!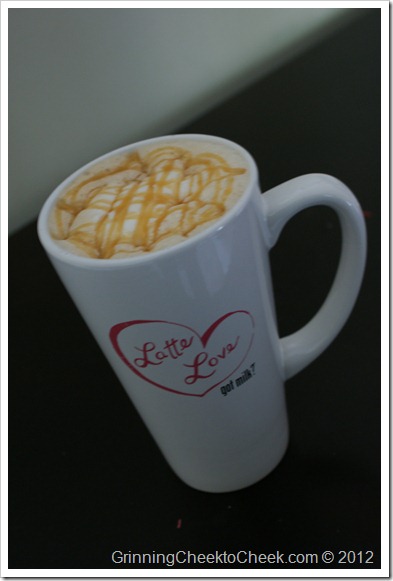 I usually follow the Starbucks routine in making myself a Caramel Macchiato when I do make something – because they're my favorite.  I purchase the caramel pump and the Starbucks espresso beans to make it just right (although I buy the simple squirt caramel though for the topping… ).
You can find some more recipe's for latte's here:
Morning Pick-Me-Up: http://www.milkmustache.com/recipes/morning-pick-me-up/
Nine-Nutrient Boost: http://www.milkmustache.com/recipes/nine-nutrient-boost/
Ooh La Latte: http://www.milkmustache.com/recipes/ooh-la-latte/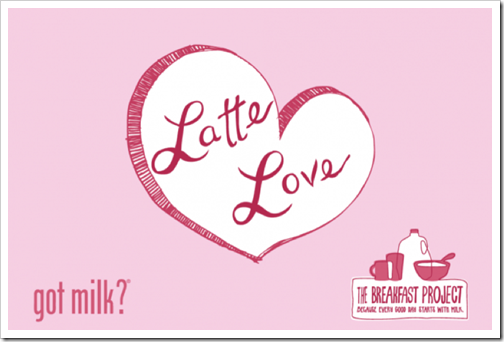 #LatteLove TWITTER PARTY DETAILS
What: As part of the Breakfast Project brought to you by the 'Got Milk' team – I am co-hosting a twitter party to talk about making your breakfast better with an at-home latte! Americans love their lattes, and with one serving of fat free milk adding nine essential nutrients but only 80 calories and no fat, lattes love you back. Join us to chat about how you can get a nutritious and delicious start to your day.
When: Thursday, October 4, at 1 p.m. ET. It will last one hour.
Where: The party will take place on Twitter, using the #LatteLove hashtag.
Who: @theMotherhood, @CooperMunroe, @EmilyMcKhann will be hosting.

Prizes – OF COURSE!!!
Prizes: We will give away five Latte Lovers Essentials prize packs throughout the Twitter party! Each one will include a Bodum milk frother, Latte Love mug, 8 oz. Lavazza coffee, Torani syrup, McCormick spices, recipe card & coupon.
RSVP:
Twtvite: For more details, and to RSVP, click here! http://www.twtvite.com/lattelove

Want a sneak peek? Enter the Latte Love Sweepstakes on Facebook – https://www.facebook.com/MilkMustache/app_374172189320016 – now through October 9, for a chance to win a Latte Lovers Essentials kit or Keurig brewing system! You can also find easy tips, recipes & ideas for making lattes, cappuccinos or other coffee drinks at home on The Breakfast Project, https://www.facebook.com/MilkMustache or http://www.milkmustache.com.
Hope to See you then!!!
How do you like your coffee in the morning???
I have received goods and/or monetary compensation in exchange for this post. All opinions are 100% my own.