Last spring, I was desperately searching for a new laptop.  My desktop was on the fritz – and I knew that I would need a back-up source. I had specific things I was looking for in a computer: and the only computer that fit the description was the MacBook Air. I reluctantly purchased it even though I didn't really want to get used to a totally different operating system – not to mention the fact that I couldn't blog on my *beloved* Windows Live Writer.  I returned one computer after another – back and forth from Windows to apple – and finally went back to the MacBook Pro. I didn't know HOW to blog without using WLW – so I purchased extra memory,  Parallels and Windows – so I could blog AND love my laptop.
Fast Forward to last month – when I received another really cool toy from Best Buy to review – the Lenovo – Yoga
Laptop with Windows 8. I know what you're all thinking…"SO Lucky!" Right?  Well, unfortunately, I have to return the computer. *whine*. I was a little hesitant (Again!) to get used to ANOTHER new operating system, but this time I think it was worth it.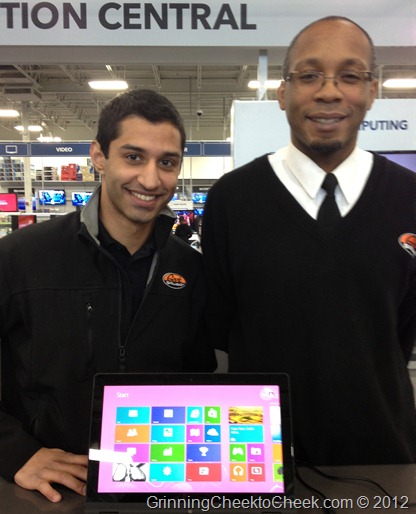 I picked the laptop up from the Geniuses at Geek Squad who showed me around the Windows 8 interface as well as the touch screen portion of the Lenovo Yoga. Some of the features I was originally looking for are in this laptop, like:
Solid State Drive – The Yoga has a 128GB SSD, so you can move the laptop around all you want, because there are no moving gears in the hard drives – and is very quick to start up.
Slim and Light Weight – The yoga is only 3lbs and 0.7" thick
Responsive – Not necessary to have an extra mouse on the side – The Lenovo Yoga is very responsive to hand gestures on the mouse pad as well as to the touch screen. The keyboard runs smoothly with little to no lag.
Long Battery Life – My husband spends nearly all of his 'free-time' playing games on the Lenovo, and attests for the impressive length of battery life. 
To top all of these features off: The Lenovo Yoga also is a Touch Screen and a 360 degree hinge allowing us to play with the laptop as a Tablet, or use it like a Laptop. You can also change the laptop to be angled, or tented – this comes in handy when the kids are playing with it.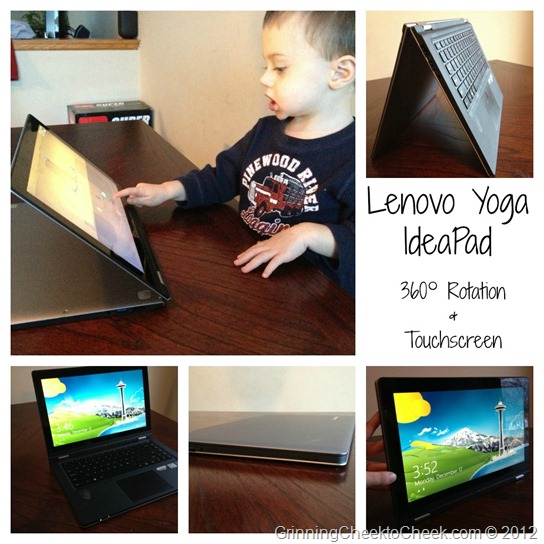 About the only real complaint we have about this laptop is the Wi-fi functions.  It works great while we're near the router, but when we take the laptop into one of the back bedrooms, we have very minimal reception with Wi-fi.
Mostly my gripes with this laptop and Windows 8 is due to the fact that there are SO many cool *touch* games to download, that my husband spends SOOOO much time playing them!  I can hardly hold a conversation with him without telling him to power down the computer.
We have noticed a slight lag with a few of the functions – and we're not sure if they're Windows 8 related, or laptop related: but since I'm talking about both I'll mention them here:  When we turn the computer on – often times the screen direction gyro takes several seconds to flip to the direction that you're holding it – often causing us to have to type our login info more than once.
Some other changes with windows 8
The start menu is completely gone – unless you switch into desktop mode: where you have the Windows 7 look: so if you're not quite ready for Windows 8
, you can still figure things out there.
I do love the main screen of Windows 8 – It's pleasantly structured similar to phones and tablets out there – using an "icon/button" for each program that you can touch to open.  The buttons are dynamic, and show up-to date ticker info like news, stocks, weather, etc..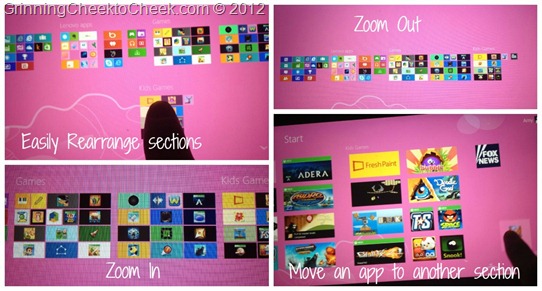 They're easy to rearrange, and can be categorized into groups very easily. Each user can have their own setup with their own apps installed and displayed exactly how they want them.
The commands are totally different: meaning that there is no longer a red "X" in the corner of your programs to close it. To close a program you slide the program down from the top (either with your finger or with your mouse). Sliding from the left changes apps much like an 'alt-tab' function would (or can set you up with a split-screen of two programs running at once), and sliding from the right gives you all of your menu options, search, settings, etc.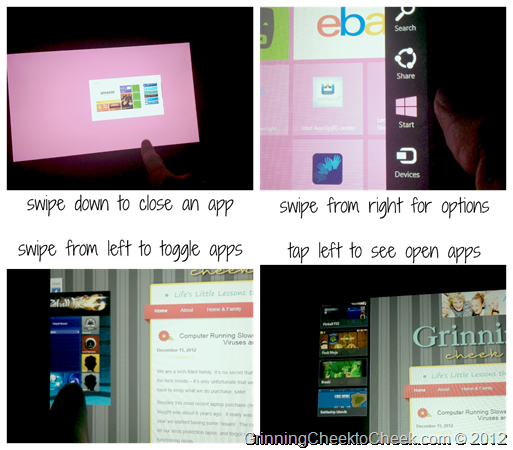 The search function is one of the best new feature of Windows: giving you the options of where to search (The computer, files, pictures, the internet, windows 8 store, etc) and gives you a graphical representation of the search results.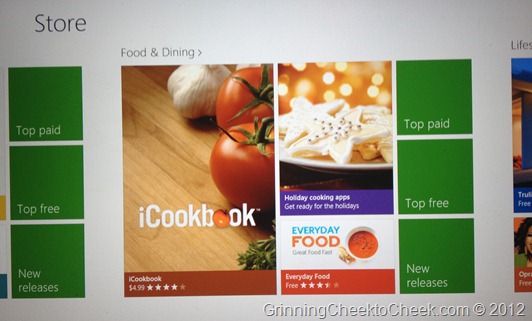 The windows store is very similar to the XBox 360 and easily interfaces w/XBox marketplace accounts as well as to Windows phones. There are so many apps to choose from – several of which are touch-screen capable. 
So as you can tell – we've been having a ton of fun with the Lenovo Yoga Idea Pad. The Lenovo Yoga is a really great laptop, and in all honesty if this laptop was out last spring, I would have purchased and most likely kept it over my MacBook Pro. Priced at $999 – it's also much more affordable than a Mac, with a lot of the same features PLUS the touch screen and 360 degree hinge.
I *highly* recommend this laptop. And of course I also highly recommend that you purchase the Geek Squad
Protection plan as well.  I've already had to use mine twice (and need to send it in again for a third time because my keys are breaking! Darn Kids!) so it has been totally worth every penny!
I received the laptop temporarily to use and tell you about.  Yes, I did receive compensation for this post from Best Buy. Compensation in no way reflects my opinion on the product or what I am telling you about it.