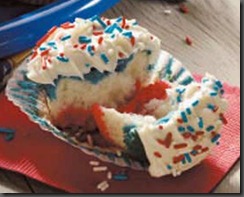 So last year for the 4th of July I decided to get… Fancy.  With Layered Cupcakes!
I made the Yummiest, and most festive cupcakes I could possibly bring myself to make.  We went to a large party on the 4th, and had a blast.  Everyone loved them!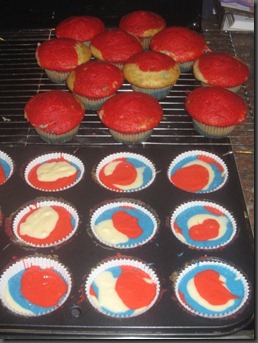 Ingredients:
White or Yellow Cake mix + whatever the box calls for
Red + Blue Food coloring (the good kind, gel or paste)
White Frosting
Red Melting Candy
Star-Shaped Mold
Red-White-Blue sprinklesDirections:
Make cake mix as directions on box instruct you to do so.  Divide cake mix into three bowls.  Color one bowl with red coloring, and one with blue coloring.
Layer blue, then white then red (or however you'd like) cake mix into cupcake papers – Be careful not to over-fill!!  (the ones in the picture above are overfilled… so, don't do that

)
Bake as directed.
Meanwhile, melt red candy and pour into star shaped molds. Refrigerate until hardened.
Frost cupcakes with white frosting. add sprinkles and star shaped candies!
***Please don't pay attention to the quality of the photos.  We had a hard drive failure last year, and my pictures from last summer are pretty much gone.  So I pulled these from Facebook where I had posted them last year.***
I'd love to see more adventures of 4th of July Baking ideas!!  What have you done before??