"The
VTech
product, information, and additional gift pack have been provided by
VTech
."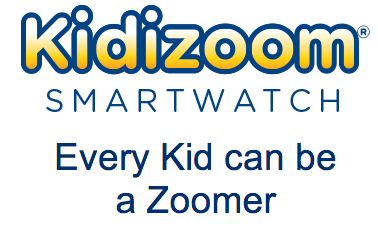 My 5 year old likes to play with the neighborhood kids and often times disappears into one of their houses or yards. He really doesn't understand the concept of time yet – so when I ask him to be home at a certain time,  he has no idea what time that is. A watch could be helpful to the situation – if he could understand the watch. Lucky for my son and I, we got to try the
VTech Kidizoom Smartwatch
which has to be the coolest watch for kids ever. Let me tell you a little bit about this watch that is so much smarter than your average watch.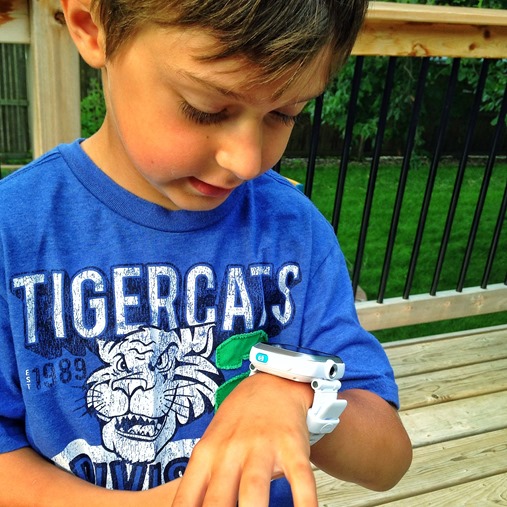 It's camera time!
With the exciting interactive Kidizoom Smartwatch, kids can capture photos, add photo effects, record videos and play built-in games for learning fun on the go. Complete with an easy-to-use 1.4'' color touch screen, as well as more than 50 digital and analog clock displays, the multi-functional Kidizoom Smartwatch is perfect for kids learning to tell time. The Kidizoom Smartwatch also boasts a rechargeable battery, alarm clock, timer, stopwatch, voice recorder with funny voice changing effects and parental game controls.
Kidizoom® Smartwatch (Ages 4 years and up; MSRP: $59.99) features include:
·         1.4 inch color touch screen
·         Camera for taking photos and recording videos
·         Voice recorder with 5 voice changing effects
·         Special effects including customized photo frames, color filters and distortion effects; fun video frames
·         4 fun games, included
·         Kid-durable design to withstand drops and bumps
·         Splash proof and sweat proof
·         Alarm clock with fun tones and animation
·         Timer and stopwatch in kid-friendly themes
·         50+ digital and traditional analog displays
·         Rechargeable battery
·         4 vibrant colors: blue, pink, white and green
·         Micro USB cable for data transfer and battery recharging
·         Access to Learning Lodge app store to download more games and watch displays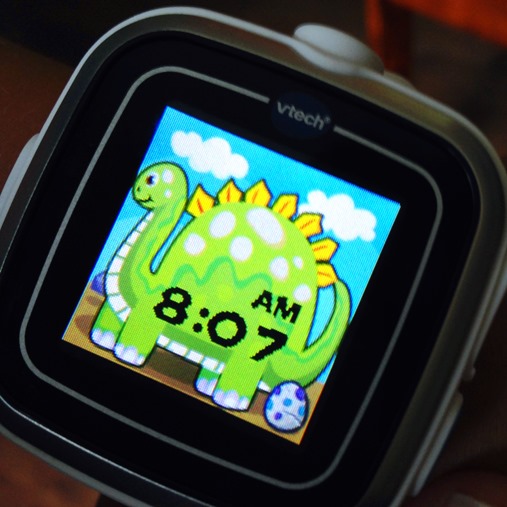 My son really liked the white Smartwatch that we received.  He was pleased with the assortment of themes that he could choose for his Smartwatch.  I was thrilled with the ease of set up. I simply plugged it into my computer to charge it and set the time and it was ready to go.My Favorite feature:  The Vtech Kidizoom Smartwatch alarm has awesome sounds and even fun cartoons to help my son learn to tell time and to keep on schedule. IThere is an alarm (where I set a specific time that he needs to come home), or a timer –where I can set for every 30 minutes for him to check in, and then reset when 30 minutes happens again.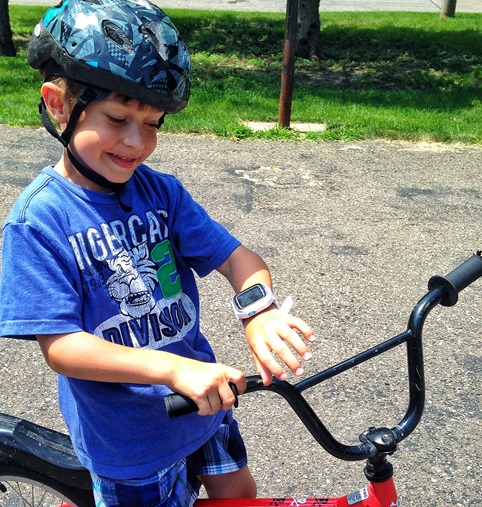 I also really enjoy the timer feature – since he likes to 'win' at everything, I challenge him to beat his own time when practicing writing his name, or getting his clothes on. While this is an amazing first watch for kids, it is so much more than that. This is a learning tool that can go everywhere!
My son caught onto how to take photos and make videos quickly. I found that out REALLY fast when he walked in on me changing clothes this morning and took my photo before he even had the chance to see that I wasn't dressed…. Thankfully it doesn't send immediately to the cloud – so I was able to delete 🙂 I love that I can transfer the data easily and save his photos. How neat is that? Kids can learn to tell time and capture moments in their lives with one device?!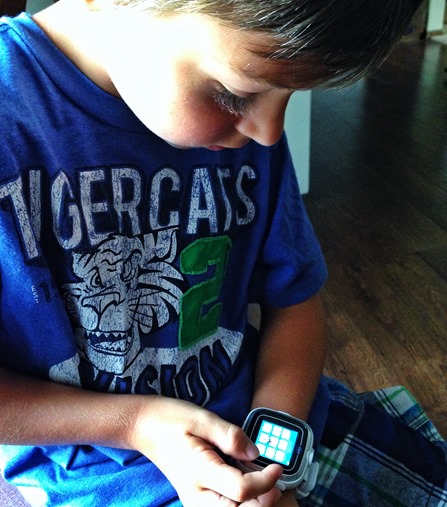 The Kidizoom Smartwatch has an easy to read photo menu, which is great for kids like mine that have not learned to read yet. Several fun learning games are included for on the go play. This has proven to be a handy feature when we are stuck in traffic or waiting in the car and my son grows restless.  His favorite is the puzzle game. He loves that it uses the photos he has taken and creates puzzles for him to solve. I have to admit, I am only slightly jealous… when I was a kid I would have begged, pleaded and saved my allowance for one of these watches!
The Smartwatch is an impressive device. I love that it's not lagging at all – it's quite fast and responsive to the touch.  It is a great tool for learning. I love that it is durable, there is no need to worry about the watch being smashed or damaged by water. The Kidizoom Smartwatch is worn securely on the wrist, eliminating any worry of this amazing device being lost. It is completely kid friendly!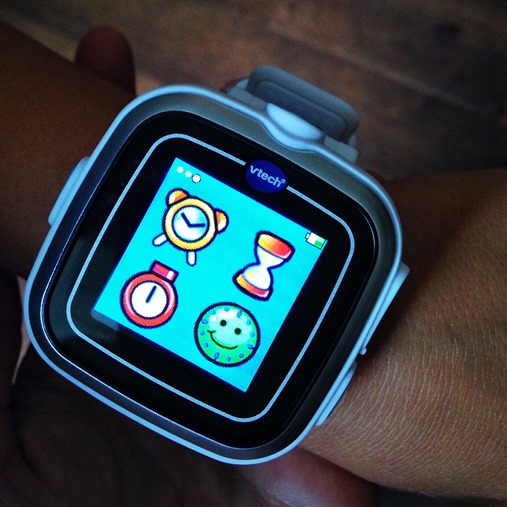 We have been impressed with this Vtech product. It is fun, functional and designed with the user in mind. It is ideal for children that are just learning to use electronics. It makes my son feel like a big kid to finally get to wear a watch. I feel a swell of Mommy Pride every time he arrives home on time or reminds me of an upcoming activity.
Connect with Vtech Kids to learn more about this great device or to explore their line of learning products for kids.
Win It!!!!!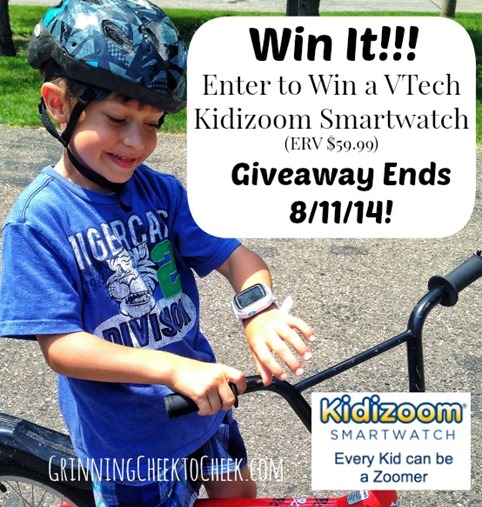 One Lucky Reader will in a Kidizoom Smart Watch of their own! (ERV $59.99)
a Rafflecopter giveaway

Rules: You do not have to be a blogger to enter/win. An email address is required to enter. Entering this contest allows us the permission to use your email address for our Newsletter which may be unsubscribed to at any time and subscribing is not a requirement for winning. The winner will be chosen randomly through Rafflecopter and contacted via the email registered in Rafflecopter. A reply to the winning email is required within 48 hours before a new winner is chosen. One person entering per household please. US only please.
This giveaway ends at 11:59 PM CST on August 11th, 2014.  Good luck!