Ok moms, having a baby is hard! I loved being pregnant (for the most part) and always said that the baby is easier in than out, but I still wished him out once I hit 38 weeks. He was stubborn and it took until 41 3/7 weeks before he made his appearance. Then labor is hard. And then everything changes! Things that used to take 15 minutes, now take 45, longer if Micah is fussy (or hungry)! I mean, try the math. Pre-baby it took about 30 minutes for me to get up, put on my scrubs, eat breakfast, pack a lunch, and go out to meet the bus for work. Now, even with a pretty happy baby who calmly plays in his crib after nursing and then falls back asleep until his daddy gets up, I have to add in breastfeeding, making sure I have bottles packed to pump at work, prepping bottles for baby for the day, putting his food-ice-cubes into containers if dad works, and writing a note for Peter so he knows which of our amazing friends is watching Micah that day. Math that!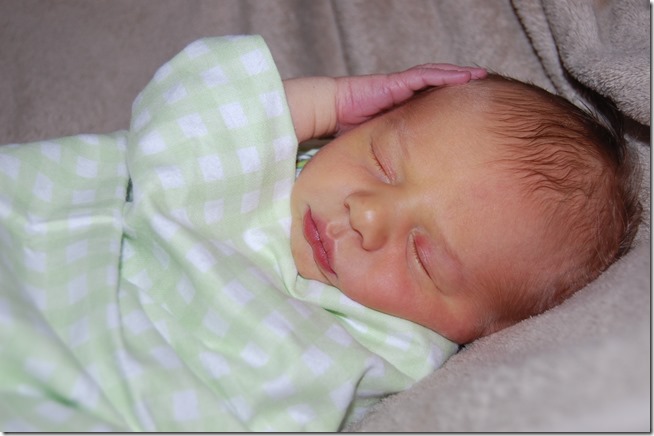 But the JOY! The Bible talks a lot about having joy and I really got a great understanding for the difference between happiness and joy around 3am with a crying 1 month old, no sleep, and concerns about breastfeeding and mommyhood. Micah can be a lot of work and worry (and I'm definitely a worrier), but at the end of the day he makes me so deeply happy. I wouldn't trade him for anything. Just looking at him makes me smile. When he smiles up at me and lifts his arms, my heart melts. When he giggles I can't help but laugh along! And watching him grow and learn new things is fantastic. It's like falling in love and reminds me of the deep joy and love I've had for Peter since we first fell in love 3 years ago. It's like having a fight with your best friend and when it's all done you know that person is still your favorite person. Peter and Micah are the most important people in my world and I couldn't imagine life without them. And just as God gave me the strength to survive long nights of being awake every 30 minutes while sleeping on the nursery floor, followed by long days of functioning on small chunks of interrupted sleep, he will give me the strength to deal with whatever other adventures await Micah, Peter, and I. Including the terrible teenage years that I dread, I'm so thankful Micah won't be a teenager for many years to come!
Micah loves his bear from Costco, and we loves watching him grow compared to it!