The following post was sponsored by Take Part – however, my opinions on bullying do not necessarily represent their feelings – nor do you need to agree with me 100%: But Take Part is asking that you sign a pledge to take a stand against bullying in general and this is my stance.
Take a Stand!
Take a STAND against the affects of Bullying – and Bullying itself: by signing this pledge through Take Part. This pledge does not mean that you agree to all of what I said above – It simply means that you are going to keep your eyes and ears open to bullying, and do your best to prevent it.  If we all take a stand against bullying.
[embedit snippet="take-part-pledge"]
With all of the news stories going around about bullies and the bullied – it's hard to ignore that bullying has become a large issue.  In some cases – I can see how bullying can be so severe that it really becomes a big problem.  But for the average child, the hurtfulness of a few small words or actions from another child are being taken to heart, all too quickly.
I hate to see my child in pain, suffering, or crying just as much as you do. If I could realistically (without CPS being called…) wrap my kids up in bubble wrap and never let them leave the house just so that they would never feel pain – I would. But then they would never be prepared for what life has coming when they're adults.  Children need to learn at an earlier age (even through the pain of bullying) that life will throw you some painful curveballs.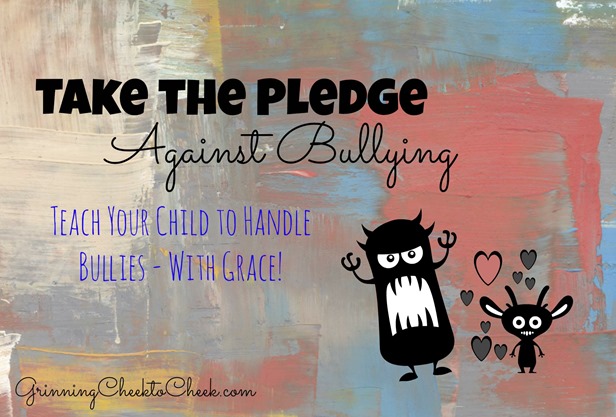 It's hard to pinpoint the real cause of bullying – but there are some good speculations:  broken homes, divorcing parents, arguing parents, siblings who are bullies, parents that are abusive, alcohol, drugs, and so many other horrendous home-life situations are possible causes.  It is our job to teach our child the compassion for the bully, and get to their heart issues for bullying.
A large part of my belief on bullying comes from my Christian background – which I'm guessing not all of you are part of: but hear me out – because a lot of these things can be taught to your children regardless of religion.
I'm guessing that the majority of people (myself included) has been a 'bully'. Whether its at home with your sibling, or a friend, or through gossip that went a little too far. It's through your experiences of being bullied or being the bully – that you realize the implications of bullying. The point here is that everyone should have the chance to learn from these situations: learn what it feels like to be bullied, and then forgiving the offender and moving on.  But in order for that to happen with your children who are being bullied, you have to spend some quality time with them.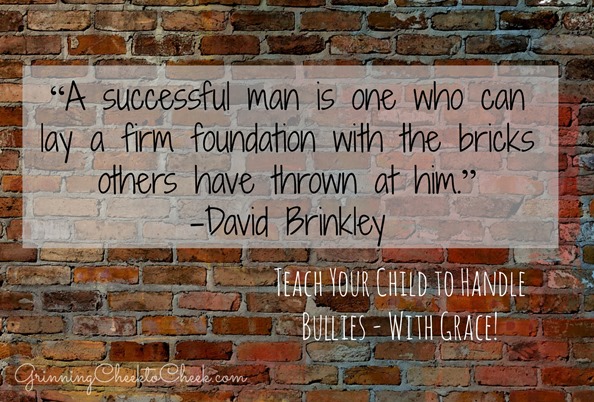 So I've made a list of things to do with your children to help them get beyond the pain and teach them how to gracefully handle the situation.

Communication is CRUCIAL.
Take your cues from your child:  If your child comes home crying – and  confides in you that they've been called names… before you get in a HUFF and PUFF, on a phone calling rage talking to principles and teachers (therefore teaching your child that what happened was worse than they thought!) – sit back, and LISTEN.  Children first need to be comforted in the fact that they can talk to their parents about their problems, and be heard – without you jumping to conclusions.
Listen to what was happening, ask the scenario – how did the words that were said make them feel.  If you are calm about it – they will be calm about it.  Yes, your child might be crying because they were really hurt by the words (and boy, that HURTS to see your child hurting)… but talk through it.  Talk through the reasoning behind the bullying – and get to their hearts.  Take it as a teaching moment before you call.
Teach Forgiveness.
Forgiveness is a huge part of dealing with bullies.  Christian or not – everyone needs to learn how to forgive.  It's a natural part of the process of life. However you need to work it out in your family life to forgive is OK:  If it means writing down your feelings on a piece of paper; and tearing that paper up – or simply just committing to yourself that you are not going to have hatred for that person because of their actions.
Teach Compassion.
This goes along with what I said above about what types of home-situations these bullies can come from. But teaching your child to understand that the meaning behind the teasing/bullying is likely not because your child is bad, or ugly, or "insert offense here" but because the bully feels the need to belittle others in order to feel important themselves.
Acts of Kindness.
Taking that extra step to teach your child how to be kind in reaction to the bully will really help your child feel empowered.  They will no longer feel victimized, but rather proud of themselves for rising above the bullying, and showing love to someone.
Giving your bully a compliment; bringing an extra snack for your bully – or do something out of the ordinary for them, to show them that you care about them.  That can seriously change a bullying situation.  Acts of Kindness and Love toward your bully goes a LOT further than reprimanding them, and further empowering their need for bullying.
Praying for your Bully.
If you're of the praying sort – pray with your child for their ability to forgive, be compassionate, and to show open-hearted kindness.  Adding in the prayer for their bully, even if it hurts.
Pray that their bully has parents who can talk to them, pray that God will open their bullies eyes to what they are doing and that their heart will be softened to accept the kindness and love that you will be showing them. Pray that God fills the void that they feel they're missing and the reason behind the bullying. Tailor the prayer to the situation.
Getting others Involved.
Finally – and I mean – FINALLY – after all of the talks, forgiveness, and prayer with your child – it is acceptable (and encouraged) to notify someone (the parent if you know them, the principle/teacher, etc) that an offense has occurred.  Inform them that you have talked about it with your child, and that your child is OK – but for the parent/teacher to keep an eye out for further issues with this child. Like I said, often times 'bullies' come from abusive places – so if the bully is often not participating, doing homework, etc… it's a good sign that there could be something wrong in their home life – and a good way to take notice.
I would encourage you as a parent not to yell at the principle, telling them how to handle the situation: but rather be gentle, calm, and re-iterate that your child is OK – and that you're not expecting any justification from the child or his parents. Your child can forgive without an apology.
Don't Embarrass your Child!
I would especially recommend that you also make sure that your child is not in the room with you when you call.  Children can become embarrassed that they were even upset about it – or embarrassed that they were being bullied, and you don't need to confirm to them that they were victimized.  The goal here is to let them forgive, and move on… not to re-hash the situation for the next few weeks.  Keep in mind that the longer the situation draws out – the less likely they will be to tell you the next time that something happens.
Again a reminder – this is a paid campaign on behalf of Take Part. I was not paid to tell you my thoughts on bullying, but rather to get you all to sign and take a stand against bullying – so SIGN UP! Please?
Participant Media, TakePart's parent company, produces socially relevant films with the idea that "a good story well-told can change the world." Films such as An Inconvenient Truth, The Help, Lincoln, and Waiting for Superman have helped inspire action in a wide range of issues. TakePart aims to further those messages with quality content. In our education and social justice coverage, we're committed to exploring important topics that impact our children.