Many people that have internet access have shopped online a time or two. I'd venture to say most moms have shopped online, especially for birthday and Christmas gifts.
I know I started getting addicted to shopping online when I realized how much cheaper it was to save with Promo Codes for Amazon  and combine those codes with Subscribe & Save!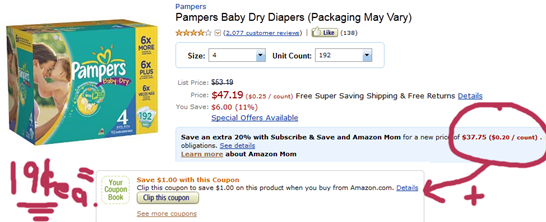 Combining the discounts here gets you diapers for 19 cents each!  That's a great deal for size 4 diapers.
While shopping online can be convenient and often times less expensive than going to the store, you also need to know your prices – and compare often. 
In addition to reading reviews, I almost always want to see and read an items box fully before I decide to buy something.  So often times I go to the store first, decide what I want – and then use my trusty iPhone apps (I use ShopSavvy) to scan the barcode, telling me all the local store prices, as well as doing an online search of the prices.
More often than not, the items are less expensive online – but shipping can often throw that price off:  So that's when I start check online for coupon codes.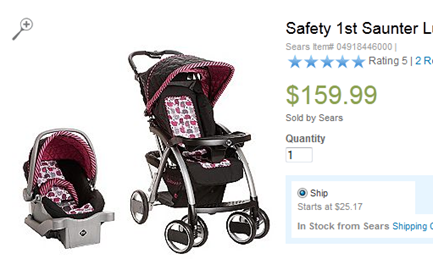 Not everyone has time to search the internet for coupon and promo codes daily, so there are sites that do it for you. This saves you time and ensures that you're getting the best deals, with legitimate codes.
Finding FREE Coupon and Promo Codes
Recently: I went to a coupon code site – where it asked me to enter my credit card information just to get the coupon code!
What?!! I'm trying to SAVE money!! Not spend it!
I was NOT going to pay to get the codes – so I needed to find out how to get free Coupon Codes online.  
You can do all the work trying to search forums that are full of other deal hunters and bargain shoppers. Or you can use Google or another search engine to find coupon codes, but I think it's best when you can find Coupon Code for Home Decorators and check the discounts for Sears all in one stop.

Many consumers say they've never used promo codes while shopping online.
With all that money out there to be saved, why not save it?
So, before you shop, think about how much money you will be wasting if you don't use coupons and codes available to you and keep an eye out for promo codes that can help you do just that!