Graco Pack 'N Play with Cuddle Cove
On our first trip to AZ, we brought the Graco Pack 'N Play with Cuddle Cove. First, for a place for Micah to sleep on the way down. Second, for a place for him to sleep in "our" motorhome! And I love it. Pack 'N Plays are all basically alike in function, but the extras of the Graco Pack 'N Play with Cuddle Cove and the solid construction and reliability of the Graco name make this a great choice.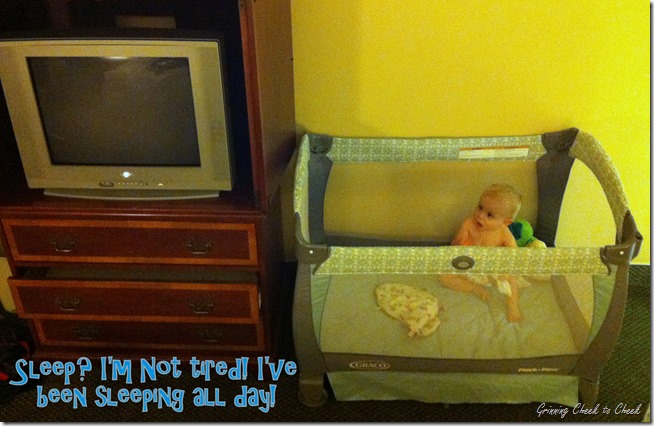 Easy Setup with Graco
The Graco Pack 'N Play is immediately ready for setup and use. The extras, on the other hand, are a little difficult to put together initially. Thankfully, the instruction manual is clear and it's almost impossible to put it together wrong. And if I did succeed in putting a piece on in the wrong order, it's easy to push the buttons and release it again.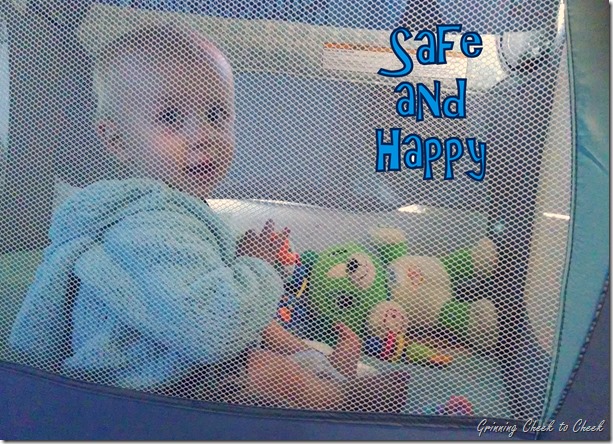 And each part (Cuddle Cove and changing pad) only has a few pieces, it's not like putting together a million little pieces. Once together, they are super easy to snap into place and use, or remove and pack away for a later date. Plus, all fabric is machine washable for messy babies.
Graco Pack 'N Play: Cuddle Cove
The Cuddle Cove is super soft and cozy-looking. Micah is too old for it but I'm really excited to use it for the next baby. It does snap into the bassinet portion of the Pack 'N Play, which is probably safest so it's a really short fall if baby figures out how to wiggle out. The canopy is removable, and there is a vibrator that connects to a battery pack by a pre-placed wire. Plus, the whole thing can sit on its own on the floor independently! Overall, a good little baby bed.
Graco Pack 'N Play: Changing Table
The changing pad can go on either end of the Graco Pack 'N Play and easily snaps in and out. It has little walls so baby can't just roll off, and it works great. We had it on for a while, but in the camper it's not very convenient, just because of the way it all fits in there. In a house, it would be super nice to have a changing table connected so I don't have to go to the nursery or lay out a pad on the floor for the millions or diaper changes every baby needs.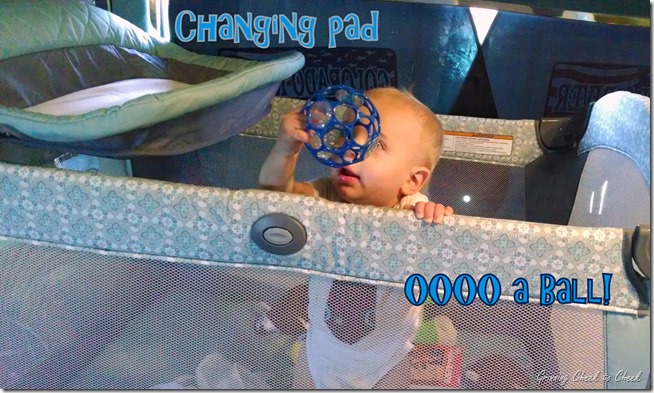 Graco Pack 'N Play: Basket
The 3 section Graco Pack 'N Play with Cuddle Cove basket just hooks onto the end, or the side, and is super convenient. It's big enough to hold a lot but not so big it gets in the way. Perfect.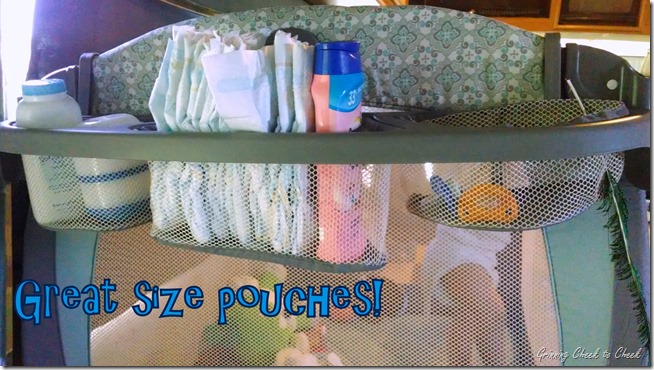 So Many Benefits to the Graco Pack 'N Play!
There are so many other good things about the Graco Pack 'N Play with Cuddle Cove that I noticed, that aren't included on every pack 'n play out there. Things like the little music, lights, and vibration piece! This is also easily attached to the battery pack through a pre-inserted cord in the bassinet netting. So, it can't really be used without the bassinet, but that's not a big deal since any baby too old and active for the bassinet probably already has a sleep time routine and doesn't need the additional entertainment of the music, lights, and vibration.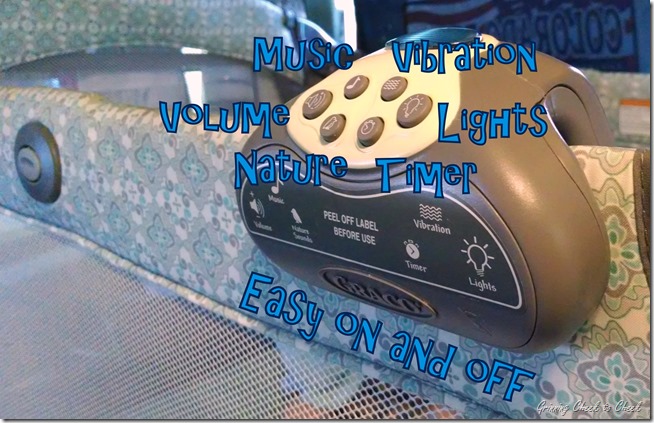 The Graco Pack 'N Play is so Useful!
Pack 'N Plays are great for small spaces, like our motorhome. They are also fantastic for trips, like to grandma's house or a hotel. Or you can use them right in your own house. Especially in big or multi-level houses, it's great to have a way to contain baby. So they can't pull out all the wipes or empty a toilet paper roll in the 2 seconds I have my back turned.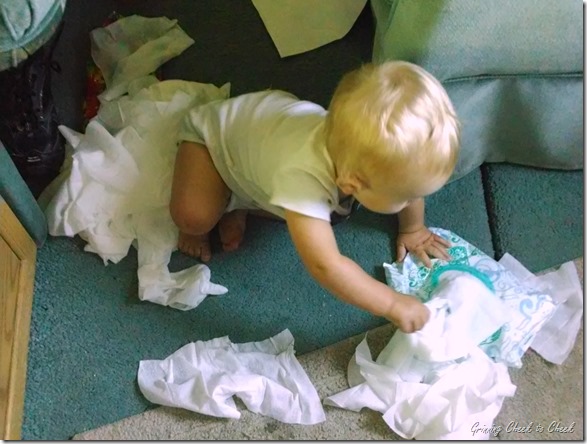 I prefer to have Micah play in areas he doesn't sleep. So, when we do get into a house, the Graco Pack 'N Play will make a great, contained play area outside of his crib. It is a lot bigger than the KidCo PeaPod I recently reviewed, but it's all much more multi-functional which makes it better for long periods of time or uses above sleeping.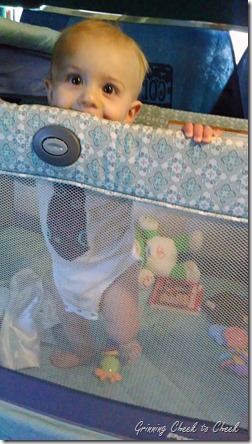 Check out Graco's awesome video about this Pack 'N Play with Cuddle Cove! Or check out Graco online, on Facebook, and on Twitter. It retails for about $220 and is a great purchase, especially if you are on your first child, or are a grandma with many future grandbaby visits to come!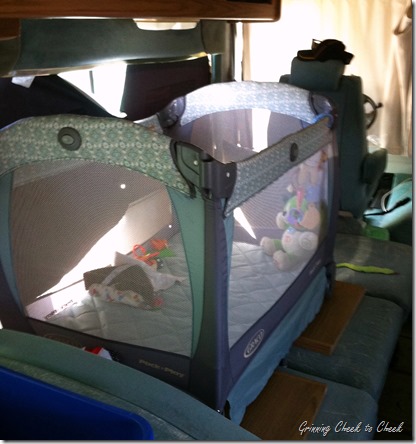 Win a Graco Pack 'N Play with Cuddle Cove!
How to Enter: Leave a comment about your favorite travel destination
Then: Fill out the Rafflecopter form and complete the other options for additional entries!
Be sure to come back each day for more entries to win (seriously, do it, this is an awesome giveaway)!
Rules: You do not have to be a blogger to enter/win. An email address is required to enter. The winner will be chosen randomly through Rafflecopter and contacted via the email registered in Rafflecopter. A reply to the winning email is required within 48 hours before a new winner is chosen. One person entering per household please. US only please.
This giveaway ends at 11:59 PM EST on November 15th, 2013
I was provided with my own Graco Pack 'N Play with Cuddle Cove as compensation, but opinions are 100% my own.