I recently took a trip to Walmart, where I discovered the extreme beauty of Better Homes and Gardens Holiday line.  From a distance, I really was worried that their sets looked like something my Grandma would own, but up close – and paired together – Man.  I wanted the whole set for myself!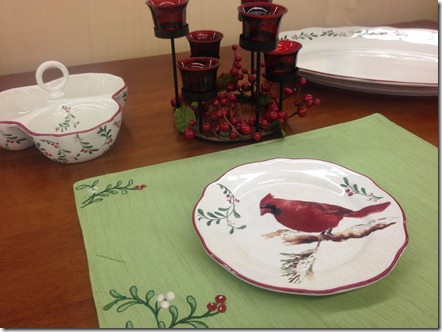 Better Homes and Gardens items can be found at Walmart – and range in price from about $3 to about $15.  A great price to get several items for your own party or as a gift to others!
Under $5
Starting at the lower end of prices – BHG carries a wide assortment of items for your Home:  These salt and pepper shakers are perfect for adding a touch of holiday to your meal – without breaking the bank!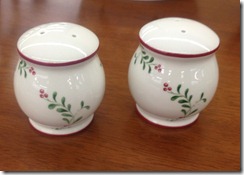 I also love the assortments of plates that they carry!  Can you imagine baking a bunch of Christmas Cookies and Treats, and bringing them wrapped in cellophane on a beautiful glass plate instead of paper?? Then they can instantly set the treats out on the table to share with their guests.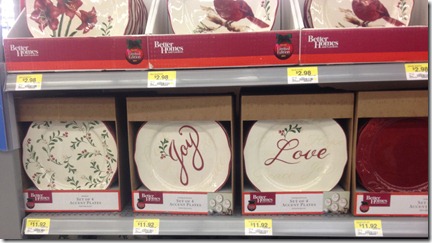 At only $3.00 per plate – It adds the perfect touch to your Holiday Giving!
Under $10
Better Homes and Garden also has a variety of serving platters, bowls, and other items that will be perfect for your holiday party!  I love the gravy boat and saucer!
The Centerpieces were my favorite items from BHG.  At only $10, it's an awesome gift to give, or to keep for yourself.  I love the multi-level candles!
Want to know a secret??
Every year, I buy one or two items like this – and wrap them up.  Usually items that I would love to have for myself – but that work for just about anyone.  That way, when a neighbor shows up at my door with a gift – I'm always prepared to give them something back.  OR – If I am notified a few hours before Christmas that a guest is joining us – I've got a gift that will make them feel like they're part of the family!
If none of those scenarios happen? It's all MINE!
Under $15
In the $15.00 price range you can find things like this table Runner.  It's beautifully scalloped and embroidered. A perfect addition to any table!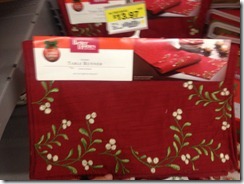 Better Homes and Gardens also makes full table cloths (embroidered and non-embroidered) as well as Placemats, and cloth napkins.  A set of these could make your Table sine for Christmas!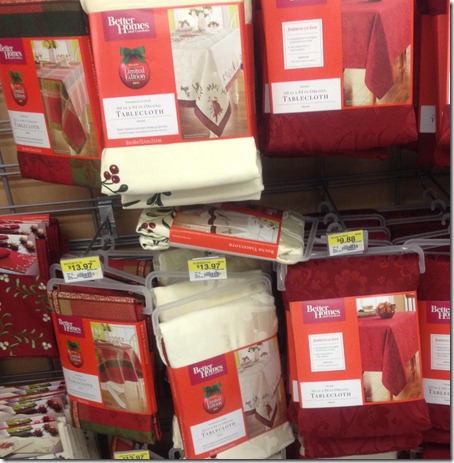 What kinds of traditions does your family do for the Holidays?  Do you usually decorate your table nicely?
If you liked the items on this post – please be sure to check out Better Homes and Gardens Facebook Page!!  They offer giveaways and other helpful tips and Ideas for your home!