Being that I have two boys in my house – I'm very familiar with the fascination of boys and their trucks.  My boys LOVE …well pretty much anything with wheels..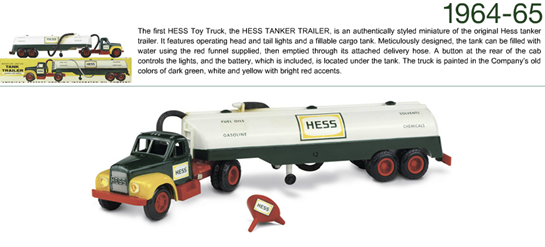 Hess has been making special toys for families during the holiday season since the early 1960's.  The first Hess Toy Truck in 1964 was a tanker that could be filled with water and emptied through its delivery hose.  At a retail price of $1.29 including batteries, the truck was a great value and became an instant success.  His creative genius and attention to detail made the Hess Toy Truck and exciting holiday tradition and a collector's item for boys and girls of all ages.
Today – Fourty-Seven years later – the Hess toy truck still maintains the original commitment to quality, detail, and value.  Models have included fire engines, helicopters, a police car, an airplane, and even a space shuttle.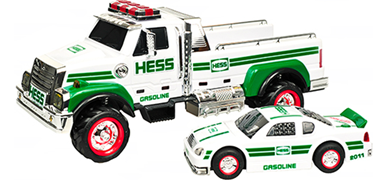 This Year's Hess Toy Truck is the Toy Truck and Race Car with Chrome-Like Detailing and working lights and sound.  It has 4 wheel independent suspension and push buttons to activate ignition, horn, and backup alert sounds, and can change light modes from steady to flashing.  The flat bed has a hidden pull down driving ramp with realistic lift sounds, and is custom designed to haul the Hess Racecar.  The stockcar style racecar features a pullback motor, working lights, and pushbutton activated 4 speed engine sounds.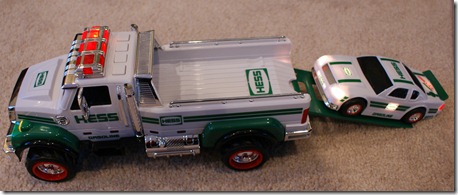 I'm *REALLY* excited for Andrew and Ethan to open this up on Christmas Morning!!
I took it out of the box today to play with it while they were both napping, and it's a really cool truck and car!!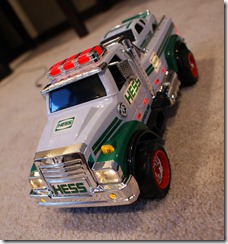 It's not too late to start collecting these vehicles – I know we certainly will be collecting them!! The details and features are what you would expect from a really expensive toy – but at only $26.99 including batteries – You can't hardly beat that!
Anyone with a boy in the family should have this toy.  Just Sayin'.
Check the truck out and order it today at HessToyTruck.com.  You can see what each Toy has been over each year as well as their full history!